Teachers Mutual Bank Home Loans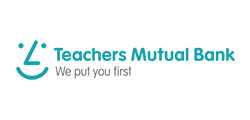 Teachers Mutual Bank is a provider of credit cards, home loans, personal loans, savings and transaction accounts, term deposits, life insurance, home insurance, car insurance and travel insurance.
Loan options: What Teachers Mutual Bank home loans offer
Here's a snapshot of Teachers Mutual Bank's variable home loans currently on offer for a loan amount of $600,000 in New South Wales. Please note that this table is formulated based on paying both principal and interest and results are sorted by our Star Rating (highest to lowest). To compare other home loans, please click here.
Compare Home Loans with Canstar
Variable home loan features
Borrow up to 85% of the property value
Principle and Interest or Interest only repayment options
What types of home loans does Teachers Mutual Bank offer?
At the time of writing Teachers Mutual Bank offers the following types of home loans:
Find out about how different types of home loans work here.
Compare Home Loans with Canstar
How to apply for a Teachers Mutual Bank home loan
Applying for a Teachers Mutual Bank home loan is a simple process; just compare home loans on the Canstar website and apply online on the Teachers Mutual Bank website for the loan of your choice. For more help applying, you can speak to a Teachers Mutual Bank consultant by calling 13 11 55 (7am to 9pm Monday to Friday).
Follow our applying for a home loan checklist, and use the Canstar website to compare Teachers Mutual Bank home loans with other home loans before choosing a product that suits your needs:
Teachers Mutual Bank FAQs
Yes, Teachers Mutual Bank allows extra repayments on its variable interest home loans. Terms and conditions apply; contact your lender for details.
Find out how making extra repayments could save money in interest over the life of your loan in this article or use our Extra Repayments Calculator for yourself:
Home Loans Extra Repayments Calculator – Canstar
Yes, Teachers Mutual Bank's variable rate home loans offer a redraw facility. Fees and charges may apply to use of a redraw facility; contact your lender for details or learn more about redraw facilities here.
If you're in the market for a home loan, compare your home loan options with Canstar:
Teachers Mutual Bank was founded in 1966 with the goal of providing financial services to educators and their families. Today, Teachers Mutual Bank includes three brands – the original Teachers Mutual Bank, UniBank and Firefighters Mutual Bank – making it one of the largest mutual banks in Australia. It now has nearly 175,000 members and manages $5.3 billion in assets.
Teachers Mutual is dedicated to improving the education community through investment, and along with UniBank and Firefighters Mutual Bank, it supports the following initiatives:
Future Teacher Scholarships – Offers $5,000 in financial assistance to eight university students becoming teachers each year
Teachers Mutual Bank Harvard Scholarship – Gives one Principal from a government-funded school the opportunity to learn at the Harvard School of Education in America
Premier's Teachers Mutual Bank New and Emerging Technologies Scholarship – Gives all NSW teachers the opportunity to undertake a scholarship to learn more about new technologies in education
Teachers Mutual also believes that sustainability is a vital aspect of running a business, which is why it has a number of sustainability goals. In 2015, Teachers Mutual Bank was named 'Best bank in socially-responsible performance' at the Australian Banking and Finance Awards.
Source: Teachers Mutual Bank