What is a travel money card?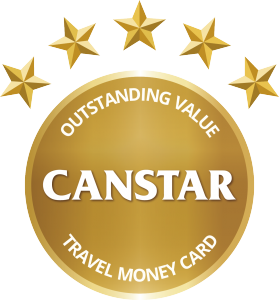 Travel cards are a type of specially-designed debit card so you can spend your own money while travelling overseas. They are popular because they're a convenient way to load up one card with already-converted foreign currency and take it overseas with you. They're also more secure than carrying cash or traveller's cheques.
Another advantage is that you can buy this pre-paid card whenever you want, so you can pick a time when the exchange rate is in your favour and the Aussie dollar is looking strong. Using a pre-paid card also means you don't pay a conversion fee every time you buy something in the local currency. You can even pre-load several currencies if you're travelling through multiple countries.
You can use your card to withdraw cash from ATMs, shop for souvenirs, pay for restaurant meals, and book accommodation. You can even use it for online transactions like a debit or credit card. You can reload your card or switch currencies whenever you need to while travelling, on the internet or your mobile phone.
According to ABS figures for the year ending June 2015, Australian residents took almost 9.2 million short-term overseas trips this year, compared to 9 million in 2013-2014. The most common destinations of choice were New Zealand, Indonesia and the USA, followed by the UK, Thailand, and China.
As for the future, a survey by Expedia shows that the overwhelming majority of young Aussies (83%) aged 18-24 plan to take an international holiday in the next 12 months. With prices for international flights very competitive, there's no better time to travel.
What should you look for in a travel money card?
The ideal card according to CANSTAR's research is one that allows the following:
Lock in an exchange before you leave.
Load multiple foreign currencies onto one card.
Load your own money onto the card. This is not a travel credit card.
Cheap or no extra fees, such as reloading fee, ATM cash withdrawal fee, ETFPOS transaction fee, or fee charged for 'non-native transactions' when you run out of local currency on the card and it switches to a different currency automatically.
Convenient to use the card overseas.
High daily limit so you can spend more on high activity days during your holiday.
Low cost to convert leftover money back into Australian dollars.
It can be hard to know what travel money card is the best, so our brightest researchers at CANSTAR have done the hard work for you. Compare travel money cards on our website.
How to use a travel money card:
All travellers like to get around differently so we all have individual needs, but there are some common strategies for making the most of a multi-currency travel money card:
Shop around for the best travel money card ages before you go.
Choose carefully which currencies to use and how much to load, so you don't run out of one and get charged a non-native transaction conversion fee to use another one.
Check your transaction list for the card online every day as you travel, to avoid accidentally running out and to check for fraud.
Know how long it will take for an online transfer or BPAY to be credited to the card, so you know you're not going to run out before the money arrives on the card.
Bring a credit card just in case. You don't want to get stuck high and dry because you didn't allow a margin in your budget for things going wrong. Check our travel credit card ratings for some tips on which credit cards are outstanding value for overseas travel.
Pro Travel Tip:
If you run out of local currency cash, and you're staying at a really posh hotel, it's worth asking at the front desk. Some hotels will give you a cash advance and just add it to the bill for your room.
Usual fees charged on travel money cards:
Your "awesome holiday" can start to feel a little less awesome if you return home to find a bunch of unexpected fees have been charged to your travel money card. Keep in mind that a better conversion rate might still make paying those fees worthwhile. The usual fees you might expect to pay are as follows.
Initial card purchase fee to buy your new travel money card. Can be up to $15.
Cash reload fee to reload more money onto your card. Can be up to 1.1%. Check if your card has a maximum cap on the amount you can load on it, too. Our 5-star rated cards do not charge reload fees, and have a relatively high maximum cap.
ATM fees to make a cash withdrawal at an ATM. Usually amounts to a nominal flat flee in the local currency.
Wrong currency conversion fee to buy something when you're run out of the local currency but you have money loaded in other currencies on your card. Can be up to 5.95% of the transaction.
Monthly inactivity fee if you stop using your card (because you've come home) but haven't closed the account. Can be up to $4 per month. Easy to avoid by converting leftover money on the card back into Aussie dollars and closing the account.
Closing fee to close the account when you get home and don't need it anymore.
Types of travellers who use a travel money card:
We research travel money cards and travel credit and debit cards for use overseas under two scenarios:
The Occasional Traveller who would travel overseas once a year and may be looking for a travel money card or debit card, and a credit card to take with them just in case.
The Regular Overseas Traveller who would make several overseas trips every year and is looking for a credit card to take overseas with them on a regular basis.
Whether you use a travel money card or a credit card may depend on how often you travel overseas, the cost of having the different cards, and whether or not you plan to withdraw cash from an ATM.
What else should you get before you travel?
Buy travel insurance in case anything goes wrong while you're away from home. You can compare travel insurance prices and features on our website.
Check the Smart Traveller website to find out the risk of travelling to your chosen country.
Register your travel plans with the Department of Foreign Affairs and Trade so that someone knows where you've gone and how to reach you in an emergency.
Have a copy of all your documentation with you – and leave a copy of all your documentation with someone back home.
Write down the contact details of the Australian Embassy in your country of destination – just in case you need it.
What currencies can you put on your travel money card?
The currency you need to put on your travel money card depends 100% on which countries you will be visiting, but not every currency in the world is available. If you're travelling somewhere where a travel money card won't do it, you might want to consider a travel credit or debit card and a supply of cash.  We've listed the currencies quite commonly offered by Australian travel money card providers:
THB: Thailand baht
AED: United Arab Emirates Emirati Dirham
USD: United States of America dollar
CAD: Canadian dollar
HKD: Hong Kong dollar
NZD: New Zealand dollar
SGD: Singapore dollar
VND: Vietnam dong
EUR: euros valid for European countries including Andorra, Austria, Belgium, Cyprus, Finland, France, Germany, Greece, Ireland, Italy, Luxembourg, Malta, Monaco, Netherlands, Portugal, Slovakia, Spain
GBP: United Kingdom/Great Britain pounds
ZAR: South Africa rand
JPY: Japan yen
CNY: China Yuan/Renminbi
(Not all providers will offer all of these currencies. You should check yourcard's product disclosure statement.)