What is a savings account?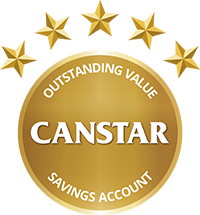 A savings account is simply a bank account that you use to accrue interest, growing your initial deposit. Savings accounts are a great way to save towards a goal.
Some investors, such as those with a self-managed super fund, use a savings account as part of their investment portfolio, in order to guarantee receiving some kind of return on their money.
The rate at which your savings account increases is determined by the interest rate offered.
How Canstar compares saving accounts
Canstar compares saving accounts from across the industry, using a sophisticated methodology to examine hundreds of individual products from more than 60 institutions.
With interest rates at record lows, finding the highest interest rate for a savings account is vital. You can compare interest rates for different types of savings accounts using our handy comparison tool at the top of this page.
There are a few basic things to look for in a savings account, depending on your financial needs:
High interest rate (beware of high introductory rates that revert to lower rates)
Low fees
Free transactions or fee rebates
Accessibility of branches and ATMs if necessary
Features such as suitable minimum or maximum deposit amounts
Some common fees to look out for on savings accounts are:
Monthly account-keeping fees
eftpos fees
Electronic transaction fees
ATM withdrawal fees from your own bank and other banks
Branch deposit fees
Over-the-counter transaction fees
The good news is that most savings accounts won't charge fees for electronic transfers, and you can usually waive the monthly account-keeping fee simply by depositing a certain amount each month.
When we have realistic goals for our savings and we know what to look for when choosing a savings account, we can do quite well for ourselves. You can make a plan today for building your savings for the future, using our Canstar Savings Plan Calculator and Budget Planner Calculator.
If you're struggling to save and would prefer advice on how to budget to meet your regular financial needs, head on over to our Budgeting & Saving guide. You'll find all our best hints and tips to help you survive and thrive financially.
---
---

As Canstar's Editor-in-Chief, Nina heads up a team of talented journalists committed to helping empower consumers to take greater control of their finances. Previously Nina founded her own agency where she provided content and communications support to clients around Australia for eight years. She also spent four years as the PR Manager for American Express Australia, and has worked at a Brisbane communications agency where she supported dozens of clients, including Sunsuper and Suncorp.
Nina has ghostwritten dozens of opinion pieces for publications including The Australian and has been interviewed on finance topics by the Herald Sun and the Sydney Morning Herald. When she's not dreaming up ways to put a fresh spin on finance, she's taking her own advice by trying to pay her house off as quickly as possible and raising two money-savvy kids.
Nina has a Bachelor of Journalism and a Bachelor of Arts with a double major in English Literature from the University of Queensland. She's also an experienced presenter, and has hosted numerous events and YouTube series.
You can follow her on Instagram or Twitter, or Canstar on Facebook.
You can also read more about Canstar's editorial team and our robust fact-checking process.
---
High interest savings accounts glossary of terms
Please note that these are a general explanation of the meaning of terms used in relation to savings accounts. Your bank or financial institution may use different terms, and you should read your product disclosure statement (PDS) carefully to understand everything that may apply to your account. You cannot rely on these terms in relation to any savings account you may open.
What is Account-keeping fees?
Account-keeping fees are ongoing fees charged to cover or partially cover the bank's internal costs of creating and maintaining the account.
What is an Annual equivalent rate (AER)?
A Annual equivalent rate (AER) is a rate that can be compared between lenders, which shows what the interest rate would be if interest was paid and compounded once each year. Any advertisement for a savings product that quotes an interest rate must also quote the AER so that you can compare what return you could expect over time.
What are Basis points?
Basis points is a unit of measurement used in financial situations to describe the percentage change in interest rates or the value of a financial product. One basis point is 0.01% or 0.0001 in decimal form.
What is a Bonus savings account?
A Bonus savings account is an account that give bonus interest whenever the accountholder makes no withdrawals and deposits a certain amount of money into the account (usually around $50 or $100).
What is a Cash management account?
A Cash management account is a savings account for high balances (usually $10,000 – $20,000) with a higher interest rate and the flexibility of a transaction account.
What is a Debit card?
A Debit card is a card that is linked to a transaction account and allows the cardholder to make transactions with merchants and withdrawals from ATMs. Also known as a bank card or cheque card.
What is a Deposit?
A Deposit is money that you put into an account with a financial institution.
What is a Introductory rate?
An Introductory rate is an introductory bonus offer where a variable interest rate applies to the account for a set time period. At the end of the bonus period, rates revert to the base rates.
What is a Junior savings account?
A Junior savings account is a savings accounts for children. A parent or guardian operates the account in the child's name but the child also has access to their account. View our Junior Banking Award for under 12s and Youth Banking Award for under 18s on our website.
What is a Online savings account (OSA)?
An Online savings account (OSA) is a savings account that is primarily managed on the internet.
What is a Promotional rate?
A Promotional rate is an interest rate which is only offered during a specified promotional period. When the promotional period ends, the interest rate will generally revert to the base rate. Similar to an introductory rate.
What is a Transaction account?
A Transaction account is a deposit account that serves the purpose of providing frequent access to funds in your account for debit card transactions made through eftpos at merchants, branches, ATMs, and also for the use of cheques. A transaction account is different to a savings account because it is not designed to grow your savings with interest.
What is a Withdrawal?
A Withdrawal is when you take money out of your account, e.g. getting cash out of an ATM.
What is a Yield?
A Yield is the rate of return earned on an investment.
Savings account providers we research and rate
At the time of our latest star ratings of savings accounts, the savings account product providers we researched and rated included the following:
86 400
AMP Bank
ANZ
Arab Bank Australia
Australian Military Bank
Australian Unity
Bank First
Bank of China
Bank of Melbourne
Bank of Sydney
Bank of us
BankSA
BankVic
Bankwest
Bendigo Bank
Beyond Bank
BOQ
Citi
Commonwealth Bank
Credit Union SA
CUA
Delphi Bank
Endeavour Mutual Bank
G&C Mutual Bank
Gateway Bank
Geelong Bank
Heritage Bank
Horizon Bank
HSBC
Hume Bank
Hunter United
Illawarra Credit Union
IMB
ING
Macquarie Bank
Macquarie Credit Union
ME Bank
MOVE Bank
MyState Bank
NAB
Nabtrade
Newcastle Permanent
People's Choice Credit Union
QBANK
Qudos Bank
Queensland Country Bank
Rabobank Australia
RACQ Bank
RAMS
Regional Australia Bank
St.George Bank
Suncorp Bank
Sydney Mutual Bank
Teachers Mutual Bank
The Capricornian
The Mac
The Mutual Bank
Transaction Mutual Credit Union
UBank
UniBank
Up
Volt
Westpac
For more information on how Canstar rates savings accounts, read our latest star ratings report.