What is a savings account?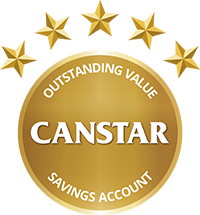 A savings account is – as the name suggests – a bank account into which you deposit money to accrue interest and build your savings.
Savings accounts are popular and useful for just about anyone who's trying to save towards a goal. Some investors, such as those with a self-managed super fund, use a savings account as part of their investment portfolio to guarantee receiving some kind of return on their money.
Savings are trending downwards in Australia at the time of writing, with Aussies squirreling away just 8.3% of our income in 2015 compared to 11.8% in 2012. However, it's not all bad news for those trying to save. A new OECD study on inequality shows that we are still the third-richest country in the world, behind the USA and Canada. We are also one of the few countries where the income earned by the bottom 10% of our population has risen since the GFC, showing positive economic growth where it's most needed.
When we have realistic goals for our savings and we know what to look for when choosing a savings account, we can do quite well for ourselves. You can make a plan today for building your savings for the future, using our CANSTAR Savings Plan Calculator and Budget Planner Calculator.
If you're struggling to save and would prefer advice on how to budget to meet your regular financial needs, head on over to our Budgeting & Saving guide. You'll find all our best hints and tips to help you survive and thrive financially.
Common features and fees of savings accounts:
There are a few basic things to look for in a savings account, depending on your financial needs:
High interest rate (beware of high introductory rates that revert to lower rates)
Low fees
Suitable minimum or maximum deposit amounts
Free transactions
Accessibility of branches and ATMs if necessary
Some common fees to look out for on various savings accounts are:
Monthly account-keeping fees
Branch deposit fees
Over-the-counter transaction fees
Eftpos fees
Electronic transaction fees
ATM withdrawal fees, both "own" and "other"
The good news is that most savings accounts won't charge fees for electronic transfers, and you can usually waive the monthly account-keeping fee simply by depositing a certain amount each month.
What are the current interest rates for savings accounts?
The average interest rates for savings accounts have dropped across the board since February 2015, when the Reserve Bank of Australia lowered the official cash rate to a record low. Since the cash rate is currently holding steady at 2.00%, we had a look at the average interest rates on offer during this low.
Finding the highest interest rate for a savings account is vital when rates are this low. You can compare interest rates for different types of savings accounts on our website.
Online Accounts:
94% of the online saver accounts in CANSTAR's database dropped their base rates after the February RBA meeting, by about 0.27% on average.
Before cash rate change: 2.48% (ave), 3.25% (max)
After cash rate change: 2.22% (ave), 3.00% (max)
(Rates quoted are assessed on an amount of $5,000.)
Cash Management Accounts:
49 of the 62 cash management accounts dropped their rate by an average of 0.21%.
Before cash rate change: 1.45% (ave), 2.75% (max)
After cash rate change: 1.23% (ave), 2.50% (max)
(Rates quoted are assessed on an amount of $25,000.)
Bonus Accounts:
The total rates (base rate plus bonus rate) for bonus accounts have shown a drop of 0.22% on average.
Before cash rate change: 3.03% (ave), 3.75% (max)
After cash rate change: 2.75% (ave), 3.40% (max)
(Rates quoted are assessed on an amount of $10,000.)
SMSF (Self-Managed Super Fund) Savings Accounts:
SMSF accounts have shown a drop of 0.25% on average off base rates and 0.26% off bonus rates.
Before cash rate change: 2.83% (ave), 3.60% (max)
After cash rate change: 2.57% (ave), 3.35% (max)
(Rates quoted are assessed on an amount of $50,000.)
Junior Accounts:
Kids' accounts haven't exactly been spared from changes in the interest they earn, but the drop has been smaller. The total rate has decreased on average by 0.03%. Every bank has a different balancing act between high bonus rates and low base rates for junior accounts, so it definitely pays to do your research on a range of accounts before deciding what would be in your child's best interest. You can compare Junior Savings Accounts on our website.
Before cash rate change: 2.19% (ave), 5.75% (max)
After cash rate change: 2.15% (ave), 5.50% (max)
(Rates quoted are assessed on an amount of $2,000.)
Written by: TJ Ryan