About personal loans
Types of personal loans
Saving on personal loans
Other personal loan information
About personal loans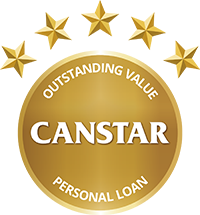 What is a personal loan?
A personal loan is an amount of money you can borrow for a specific purpose. For example, personal loans are often taken out from financial institutions to help pay for big expenses like a wedding, home renovations, debt consolidation, holidays or buying a car.
The loan amount, plus any interest and fees, must be paid back within a certain timeframe (known as the loan term). This typically ranges from one to seven years.
What are the different types of personal loans?
Fixed or variable rate loans
Personal loans can come with a fixed or variable interest rate. With a fixed interest rate, the interest rate will stay the same during the loan term. With a variable interest rate, it can go up or down.
Secured or unsecured loans
Personal loans can also be either secured or unsecured. A secured personal loan requires you to provide an asset to be used as security for the loan, also known as 'collateral'. For example, car loans are often secured by the car being purchased. We compare car loans separately on our website. If you don't repay the loan on time, the lender can repossess the asset and sell it to recover the loan amount.
An unsecured personal loan does not require an asset to be provided as security. Interest rates are typically higher on unsecured loans, as the provider does not have that added financial security. If you don't make your repayments, the lender may take you to court to recover the money you borrowed.
How to compare personal loans
It's important to compare your options to make sure you are getting the right personal loan for you and you aren't paying more than you need to in interest or fees. Some factors to consider include:
Interest rate – this can vary depending on the provider, whether the loan is secured or unsecured, and your personal circumstances (such as your credit score and whether you have a loan guarantor).
Comparison rate – this takes into account the interest rate and most upfront and ongoing fees and is designed to give you a better idea of the total cost of the loan per year.
Fees and charges – such as an application fee, monthly fee, missed payment fees and early payment fees.
Loan term – a loan with a longer term may have lower repayments, but it also means you will pay more interest over the life of the loan.
Flexibility around additional repayments – most lenders on Canstar's database allow you to make extra and lump sum repayments. However, it's important to check whether any additional fees apply.
If you are comparing personal loans, Canstar's comparison tables could be a good place to start. Canstar assesses and ranks personal loans each year as part of our Personal and Car Loan Star Ratings.
How does Canstar compare personal loans?
Canstar compares personal loans using a unique and sophisticated Personal and Car Loans Star Ratings methodology, which looks at both price and features. The ratings represent a shortlist of products, enabling customers to narrow down their search to products that have been assessed and ranked. The top-performing products receive a 5-Star Rating.
Some of the factors Canstar considers for personal loans are:
total cost including the interest rate, upfront fees and ongoing fees
loan purpose
security requirements
repayment requirements and options
redraw, top up, offset and switching facilities
online self service for the loan
Looking for the cheapest or lowest personal loan rates?
When comparing products, how do you find the cheapest personal loans out there? It's worth bearing in mind that the provider with the cheapest personal loans isn't necessarily the one offering the lowest interest rates. Because personal loans involve smaller amounts repaid over a shorter time period than a home loan, fees can have a larger impact on the overall cost. For example, a product with a low interest rate but which charges upfront and monthly fees may end up being more expensive than a loan with a slightly higher interest rate and no fees.
Loan features can also boost the value you're getting overall. So, the cheapest personal loans on offer for your situation may ultimately be the ones offering the best combinations of interest rate, fees and features that allow you to repay the loan early without penalty.
Looking for the best personal loan?
So how can you find the best personal loan for you? When choosing a personal loan, it's important to shop around and compare your options. Consider factors such as the price (including the interest rate and fees) and features (such as if you can make additional repayments and pay off the loan early without penalty).
To help consumers narrow down their options, Canstar researches and rates hundreds of products as part of its annual Personal and Car Loan Star Ratings.
Last updated: 25/06/2021
---

As Canstar's Editor-in-Chief, Nina heads up a team of talented journalists committed to helping empower consumers to take greater control of their finances. Previously Nina founded her own agency where she provided content and communications support to clients around Australia for eight years. She also spent four years as the PR Manager for American Express Australia, and has worked at a Brisbane communications agency where she supported dozens of clients, including Sunsuper and Suncorp.
Nina has ghostwritten dozens of opinion pieces for publications including The Australian and has been interviewed on finance topics by the Herald Sun and the Sydney Morning Herald. When she's not dreaming up ways to put a fresh spin on finance, she's taking her own advice by trying to pay her house off as quickly as possible and raising two money-savvy kids.
Nina has a Bachelor of Journalism and a Bachelor of Arts with a double major in English Literature from the University of Queensland. She's also an experienced presenter, and has hosted numerous events and YouTube series.
You can follow her on Instagram or Twitter, or Canstar on Facebook.
You can also read more about Canstar's editorial team and our robust fact-checking process.
---