What is a personal loan?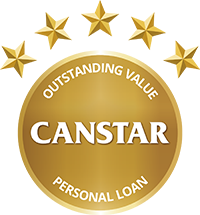 A personal loan is a loan taken out for a personal reason. Personal loans are usually used big ticket household items including cars, furniture, elective surgery or holidays. Personal loans are also commonly used for consolidating your debts into one parcel of money to be paid off.
Part of the appeal of a personal loan is that they can be approved by financial institutions very quickly. Most financial institutions will approve or deny a personal loan in 1 – 3 banking days.
A common type of personal loan is a car loan. Because car loans are such an important product for many Australians and there are often different terms and conditions to other types of personal loans, we compare car loans separately on our website.
Debt consolidation through a personal loan is something that many Australians find convenient, as personal loans tend to have lower interest rates than the rates attached to credit cards. Importantly, personal loans also have a defined timeframe – a certain amount of time to pay it off. This is a great way to impose discipline!
Many Australians fall into debt by having multiple credit cards and an instant gratification, "I want it now" mentality. Then they need to consolidate their debt into one place just so that they can meet the minimum repayments. It's not a decision to take lightly, but sometimes it can be a good way to pay off your debts. (There are other options – find out about them here.)
Personal loans do not include loans for property (see home loans), business (see business loans), investment (see margin loans), unpaid overdue bills and fines, and court-ordered damages payments.
Types of personal loans:
Personal loans can be either secured (where the loan is secured against an asset) or unsecured (where the bank is relying solely on your income flow).
The interest rate charged on personal loans can be a fixed rate or variable rate.
1. What is a secured loan?
A secured loan is where you put something that own (like your car) up as security against your debt. If you weren't able to repay the personal loan, the lender may be able to sell your security item instead.
As of our November 2016 ratings, the average for secured personal loan interest rates is 9.40% p.a..
2. What is an unsecured loan?
With an unsecured loan, the lender agrees to lend you money without taking a form of security. The loan is still subject to your capacity to repay it, so you will need to provide proof of your income to the bank.
The interest rate on an unsecured personal loan will be higher by about 3.50% p.a. on average. This is because the risk of losing money is higher for the lender than for you – if you weren't able to repay the personal loan, the lender would have to take you to court to get their money back.
As of our November 2016 ratings, the average for unsecured personal loan interest rates is 12.73% p.a..
One type of unsecured personal loan is the personal overdraft, an overdraft facility or feature attached to your savings or debit bank account. The overdraft allows you to access more money than you have, up to an approved limit. Interest is charged on any amount you spend of the overdraft. When the overdraft is in use, a monthly fee is usually charged; when the overdraft is not in the use, only the normal fees for your savings or debit account are charged.
How much will a personal loan cost?
The cost of a personal loan depends on how much you borrow, how long the term of the loan is, and the interest rate charged on the amount.
Personal Loan Type
Minimum
Average
Maximum
Number of products rated
How many are 5-star rated?
Secured Personal Loan
4.53%
9.40%
19.49%
61
11
Unsecured Personal Loan
6.28%
12.73%
22.99%
109
11
Car Loan
4.61%
10.30%
21.99%
259
25

Source: CANSTAR. Rates current as at 1 November 2016.
CANSTAR's research team provides the example of average interest rates charged on a $20,000 personal loan over 5 years. If it was a secured personal loan with the average interest rate of 9.40%, the total repayments over 5 years would be $25,144. If the loan was unsecured on the average rate of 12.73%, the total paid would be $27,138. The difference in interest rates also changes the monthly repayment required.
As interest rates regularly go up and down, you should compare personal loans using the selector tool at the top of this page to find what is a good deal at the time.
How long and how much can you take out a personal loan for?
Personal loans typically have a loan term of 2 to 7 years, but some loans can be taken out for as short as 1 month or as long as 20 years. While a secured personal loan or a car loan can potentially have a loan term as long as 20 years, an unsecured personal loan will have a shorter maximum loan term because they are riskier for lenders.
Of course, you'd hope that the majority of personal loans get paid off well before the maximum allowable period expires.
What are peer-to-peer loans?
Peer-to-peer (P2P) lending is a method of lending that allows potential borrowers to borrow directly from lenders/investors instead of applying for a loan from a big bank. Most P2P lenders offer loans of up to $30,000.
It can be good for personal loan applicants who have a great credit rating but aren't being offered a competitive low rate by the big banks. P2P loans can also potentially be cheaper because they don't charge as many fees as banks do.
Peer-to-peer (P2P) lending is a well-established practice in the UK since 2005 and in the US since 2006, but has only recently arrived in Australia. In 2015, 22% of Aussies surveyed by Canstar Blue said they would consider using a peer-to-peer lender. Some of the P2P lenders in Australia at the time of writing are SocietyOne, RateSetter, ThinCats, Marketlend, DorectMoney, MoneyPlace, and OnDeck.
To become a P2P lender/investor, you must be eligible as a "qualifying individual sophisticated investor" with extensive investment experience and knowledge. Also, P2P loans aren't covered by a government guarantee, so you may potentially lose money if your borrower cannot make the repayments.