Landlord Insurance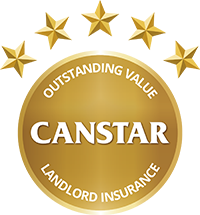 Landlord insurance can cover you for a range of different insured events, from the usual home insurance inclusions for fire and natural disasters, to incidents related to your tenants' lease, including:
Theft
Malicious damage and vandalism
Loss of rent due to tenant default (although some providers have taken this option off new policies due to the economic fallout of the COVID-19 crisis)
Legal expenses required to evict a tenant
And the good news is that because it is an investment expense, your policy premiums are potentially tax deductible.
There are also policies available to cover short-term rental landlords who use sites like Airbnb, Stayz and Flatmates.com.au to rent out a room or part of their home property, such as a granny flat. If home owners aren't covered and a renter or guest damages their property, they can face paying for expensive repairs on their own.
Even worse, they could face expensive public liability claims if a renter is injured while staying on their property – which could amount to hundreds of thousands of dollars.
Compare landlord insurance
Canstar compares landlord insurance with our unique, sophisticated landlord insurance star ratings methodology, comparing both pricing and features to determine the overall value of an insurance product. The results are reflected in our consumer-friendly 5-star concept, with a 5-star rating signifying an insurance policy that offers outstanding value.
Canstar compares thousands of quotes across each of the states and territories in Australia, and assessing more than 100 different features within 16 categories.
Some of the features Canstar compares for landlord insurance are:
Weekly rent limit on the policy
Accidental damage or damage caused by natural disasters and storms
Theft or burglary caused by tenant
Malicious damage caused by tenant to building and/or contents
Damage caused by tenant's pet
Public liability cover for injury to someone visiting your investment property
Rent loss due to insured events, prevention of access, rental default by tenant, death of sole tenant, damage caused by tenant, theft by tenant, tenants obtaining a financial hardship order, absconding tenants, tenant's failure to give vacant possession, or tenant eviction by court order
Re-letting expenses after a claim on rental loss
Removal of tenant's goods after a claim on rental loss
Change of locks after a claim on rental loss
Legal costs such as representation fees, related to tenant eviction by court order or claim for rental loss
Cover for professional tax audit fees
Check what else you need to consider when choosing a landlord insurance policy here.
You can read the full landlord insurance star ratings report or compare landlord insurance yourself, based on your own property requirements, using the comparison selector tool at the top of the page.
---

As Canstar's Editor-in-Chief, Nina heads up a team of talented journalists committed to helping empower consumers to take greater control of their finances. Previously Nina founded her own agency where she provided content and communications support to clients around Australia for eight years. She also spent four years as the PR Manager for American Express Australia, and has worked at a Brisbane communications agency where she supported dozens of clients, including Sunsuper and Suncorp.
Nina has ghostwritten dozens of opinion pieces for publications including The Australian and has been interviewed on finance topics by the Herald Sun and the Sydney Morning Herald. When she's not dreaming up ways to put a fresh spin on finance, she's taking her own advice by trying to pay her house off as quickly as possible and raising two money-savvy kids.
Nina has a Bachelor of Journalism and a Bachelor of Arts with a double major in English Literature from the University of Queensland. She's also an experienced presenter, and has hosted numerous events and YouTube series.
You can follow her on Instagram or Twitter, or Canstar on Facebook.
You can also read more about Canstar's editorial team and our robust fact-checking process.
---
Landlord Insurance providers in Australia
If you're trying to make your own shortlist of products that might suit your needs, you can't go past the 5-star rated products listed on our comparison page – see the top of this page.
Below is a list of some landlord insurance providers or view more here:
Compare landlord insurance providers using the comparison selector tool at the top of this page.
Landlord insurance FAQs
Please note that these are a general explanation of the meaning of terms used in relation to landlord insurance. Your insurance provider may use different wording and you should read the terms and conditions of your insurance policy carefully to understand what you are and are not covered for. Refer to the product disclosure statement (PDS) from your provider.
What is Accidental damage?
Accidental damage is damage caused by an event or incident that the landlord and the tenant did not intend or expect.
What is a Bond?
A Bond is money paid by a tenant and held as security by the landlord against any possible future property damage, outstanding rent, or other costs.
What is Building Replacement Value?
The building replacement value is the amount it would cost you to totally rebuild the property at today's prices, taking into account any renovations or improvements you have made previously to increase the property's value.
What is Duty of Care?
Duty of care
is when the landlord must take all reasonable care to prevent theft, loss, damage, or legal liability due to insurance.
Landlords also have a duty of care
to follow all terms and responsibilities set out in the insurance contract.
What is Duty of Disclosure?
Duty of disclosure is when the landlords must to be honest and tell their insurer everything they know or should know, if a reasonable person would consider it relevant to the insurer's decision to insure someone under the policy. A failure to disclose information fully could result in a claim being reduced or refused, or your policy being cancelled entirely.
What is Excess?
Excess is the amount you must pay for each incident when you make a claim. The amount and type of excess that applies to different types of claims under your policy will be shown on your Certificate of Insurance.
What are Exclusions?
Exclusions are anything not covered by your policy. Exclusions vary between insurance providers.
What are Fixtures and Fittings?
Fixtures and fittings are household items or equipment that are permanently attached to the building, such as carpets, curtains, and air-conditioners.
What is Flood cover?
Flood cover is insurance that covers any event when normally dry land is covered by water that has escaped or been released from a lake, river, creek, or other natural watercourse; or a reservoir, canal, or dam. This does not cover damage caused by the sea, such as a tsunami. If you have concerns about flood cover, check with your insurance provider. Find out more about flood cover.
What is Fusion?
Fusion is the burning out of an electric motor or its wiring, caused by the electric current in it. Common items that might be claimed under fusion cover include washing machines, clothes dryers, refrigerators, and pool filters. Learn more about motor burnout and fusion cover.
What are Inclusions?
Inclusions are anything covered by your policy. When a particular event is listed as being included in your policy, the insurer will cover a set amount of the cost involved in repairing the damage or replacing damaged items. An excess may apply to a claim.
What is New for Old Replacement?
New for old replacement is when your insurer will replace items with new items or repair them with new materials. Many new for old policies specify that you can only claim new for old replacement for an item if it is younger than a certain number of years. Learn about new for old replacement.
What is Optional Cover?
Optional Cover
is extra insurance cover above that included in the
standard or basic policy
. You can ask your insurer to add optional cover to your policy for a higher premium. Common examples of optional cover include accidental glass breakage, or storm damage to gates and fences.
What is Sum Insured?
Sum Insured is insurance for the sum you are insured for. This is the maximum amount you can claim for a particular incident.
What is a Unit?
A Unit is a dwelling in the form of an apartment, flat, villa, or townhouse, subdivided according to state or territory laws for strata title.
What is Unoccupied Excess?
Unoccupied Excess is when an insurance provider may charge an additional excess for a claim for a covered incident if your property remained continuously unoccupied for a certain length of time.