How CANSTAR compares credit cards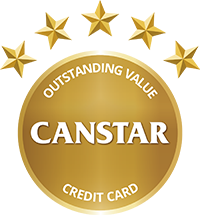 Compare credit cards using CANSTAR's sophisticated and unique ratings methodology. We compare a wide range of credit card products in Australia and present the results in a simple, user-friendly format. Our rating methodology for comparing credit cards is transparent and extensive.
CANSTAR's methodology compares all types of personal unsecured credit cards in Australia and accounts for an array of characteristics such as:
Fees/Interest Rates
Number of Free Days
Standard Features
Premium Features
Reward/Loyalty Programs
No Frills
The results are reflected in a consumer-friendly five-star concept, with five stars denoting a product offering outstanding value.
What is a credit card?
A credit card is a form of unsecured personal loan that gives the cardholder access to a revolving line of credit. That revolving line of credit is accessed, most usually via a small plastic card – the credit card.
The cardholder can make purchases up to a specified limit. The 'spent' credit can be repaid by the cardholder to the bank by the due date in full or in part. If the credit is only repaid in part, the remaining balance is taken as extended credit and interest will be charged on that amount until the cardholder repays it. For some cards, interest is charged on all purchases and transactions – not just extended credit – from the day of the transaction.
There are more credit cards being used in Australia than ever before, with more than 16 million credit cards in circulation as at July 2015. As of August 2015, ASIC's MoneySmart Debt Clock advises that Australians are currently paying interest on a total of just over $33 billion of credit card debt, with an average debt of $3,100 per cardholder. More than $4 billion is being paid in interest alone. In July 2015, Australia owed a whopping $51.4 billion in credit and charge card debt.
CANSTAR survey data from 2,200 Australians showed that 75% of adults have a credit card, and a healthy 78% said they paid the credit card bill off every month. Sadly, 19% blamed credit card spending for their financial difficulties.
What having a credit card means financially
A credit card can present a higher personal risk to customers financially. It can make it all too easy to spend on impulse if you're not disciplined about how and when you use the card.
A line of credit connected to a credit card might be easier to obtain than other forms of credit such as a personal loan or a home loan, but it doesn't come cheaply.
Credit cards typically have high interest rates because they are an unsecured debt. Unlike other loans or lines of credit, interest rates on credit cards appear to remain high no matter how the Reserve Bank of Australia (RBA) increases or decreases the official cash rate. By comparison, home loans and term deposit accounts tend to reflect any movement in the cash rate within a short time of the official announcement.
Many credit cards also charge an annual fee in exchange for some extra rewards and services. It's important to weigh up the value of these rewards and assess whether or not they would be useful to you. Some cards let you pay the annual fee with rewards points you have earned, but if you only earn enough points in the year to pay the fee, then your should think about whether you might be better off by choosing a card without a fee.
Credit cards can also charge high fees for late payment of a bill or certain types of transactions. 36% of Aussies surveyed by Canstar Blue said they have been hit by unexpected bank fees or charges. So it's important to read your terms and conditions and pay your bill on time every month.
Why it might be worth having a credit card
Credit cards can be useful for a variety of reasons if used responsibly.
When you want to apply for a loan (such as a mortgage or a car loan) you generally need to have accumulated a positive credit history of dealing responsibly with a line of credit. If you pay off the full balance of your credit card every month, this can provide you with that positive credit rating. Just remember to be careful, as any missed payments will negatively affect your credit rating. Find out more about accessing your credit history here.
Credit cards have anti-fraud protections; if someone defrauds your credit card, they can max it out, but you still have access to your own cash while the bank investigates the fraud. Always check that you recognise every transaction listed on your statement, and call the bank immediately if you suspect someone has stolen your details and is using your card.
Many credit cards have great reward programs. These are useful for cardholders who already use their card enough to build up points and justify paying an annual fee for it. These may not be useful if you would need to over-spend or buy things you don't need just to acquire points, or if the annual fee is higher than the benefits you would use. Think about the type of rewards on offer and consider whether you would use them. You might not even need a credit card with an extensive rewards program.
Paying for a large-ticket item or a large purchase such as overseas flights, it can be easier to use a credit card because it doesn't have a small daily limit like your debit card. Before you buy, check that there aren't any merchant fees for using your credit card to make the purchase. It might be worth asking the bank to increase the daily limit on your debit card instead.
When you're travelling overseas, having a credit card can be a convenient and safe way to travel, eat out and buy souvenirs. Also though, remember that many places in the world still operate using cash, so you should also have some of the local currency with you at all times. It can also be helpful to take a back-up card with you just in case.
What is the current interest rate for credit cards?
At the time of writing (August 2015) according to the CANSTAR database, interest rates for credit card purchases are between 7.99% and 23.50%, with an average rate of around 17%. We've make shopping around for the best rate easy by comparing credit cards for you. Based on the cards on CANSTAR's database:
Lowest credit card interest rate: 7.99%
Average credit card interest rate: 16.88%
Highest credit card interest rate: 23.50%
The interest rates for credit card cash advances are slightly different, from 4.99% all the way up to 29.49%. Interest rates on balance transfers are between 0.00% and 9.99%, considerably less than your average credit card – but remember that a balance transfer generally only applies to any existing debt, not to purchases that you make with the card, and is only for a specified amount  of time.
For those who often juggle an ongoing debt of their credit card, finding a card with a comparatively low interest rate might be cost-effective. At the time of writing, there are nine cards on our database with an interest rate lower than 10%. That's still a lot of interest to pay, so it's worth shopping around.
According to our recent survey of 2,200 Australian adults, 34% of Aussies don't know what interest rate they're paying. A further 51% conceded they could have found a better deal at a lower interest rate if they had looked around a little more. On the other hand, 45% of survey respondents shopped around to find the best rate possible for them.