How Much & When To Buy
How To Choose & Exclusions
Other Travel Insurance
Travel Insurance
What is travel insurance?
Warning: While the Australian Government travel ban remains in place, travel insurance policies may not provide protection for international travel and many travel insurers will not cover COVID-19-related claims. Star Ratings in our travel insurance comparison tables were awarded and assessed against criteria in August 2019. For the most up-to-date information, please contact your policy provider directly. You may also visit www.smartraveller.gov.au for more information.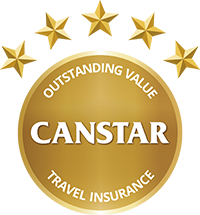 Travel insurance covers emergencies or accidents while you are on holiday. Depending on your destination and choice of policy, it could also include cover for the cost of medical emergencies, lost or stolen luggage, and even the car insurance excess charged in the event of a hire car accident. There are two main types of travel insurance – domestic and international.
Domestic travel insurance covers you for trips taken within Australia, and could include cover for things such as:
Lost or stolen luggage or other belongings
Cancelling your trip unexpectedly due to illness, accident, natural disasters, or certain other reasons outside your control;
Rental vehicle excess if you have an accident driving a hire car
Legal liability if you accidentally break a local law.
One thing domestic travel insurance generally does not include is medical cover. However, as you're still in Australia you can still access both Medicare and private health insurance (if you have it).
International travel insurance will cover you for overseas trips, which typically covers slightly different things than domestic cover. For example, policies could include cover for:
Medical emergencies for admission to hospital in another country (typically not including scheduled treatments such as dental tourism)
Lost or stolen luggage or other belongings
Lost or stolen travel documents (such as a passport) or cash
Cancelling your trip unexpectedly due to illness, accident, natural disasters, or other reasons outside your control;
Legal liability if you accidentally break a local law and need a lawyer and/or interpreter (note that ignorance of the law is no excuse in most countries);
Repatriation cover to fly you and your belongings back home if you pass away while travelling.
No travel policy will cover you for every single thing that could possibly go wrong while you're away. It's important to carefully read the policy terms and conditions in the product disclosure statement (PDS) for any policy you're considering, so you know what is and is not covered.
Typical exclusions could include:
Costs or cancellations that arise from a pandemic or an epidemic (such as COVID-19)
Skiing or other snow activities (typically, you'll need snow cover for that)
Dangerous activities ('hazardous pursuits') such as such as scuba diving or bungee jumping (some insurers may cover this automatically, but it's possible you may need to pay extra or buy a separate adventure travel policy)
High-value belongings (unless you tell your insurer about them)
Risky or irresponsible behaviour on your part, including behaviour while under the influence of alcohol
Pre-existing medical conditions that you didn't tell your insurer about when applying for insurance
Intentional illegal behaviour, or breaking local laws and regulations more generally
Lost items where you left your belongings unattended
Driving a motorbike overseas (you may be able to obtain cover in some cases if you have a motorbike licence and are driving a low-power vehicle – check with your insurer)
Acts of war
Suicide or attempted suicide
Claims where you didn't notify your insurer within a set timeframe, e.g. 24 hours.
How Canstar compares travel insurance
Canstar's Travel Insurance Star Ratings and Awards use a sophisticated methodology, unique to Canstar, that compares travel insurance products from our database offered to Australians travelling domestically or overseas. They provide an analysis of a shortlist of travel insurance policies, enabling consumers to narrow their search to products that have been assessed and ranked.
Some of the features Canstar compares for travel insurance policies are:
Policy inclusions and exclusions
The claim process
Policy flexibility
Medical and dental cover
Lost luggage and travel documents cover
Cancellation fee cover
Emergency travel cover
Rental vehicle cover
Legal liability cover
You can read the full Star Ratings report or compare travel insurance products yourself, based on your own requirements, using the comparison selector tool at the top of the page before proceeding to get a quote.
---

As Canstar's Editor-in-Chief, Nina heads up a team of talented journalists committed to helping empower consumers to take greater control of their finances. Previously Nina founded her own agency where she provided content and communications support to clients around Australia for eight years. She also spent four years as the PR Manager for American Express Australia, and has worked at a Brisbane communications agency where she supported dozens of clients, including Sunsuper and Suncorp.
Nina has ghostwritten dozens of opinion pieces for publications including The Australian and has been interviewed on finance topics by the Herald Sun and the Sydney Morning Herald. When she's not dreaming up ways to put a fresh spin on finance, she's taking her own advice by trying to pay her house off as quickly as possible and raising two money-savvy kids.
Nina has a Bachelor of Journalism and a Bachelor of Arts with a double major in English Literature from the University of Queensland. She's also an experienced presenter, and has hosted numerous events and YouTube series.
You can follow her on Instagram or Twitter, or Canstar on Facebook.
You can also read more about Canstar's editorial team and our robust fact-checking process.
---
Travel insurance quotes
Canstar makes it easier for consumers looking to compare policies and narrow their search for
travel insurance
providers. As premiums for travel insurance policies are dependent on your travel plans and personal circumstances, the most accurate way to obtain a quote is directly through a provider, by contacting them or using their online quote form.
The quote you receive for the cost of your
travel insurance
premium will be based on a number of factors, including your destination, age, medical history, the length of your trip, the activities you intend to participate in (with 'riskier' activities such as snow sports and motorcycle or scooter use often making your cover more expensive) and what types of events you would like covered (such as natural disasters or terrorism).
Most insurers will also let you select from a number of options, such as cover for a cruise, multi-country policies or an annual policy (to cover more than one trip) when requesting a quote. Policies are generally available for singles, couples or families, so it could be a good idea to seek a quote for a single policy that covers all parties travelling to see if you can find a competitive price, as this can often work out cheaper than getting cover for each traveller individually. Some insurers include cover for children under a set age (usually 18 or 21) within their parents' policy, so it could be worth asking your insurer about their cover when receiving a quote.
With a range of products available from dozens of providers, it can be useful to have a good idea of the cover you require before you request quotes. This could help you save time by narrowing your search, so that the quotes you receive are specific to products that may be more suited to your needs. There are a number of factors to consider when selecting a travel insurance product, so keep in mind that the policy or provider with the cheapest quote may not necessarily offer the best value for your circumstances. Aside from the quoted premium, you may also want to consider factors such as what is included (and not included) in the cover, the dollar value that will be paid out for certain events, how much the excess is and the quality of customer service on offer.
Canstar rates
travel insurance
products by taking into consideration costs as well as features and determining each policy's overall value to the consumer. The results are presented in a 5-Star format, with products that offer outstanding value receiving a 5-Star Rating. This can help consumers narrow their search to travel insurance products that have been assessed and determined to offer value, before seeking a quote.