Going on a holiday with the family? As well as making sure those all-important devices are charged so the gang is entertained en route,
travel insurance
is another consideration you may want to factor into your trip planning. A family insurance policy is one option to look at.
Thanks in part to cheaper airfares and more affordable accommodation options, Australians are travelling in greater numbers than ever before. In fact, according to the Tourism Research Australia, over 5 million of us went on an overseas holiday in the year ending June 2017. That's more than 20% of the population.
If you're going to be among the crowds heading to the airport or cruise terminal in the coming months, how you're protected during your trip is an important consideration. This article will go through the basics of family travel insurance – what it is, how much it costs and why you might need it.
The following table shows a snapshot of travel insurance policies for families, with links to provider's websites. The results are sorted by Star Rating (highest to lowest) then by provider name (A-Z) and are based on a family travelling to New Zealand (the most popular destination for Australian travellers).
What is family travel insurance?
Family travel insurance policies cover an entire family – most will provide cover for your children if they are under the age of 21, not in full-time employment and are named on your policy. Due to the number of people covered, they tend to have higher limits for claims than singles and couples policies.
By taking out a travel insurance policy that suits your family's needs, you may have greater protection in the event of an accident out of your control.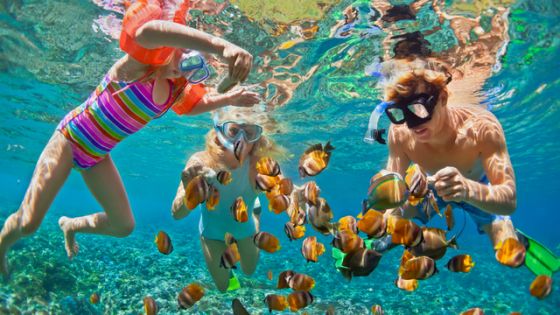 What do insurers consider a family?
Travel insurers commonly define a 'family' as the policyholder, their spouse or legal de facto, and any dependents listed on the policy. Some policies will set limits on the number of kids you can list on your policy (a common limit is three), while others have no limits, making them potentially more suitable for larger families.
If you're travelling with multiple families or your family is particularly large, you could also consider group travel insurance, which offers cover for up to 25 people under a single policy.
What if my child is travelling separately?
If your child is eligible to be listed on a family policy, but is going on a separate trip to the rest of the family (for example, if they're going away with friends), they may not be covered by your family travel insurance policy. Check with the insurance company, but you may need to take out a separate single travel insurance policy to provide cover for them.
Does family travel insurance cover babies?
Many policies include cover for the newest member of your family if they're born before you travel, as there is usually no minimum age limit for children to be listed on family policies. You should still check the PDS (product disclosure statement) of your chosen policy carefully to find out if your bub will be included.
Bear in mind that some airlines, such as Qantas, do not recommend flying with a baby within seven days of their birth. You may need to obtain a medical clearance if you plan to catch a flight with a newborn during this time.
It's a slightly different case for pregnancy and birth. Some travel policies provide pregnancy cover for travel in the first two trimesters (i.e. up to 24 weeks), while others have tighter restrictions. Very few travel policies cover expenses associated with childbirth or care of a newborn even in the case of a premature birth, so it's important to compare policies and read the fine print.
How much does family travel insurance cost?
Family travel insurance tends to be more expensive on average than it is for singles and couples since the insurer will be providing cover for more people. Generally speaking, more people = more risk of something going wrong. The most expensive destination – the USA – costs an average of $222 for a family policy.
What determines the cost of travel insurance?
As you can see, the number of travellers and their age can have a significant effect on the cost of your policy. Some other key factors that might affect how much you need to pay for your family travel insurance policy include:
The level of cover: comprehensive policies for your family with more inclusions may come with higher premiums than more basic policies
Your destination: some countries are considered more dangerous by insurers
Additional cover chosen: for example, particular activities such as skiing or water sports may incur a loading, and therefore a higher premium
Annual multi-trip or once-off single trip policy: multi-trip policies cover you for multiple trips in a 12-month period, often making them more expensive than a policy taken out for a single trip
The number of family members you bring
The length of your trip and how often you plan to travel
Your choice of provider
The health of your family members
How to look for a good deal on family travel insurance
If you decide on taking out travel insurance, think carefully about leaving it to the last minute. It can be beneficial to invest the time making sure you find a policy that is affordable based on your budget and has your desired level of cover.
While not necessarily essential, some important inclusions to consider in a family travel insurance policy might include:
Cover for medical expenses
Cover for lost or stolen belongings (let's be honest, kids are known for leaving things behind – and so are some adults!)
Cover for cancellations and delays
Depending on where you're going and what you're doing, you can also get cover for water and snow sports, or even for the unexpected such as theft or terrorism. You can get help finding a good value travel insurance policy for your family's holiday by comparing what's available with Canstar: