What is home insurance?
Types of home and contents insurance
Choosing a home insurance policy
What does home insurance cover?
Home and Contents Insurance
Home insurance (also called building insurance or property insurance) helps to cover the cost of damage to – or destruction of – your home, garage, other outbuildings, and permanent fixtures such as built-in wardrobes.
Contents insurance provides protection against damage or loss of personal possessions. This could include anything from a pair of designer sunglasses to a flat-screen TV.
These two types of insurance can be bought separately, or combined into the one policy purchase.
What could home and contents insurance cover?
Depending on the policy and circumstances of the claim, home and contents insurance cover could potentially cover you for:
Legal liability cover for damage to other people and their property caused by an incident at your address
Damage caused by a fire, flood, storm, earthquake, or other natural disaster
Damage from animals that don't live on the property
Damage or financial loss caused by theft or attempted theft, vandalism, or malicious damage by someone other than the policy holder
Emergency repairs to prevent further damage after an insured event
Demolition of a damaged or irreparable home
Temporary accommodation while your home is uninhabitable
Mortgage discharge fees if, for example, your house has to be demolished
Accidental glass breakage, including windows and cooktops
Damage caused by burnout of electrical motors (sometimes called fusion damage)
These are just some of the events that your home and contents insurance may cover, depending on your policy. To find out what a policy covers, read the Product Disclosure Statement (PDS) provided by the insurer.
Compare Home and Contents Insurance
Keep in mind that home and contents insurance is different to landlord insurance, which is similar to home insurance but can also include some landlord-specific features such as loss of rent, tenant eviction, legal expenses and malicious acts and damage.
Please note: Many insurers are no longer issuing new landlord insurance policies and others have withdrawn cover for rental default and other landlord specific covers. Consequently, Canstar has removed from its tables all policies that can no longer be purchased. The coverage of policies still available for sale may have been varied materially from those policies that have been available up to mid-March 2020. Check all policy details with your insurer and read the PDS before making a decision.
How does Canstar compare home insurance policies?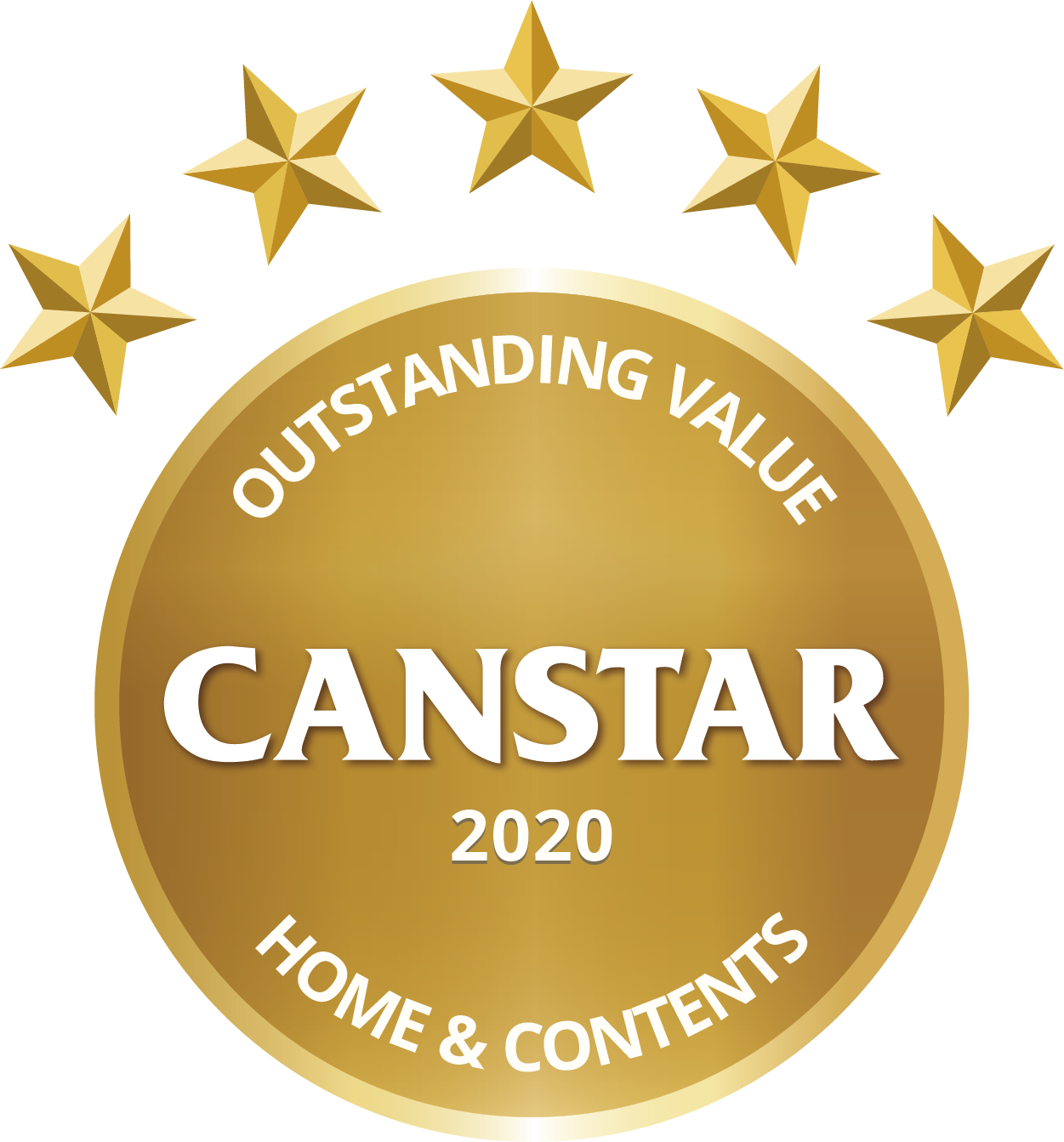 Canstar currently researches and rates more than 100 home and contents insurance policies from dozens of different providers to see which products offer customers outstanding value before they get a quote online. We can help Australians choose between standalone building insurance, standalone contents insurance, and combined home and contents insurance packages.
The secret to our Star Ratings is that we compare on value, not just price.
Canstar's research team rates home and contents insurance products for each state in Australia and for two different sums insured. This means you can see how a policy might perform in a situation like yours, which may be different to the cover provided and the cost of that cover for people in other customer profiles. Then you can create a shortlist of products that may be suitable for your needs.
You can find a summary of features that we look for in an outstanding value insurance policy in the Methodology attached to the Home and Contents Insurance Star Ratings report.
The results are reflected in a consumer-friendly Star Ratings concept, with a 5-Star Rating representing a product that offers outstanding value compared to others on our database.
So whether you're looking for contents insurance, home insurance or home and contents insurance, Canstar can help you make a shortlist of policies to investigate.
Compare Home and Contents Insurance
How should you compare home insurance policies?
If you're comparing home and contents cover, you may want to consider what insurance issues are important to you. Some things to think about when choosing home insurance could include:
What level of home and contents insurance do you want?
How many people live in your household?
Do you own or are you renting?
Are there any specific risks (e.g. flooding, bushfires, cyclones) that your property might face?
Do you have any particularly valuable items that might need additional cover?
Do you want cover for accidental or malicious damage, or just theft?
Do you have pets?
Do you work from home?
Do you frequently travel away from home for work or leisure?
From there, Canstar can help you compare the price and features of home insurance and contents insurance policies that could suit your needs, and you can get a quote online from the insurers on your shortlist.
Looking for cheap home insurance?
If you're looking to keep your household costs down, you might be looking for a cheap home insurance policy. Just be careful not to unintentionally sacrifice the level of protection you're getting in the process. For example, a cheap home insurance policy may not always offer cover for certain risks that a more comprehensive policy would, such as accidental damage or certain kinds of flooding. Depending on the policy, cheap home insurance might also mean paying a higher excess if you need to make a claim. For alternative ways to keep costs down, some insurers offer discounts if you take out your policy online rather than over the phone, or if you pay the premiums annually instead of each month. Just make sure the policy as a whole is suitable for your needs and you're not signing up solely to take advantage of a discount.
---

As Canstar's Editor-in-Chief, Nina heads up a team of talented SEO experts and journalists committed to helping empower consumers to take greater control of their finances. Previously Nina founded her own agency where she provided content and communications support to clients around Australia for eight years. She also spent four years as the PR Manager for American Express Australia, and has worked at a Brisbane communications agency where she supported dozens of clients, including Sunsuper and Suncorp.
Nina has ghostwritten dozens of opinion pieces for publications including The Australian and has been interviewed on finance topics by the Herald Sun and the Sydney Morning Herald. When she's not dreaming up ways to put a fresh spin on finance, she's taking her own advice by trying to pay her house off as quickly as possible and raising two money-savvy kids.
Nina has a Bachelor of Journalism and a Bachelor of Arts with a double major in English Literature from the University of Queensland. She's also an experienced presenter, and has hosted numerous events and YouTube series.
You can follow her on Instagram or Twitter, or Canstar on Facebook.
You can also read more about Canstar's editorial team and our robust fact-checking process.
---