If our home is our castle, then it makes sense to protect it in any way possible. We invest in locks and latches, in gates and fences, in smoke detectors and alarm systems – so investing in home and contents insurance should be a must as well.
Even in our increasingly digital world, most of our most treasured possessions are still physical. We can't compensate for the sentimental value attached to our belongings, but we can try to compensate for the financial loss of either or both our property and our belongings.
The way we do this is with home insurance (sometimes called building insurance) for the property we live in, and contents insurance for the belongings stored inside that property.
What is home insurance?
Home insurance (also called building insurance or property insurance) helps to cover the cost of damage to or destruction of your home, garage, other outbuildings, and permanent fixtures such as built-in wardrobes.
What is contents insurance?
Contents insurance provides protection against damage or loss of personal possessions. This may include anything from a pair of designer sunglasses to a flat-screen TV.
What can home and contents insurance cover?
Legal liability cover for damage to other people and their property cause by an incident at your address
Damage caused by fire, flood, storm, earthquake, riot, etc.
Damage from animals that don't live on the property
Damage or loss of your home caused by theft or attempted theft, vandalism, or malicious damage
Emergency repairs to prevent further damage after an insured event
Demolition of a damaged or irreparable building
Temporary accommodation while your home is uninhabitable
Mortgage discharge fees if your building is a total loss
Accidental glass breakage including windows and cooktops
Damage caused by burnout of electrical motors (fusion damage)
These are just some of the the events that your home and contents insurance may cover. Compare home and contents insurance to find out more.
Keep in mind that home and contents insurance is different to landlord insurance, which is similar to building insurance but can also include some landlord-specific features such as loss of rent, tenant eviction, legal expenses and malicious acts and damage.
How does Canstar compare policies?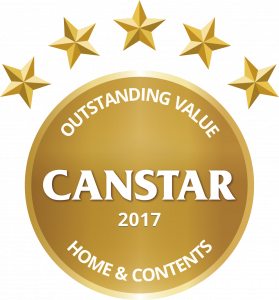 CANSTAR currently researches and rates more than 100 home and contents insurance policies from different providers to see which products offer customers outstanding value. We help Australians choose between standalone building insurance, standalone contents insurance, and combined home and contents insurance packages.
The secret to our ratings is that we compare on value, not just price.
Do you want to buy the cheapest insurance policy on the market? Some do, and so you can sort the policies available based on price, but most want a policy that meets their insurance needs – as well as being affordable!
Home and contents insurance products are rated for each state and territory in Australia and for two different sums insured. This means you can see how a policy might perform in your situation, which may be different to the cover provided and the cost of that cover for people in other customer profiles. Then you can create a shortlist of products that may be suitable for your needs.
A summary of features that we look for in an outstanding value insurance policy are contained in the Methodology attached to the Home and Contents Insurance Star Ratings report.
To be eligible for Canstar's star ratings assessment, premium quotes have to be available both online and by phone and the provider must provide quotes for all addresses quoted for the specific policy and sum insured level.
The results are reflected in a user-friendly star ratings concept, with a 5-star rating representing a product that offers outstanding value.
So whether you're looking for contents insurance, house insurance, or home and contents insurance, CANSTAR can help you make a shortlist of policies to investigate.
Compare Home and Contents Insurance
How should you compare policies?
It's about working out what insurance issues are important to you. Some things to think about when choosing home insurance include:
What level of home and contents insurance do you want?
How many people live in your household?
Do you own or are you renting?
Are there any specific risks (e.g. flooding, bushfire, cyclone) that your property may face?
Do you have any particularly valuable items that would need additional cover?
Do you need cover for accidental damage or malicious damage, or just theft?
Do you have pets?
Do you work from home?
Do you frequently travel away from home for work or leisure?
From there, Canstar can help you compare features and price of home insurance and contents insurance policies that could suit your needs, and you can get a quote from the insurers on your shortlist:
Written by: TJ Ryan