Originally published by Simon Downes, August 22, 2015.
You'd hope that in the event that you're robbed, your insurance will cover the losses. But there are certain things you can do to void your theft claim under home insurance.
Aussies love the outdoors – and love letting a bit of it into their houses via open windows and doors. But – with the doors and windows open to catch the breeze, it's easy to let your guard drop when you're at home.
Here are five common things people do every day that can potentially void your home and contents insurance claim for theft:
Leaving the house unlocked
Providing a means of entry for thieves
Not setting your alarm (or not having one)
Failing to report to the police on time
Leaving your house unoccupied for too long
Before we dive into each of these, have you considered your home insurance recently? If you're comparing home and contents insurance policies, the comparison table below displays some of the policies currently available on Canstar's database for an Australian aged under 50, seeking cover in NSW or ACT for a cost to replace building and contents of below $550,000.
Please note the table is sorted by Star Rating (highest to lowest), followed by provider name (alphabetical) and features links direct to the providers' websites. Use Canstar's home insurance comparison selector to view a wider range of policies.
1. Leaving the house unlocked
Most burglaries are crimes of convenience – your average burglar will lack the skills or the brainpower to pull off a daring heist. By leaving your home unlocked you're making it easy for them, and this is how your insurer will see it.
Leaving windows or doors open, or not locking windows where locks are fitted – especially if you are not at home – is a great way to avoid your insurance policy. If a burglar is able to gain unforced entry to your home, your insurer may not pay out on your full claim, so make sure you lock those doors when you go out!
2. No forced entry
Similar to the above point is when a thief enters your home without forcing their way in, which doesn't necessarily mean you've left your doors open. While you might have locked up, leaving a spare key lying around or a garage door clicker on the ground could be seen by insurers as you providing a burglar with a means to entry, so maybe change up where you keep your spare key every few months.
The good news is though, in today's market you'll find most providers will offer some sort of cover if there is no sign of forced entry. Of the 105 policies on our database at the time of writing, 89 of them (85%) offer theft cover in such a scenario. This doesn't mean you shouldn't take precautions!
3. Not having/setting a burglar alarm
A home alarm system is an alarm system designed to detect unauthorized entry into your home or dwelling, and they work by securing the inside of your house with devices such as door and window sensors and outdoor motion sensors.
Home alarm systems aren't cheap – they can generally cost upwards of a few hundred dollars. Having one could save you much more than this in one claim alone though, as the average cost of a burglary in Australia is $2,400 (Australian Institute of Crime). Even better, certain insurers can offer you a discount on your premiums if you show them that you have an alarm system.
However, the downside is that if you've informed your insurer you have a burglar alarm, but failed to activate it when the house was unoccupied, then there's a possibility that they might not accept your claim.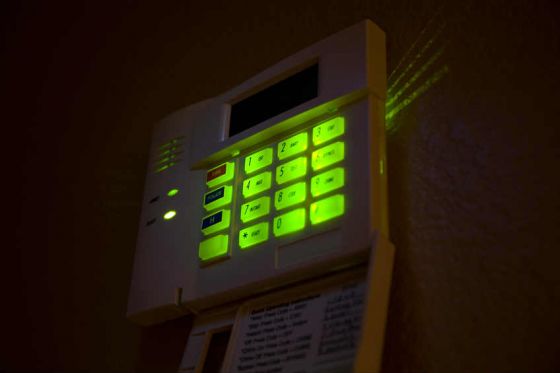 4. Failing to file a police report on time
When a theft occurs, it's important to file a police report immediately, before you contact your insurer. In incidents such as these, the insurance company will require a police report when filing a theft claim, and in Australia, thefts must be reported to the police within 24 hours in order to obtain a crime number.
Failure to report a break-in quickly could result in claim rejection, so make sure you file a report as soon as possible and ask for a copy of it for reference.
5. Leaving your house unoccupied for too long
Since insurance is a game of risk, your home is at the greatest risk of getting robbed while you're away for an extended period of time. Therefore, a lot of insurers will only cover you for a certain period of time while your house is unoccupied – after that, you're on your own.
Of the 105 home & contents insurance policies we currently rate, the majority of them have a time limit of 60 days that you can have your unoccupied house be covered under your policy. Currently, there is only one policy on the market that offers unlimited cover for an unoccupied house – ANZ's Home Insurance policy.
Policies rated by Canstar – Theft cover unoccupied home time limits

Max period unoccupied home theft cover

Number of policies

60 days
94
90 days
8
120 days
2
Unlimited
1
Make sure you check the terms and conditions of your policy so you can be sure of how long you'll be covered for.
How secure are Australian homes?
According to a study undertaken by Budget Direct, over 200,000 burglaries are recorded annually in Australia, while over 20% of these burgled homes are hit more than once. That's a lot of homes, and it leaves you with about a 1/40 chance of experiencing a theft.
AAMI also did a survey in 2014 which found that of the 3,000 people surveyed, 27% of them admit to leaving their doors unlocked while 32% do the same for windows. Easy pickings for plucky thieves.
Small mistakes like this could end up costing you big. Nobody wants to suffer the stress of a break-in at any time of year, so make sure you don't let your guard drop. Also, make sure you are aware of your level of home insurance cover and any exclusions because you certainly don't want to be battling with home insurance companies.
What deters burglars?
A survey of burglars conducted by DUMA (Drug Use Monitoring in Australia) found that having the following things in your home are the most likely to deter burglars:
A dog: 61.4%. Woof!
A functioning alarm system: 49.1%
Functioning sensor lights: 22.8%
Lights on inside the house: 19.3%
Security grilles on windows or doors: 19%
High visibility from the road: 14%
Gates: 12.3%
For help finding a good value home & contents insurance policy that protects you from theft, have a look at what's available on our comparison tables – we have more than nearly 150 policies in total on our database from 51 providers, so you're almost spoilt for choice.
If you feel that your beloved pooch is enough to keep your home safe (and 61% of thieves would agree with you if you do), then you can also compare health insurance to make sure they're looked after.