What is car insurance?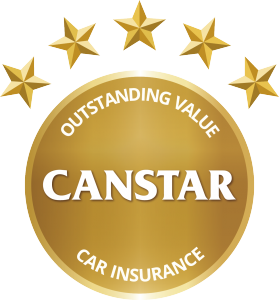 Car insurance covers damage to other people's property or their car, harm to other people, or damage to your own car. There are many comprehensive car insurance policy's that cover different situations to suit your requirements. We compare comprehensive car insurance policies to see what they cover.
How can you compare car insurance?
CANSTAR compares comprehensive car insurance policies to award our expert ratings. We assess the car insurance policies: costs, key features (No Claim Bonus, After Accident Care, Car Hire) and customer claims satisfaction by surveying real customers. Our comparison ratings methodology is explained below.
You can also compare car loans on our website if you need finance for your new car.
What are the features we look for in a great car insurance policy?
Every year, CANSTAR grants star ratings and two awards to car insurance providers who are rising above: the Car Insurance Award and the Car Insurance Claims Satisfaction Award.
We assessed the following for the Car Insurance Star Ratings and Award:
Cost: We assessed thousands of quotes for each driver profile, to find out the average premium, the gap between the minimum and maximum premiums, and any price difference between premiums.
Key policy features: No Claim Bonus, After Accident Care, Car Hire Information and Special Features.
Customer claims satisfaction: See details below.
For more information, see the Methodology of our Car Insurance Star Ratings Report.
The Claims Satisfaction ratings and award uses a customer satisfaction survey covering more than 1,200 Australian drivers across all demographics that have made an insurance claim in the last 3 years. You never really know how good your insurance company is until you have to make a claim. You're not at your best when you have to deal with someone after you've just been in an accident or had your car stolen. How quickly and kindly the company deals with your claim can make a world of difference.
We assessed the following in terms of claims satisfaction:
Customer claims satisfaction: We surveyed customers after claims about the quality of service provided by their insurer during a claim.

Ease of claim lodgement process: Can you lodge online, via app, or only over the phone or in person?
Speed of response by insurer.
After-accident care: Does the insurer arrange and pay for a towing service, on-the-spot repairs, or a taxi cab fare to get home and/or emergency accommodation?
Repairs: Are repairs done quickly? Are quality repairs done and genuine parts used? Is there a choice of repairer? (A main complaint from customers is the lack of flexibility in where you can get repairs done.)
Communication: Does the insurer stay in touch with the customer often enough during the claims process?
Car hire: Is a car hire available after theft or accident? Is there a charge for using the hire car or a time limit on how long the hire car is available?
Special features: Is there cover for personal effects, legal liability (for comprehensive policies), child seat, and new car replacement for write-off?
Excess options: Can you increase your excess to decrease your premium? Is there a nil excess option available?
General policy conditions: Can you pay by the month at no extra cost? Is a 24-hour helpline or roadside assist available?
No Claim Bonus (NCB): Is there protection of the NCB?
Unprotected NCB stays intact: Is the NCB intact after a claim for theft, windscreen damage, storm or flood, or a collision with an animal?
Overall satisfaction: Likelihood of renewing with current insurer and recommending insurer to others.
The good news is that across the country, insurers are largely doing the right thing, with at least 70% of customers saying they were satisfied with how their claim was handled. Drivers aged over 25 were more likely to be 'very satisfied' with how their claim was handled, probably due to lower excesses. In 2015, 21% of drivers aged 18-24 said they were 'very satisfied', compared to 67% of drivers aged 65 or older.
Written by: TJ Ryan