Information about compulsory third party insurance (CTP) in Queensland.
CTP insurance is designed to cover the cost of compensation claims made against a driver if they kill or injure someone in a car accident. In Australia you must have CTP insurance in order to register your vehicle.
So how does CTP insurance work in Queensland?
Below is a breakdown of the current CTP scheme and the providers on offer in the Sunshine State.
How does CTP work in Queensland?
At the time of writing, Queensland operates under an at-fault CTP scheme, regulated by the Motor Accident Insurance Commission (MAIC).
The MAIC advises that under this scheme, people who are injured in a road accident in Queensland are only eligible for compensation if they can prove they are not at fault. They may also be eligible for a reduced claim if they can prove they are partially at fault.
This scheme differs to the no-fault legislation operating in NSW and Victoria. In these states anyone sustaining injuries from a road traffic crash may be eligible to claim CTP coverage from the other driver involved in the crash, regardless of whether or not they caused the accident.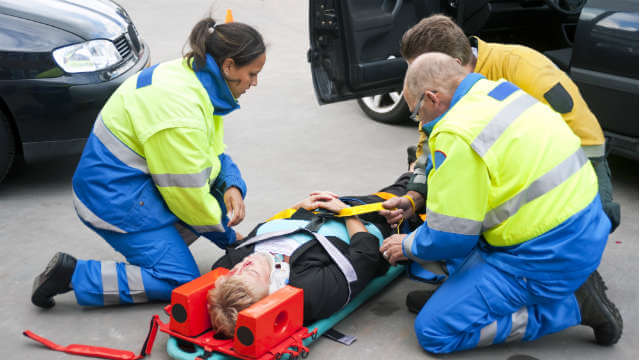 There are currently no plans to reform the scheme in Queensland to bring it in line with Victoria and NSW. However, in 2016 the Queensland government did introduce a version of the National Injury Insurance Scheme (NIIS). Under the NIIS, Queensland drivers who suffer a serious personal injury (such as severe burns or spinal cord injuries) in a car accident may be eligible to receive necessary and reasonable lifetime treatment, care and support, regardless of whether or not they were at fault.
However, to receive treatment they must meet eligibility criteria outlined in Queensland's current NIIS legislation. Drivers in Queensland have paid an NIIS levy on top of their vehicle registration costs since the scheme's introduction. Typically, this levy forms part of each driver's CTP premiums.
Queensland CTP insurance providers
Queensland is one of only a few states or territories in Australia where people have the power to choose their own CTP insurance provider.
There are four insurance companies currently licensed to offer CTP insurance in Queensland:
These providers set their own premiums each quarter, within the MAIC's specified limits.
In 2019, the average CTP premium (including levies and GST) in Queensland for class 1 (cars and station wagons) is $339.20/year.
Allianz CTP
Allianz offers CTP insurance in NSW (where it's known as Allianz Green Slip insurance), Queensland and South Australia.
At the time of writing, Allianz CTP insurance in Queensland offers a bonus of up to $1 million of cover for some sustained injuries even if you are the at-fault driver in an accident, at no extra cost. This bonus is called At Fault Driver Protection Insurance (AFDP) and is available to eligible Allianz CTP customers aged 25 years or older with a class 1 or 6 vehicle (including most cars, vans, utes and light trucks).
QBE Insurance CTP
QBE offers CTP insurance in NSW, Queensland, and South Australia.
At the time of writing, QBE is offering a complimentary DriverProtect policy for their CTP customers, which provides up to $1 million in cover for serious permanent injuries as well as death for at-fault drivers in an accident. This cover is only available for Class 1 or 6 vehicles and for customers 30 years and over.
RACQ CTP
In 1905, the Automobile Club of Queensland (ACQ) was formed to "champion the rights of motorists". The 'R' was added to RACQ in 1921 when King George V approved the use of the 'Royal' prefix in recognition of the club's patriotic efforts during World War I.
RACQ started offering car insurance to the general public during Queensland's population explosion in the 1970s and 80s.
At the time of writing, RACQ CTP insurance offers an additional At Fault Driver Injury Insurance Policy at no extra cost for current customers, and a $10 discount off the annual fee for RACQ Roadside Assistance policies. To be covered by the At Fault Driver Injury Policy you must generally be 25 years or older, drive a Class 1 or 6 vehicle, and have your vehicle registered in Queensland.
Suncorp Insurance CTP
The Suncorp Group owns a mix of many different insurance brands including AAMI, GIO, Vero, Apia, and Shannons. (For general insurance outside of Queensland, Suncorp operates under the GIO brand.)
Suncorp Insurance traces its history back to 1916 when it commenced business as the State Accident Insurance Office before soon changing its name to State Government Insurance Office (SGIO) and adding life insurance, general insurance and Compulsory Third Party to its operations.
At the time of writing, Suncorp CTP insurance includes Driver Protection Cover which provides up to $1 million in benefits for specified serious injuries to eligible at-fault drivers (or up to $2 million with a comprehensive car insurance policy). It also provides access to a lump sum payment of $5,000, for eligible drivers, which may help pay for upfront costs like medical and rehabilitation expenses. Drivers under 25-years-old are currently not eligible for this driver protection cover. You must also drive a Class 1 or Class 6 vehicle to qualify.
Comprehensive Car insurance for Queensland drivers
CTP insurance doesn't cover you for damage to other vehicles or other people's property, or damage to your vehicle caused by an accident or other causes such as fire, flood, or storm. For this additional cover, you may want to consider the pros and cons of purchasing comprehensive car insurance.
Cover image source: Songsook (Shutterstock)