Superannuation: The Basics
Choosing a Super Fund
Maximising your Super
How much Super do you need?
How does Canstar compare superannuation?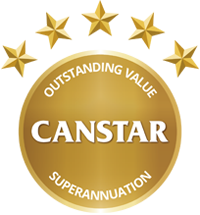 Canstar compares superannuation using a unique Star Ratings methodology that compares both cost and features across superannuation products on our database. Canstar's Star Ratings represent a shortlist of products, enabling consumers to easily compare super funds and narrow their search to products that have been assessed and ranked.
Use the selector tool at the top of this page to compare super funds using our Star Ratings. We have also compiled a list of non-rated Super funds for you to compare.
Learn more: How to choose a super fund
What is superannuation?
Superannuation is the portion of your earnings and savings that is placed in a fund and typically held there for you to use after you retire. The objective of superannuation is to provide income in retirement that substitutes or supplements the Australian Age Pension.
The money that is held for you within a superannuation fund is invested in a range of assets. Most superannuation funds let their customers choose how their superannuation balance is invested. The income earned by your superannuation investments is taxed concessionally, according to the Australian Taxation Office.
Given that superannuation will typically represent the bulk of retirement savings for many Australians, choosing a superannuation fund should ideally be a well-researched strategic decision.
---

As Canstar's Editor-in-Chief, Nina heads up a team of talented journalists committed to helping empower consumers to take greater control of their finances. Previously Nina founded her own agency where she provided content and communications support to clients around Australia for eight years. She also spent four years as the PR Manager for American Express Australia, and has worked at a Brisbane communications agency where she supported dozens of clients, including Sunsuper and Suncorp.
Nina has ghostwritten dozens of opinion pieces for publications including The Australian and has been interviewed on finance topics by the Herald Sun and the Sydney Morning Herald. When she's not dreaming up ways to put a fresh spin on finance, she's taking her own advice by trying to pay her house off as quickly as possible and raising two money-savvy kids.
Nina has a Bachelor of Journalism and a Bachelor of Arts with a double major in English Literature from the University of Queensland. She's also an experienced presenter, and has hosted numerous events and YouTube series.
You can follow her on Instagram or Twitter, or Canstar on Facebook.
You can also read more about Canstar's editorial team and our robust fact-checking process.
---
1. How does superannuation work?
Your employer must pay at least 9.5% of your ordinary time earnings into a super fund on top of your annual salary if you are an employee in Australia and meet the minimum requirements in the Superannuation Guarantee. You must be paid super whether you work casually, part-time, full-time, as a contractor, and even if you are a temporary resident. Money held in a superannuation fund is invested in a range of assets by your fund. Most funds give members the option of choosing how their savings are invested, so it could be helpful to learn more about your super investment options. Canstar's Superannuation and Retirement Planner Calculator is designed to help you plan for the future.
2. What do I need to know about superannuation in 2021?
In March 2020, the Australian Government announced significant changes to superannuation early release rules due to COVID-19, allowing eligible Australians experiencing financial stress caused by the pandemic to apply before 31 December to access a portion of their super. This scheme has now closed, but there are other ways you may be able to access your super early, depending on your circumstances. But, be aware of the costs and risks involved, including COVID-19 superannuation scams.
There are also a number of changes to super currently proposed or set to occur in 2021, including the Your Future, Your Super reforms.
If you are comparing super funds in 2021, Canstar Research has released its latest Most Satisfied Customers – Super Award and Superannuation Star Ratings. You can also view the top performing super funds on Canstar's database.
3. Why open a super account?
You may get your first super account when you get your first job. Some employers have a super fund or corporate plan in a broader fund only available to employees. If you leave your job, you may need to open another account when starting a new job. You may also open a new super account if you want to switch providers and take advantage of lower fees, or choose a fund with a better track record for investment performance. If you open a new super account, you generally have an option of rolling money from your other accounts into the new one. You can compare super funds and see top performing super funds on Canstar, with Superannuation Star Ratings 2021 also available as a resource to help you compare options.
4. How do you start a super account?
Most providers have an easy online joining process to open a super account. Consider factors such as fees charged, whether the insurance offering is suitable for you and education and advice available. After you choose a super fund, it's often as easy as searching for an online join tool on a fund's website and following prompts. If you can, have your tax file number (TFN) handy. Letting your super fund know your TFN means they can accept your super contributions and charge the appropriate tax rates that generally apply to super contributions. You could also open a new account by choosing your employer's default super fund when you start a new job, if that fund is right for your needs and retirement goals. You may have been prompted by your bank – in person or online – to open a super account with them. When you open a super account, you have the option of consolidating existing superannuation accounts. Consider seeking financial advice before making decisions about your retirement savings.
5. Can I pay into my super if I'm not working?
You can pay into your super if you are not working with voluntary non-concessional superannuation contributions. For example, this could be using money you have in savings. The cap for non-concessional contributions is $100,000 per person, per financial year.. One strategy to build your super balance is contribution splitting, with your spouse making contributions to your account if you earn a low income or are not working. Bear in mind that if you stop making contributions to your super, you may eventually lose any insurance cover your account offers and you will typically still be charged fees.
6. Can I withdraw money from my super?
Australians experiencing financial stress due to the coronavirus outbreak can apply to access a portion of their super. To apply, contact your super fund. Other common conditions of release for super, according to the ATO, are:
Reaching your preservation age and retiring
Reaching your preservation and beginning a transition-to-retirement income stream
Ceasing an employment arrangement on or after the age of 60
Reaching 65 years of age, regardless of employment status
Your death.
There are also 'special' conditions for release of super, including if you are either temporarily or permanently unable to work, or are experiencing severe financial or medical hardship. Another special condition of release is designed for those looking to buy their first home.
7. How can I plan for my retirement?
Whether you are thinking about when you should finish working, how much super you may need to retire comfortably in Australia or what super fund is best is best suited to help you get there, your personal circumstances, finances and life goals will influence your plans for retirement. Canstar's Superannuation and Retirement Planner Calculator can help you estimate how much super you'll have when you retire, as well as the anticipated gap between your estimated super balance and how much you may need. Please consider whether you need financial advice from a qualified adviser when planning for your retirement.
8. Should I choose life insurance through my super fund?
Choosing insurance through your superannuation fund is a personal decision. You can hold life insurance through your super fund or an external policy – or both. Most super funds offer life insurance, total and permanent disability (TPD) and income protection insurance, with life cover and TPD insurance often automatic. From April 2020, people aged under 25 do not receive default life insurance through their super when joining a new fund, unless they work in a dangerous job or write to their fund and request it. Advantages of life insurance through super include that it may be more convenient, as well as cheaper. Paying for insurance through super can be 'tax-effective', according to Moneysmart, if insurance is paid using concessional contributions. Disadvantages of life insurance through super include it may reduce your retirement balance and provide insufficient coverage. Trauma insurance is usually not available, your beneficiary may not be guaranteed, your payout may be delayed and your cover may end if you change funds, stop making contributions or reach a certain age. Similarly, there are pros and cons of direct life insurance.
Superannuation Providers
There are more than 350 super funds in the market that are classified as personal super, corporate super, SMSF products, public sector super, wrap/platform accounts, industry funds, retail funds, master trusts, etc. Many of these funds are not available directly to the average person. The customer may be required to be employed by a particular government department or large corporation, or it may be necessary to see a financial planner first.
We have therefore limited our superannuation Star Ratings to funds that are available to the average person, where anyone can apply directly to the fund.
We have analysed super funds that are available for personal super investment – available to everyone.
Funds must be directly available for individuals to purchase without an intermediary (e.g. a financial planner).
We have excluded any SMSF/corporate super accounts.
Funds must have minimum funds under management of at least $100 million in superannuation and pensions.
We have focused on the accumulation stage, when funds are being contributed to superannuation, not the drawdown stage following retirement. We have not credit rated the super fund managers.
Below is a list of some of the many superannuation providers in Australia, or view more here: