What is pet insurance?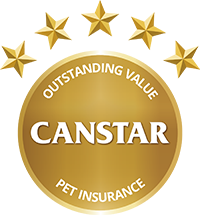 Pet insurance pays for part or the full cost of vet bills for your dog or cat (or horse, bird or any other pet) if they get sick or injured. There are different levels of cover. Comparing pet insurance will allow you to choose the correct cover for your pet.
Accident Only policies will cover the cost to visit a vet after accidental harm or injury such as car accidents, scratches from fighting with other animals, or snake bites.
Accident and Illness policies cover accidents plus the cost of seeing a vet for illnesses such as cancer, infection, hereditary conditions, and more.
Comprehensive policies should include all of the above plus cover for the cost of routine care treatments such as vaccinations, worming treatments, de-sexing, dental care, and behavioural training. Some policies will even pay you if your pet should die or be lost or stolen.
About pet insurance
It's official: Australia has more pets than humans! In this sunburnt country in 2015, we have 23.86 million people according to the ABS and 33 million pets. The Australian Companion Animal Council reports that 36% of households own a dog and 23% of households own a cat, giving us a proud tradition as one of the highest pet-owning countries in the world.
The psychological and emotional benefits we get from owning a pet are well-documented. Pets provide unconditional love, and stress reduction as you play with, pat, or walk your pet. There are also the many health benefits that you get from walking your dog or climbing a tree to get your cat down. And we can't forget the social benefits of having your dog play the role of icebreaker when you're meeting new people. There's also the fact that dogs are a very effective deterrent for would-be thieves. Apparently, the household dog is an even greater deterrent against break and enters than an alarm system! That surely makes a dog a good financial investment!
How much does it cost to own a pet? Even though pet come with a lot of benefits, owning a pet can cost you a lot, from feeding and housing them to giving them medical treatment when they need it. In 2014, roughly two in five pet store customers told Canstar Blue that vet bills, other healthcare costs, and pet minding were the worst things about owning a pet. And apparently the Australian pet industry is worth around $8 billion each year. When it comes to their health, veterinary care is not cheap, and there's no Medicare for pets to cover basics like the yearly check-up.
Thankfully, pet insurance policies are available these days that cut down on all of those costs. Surveys show we care enough to choose our pets' food carefully or even cook them special meals ourselves, so why not insure our pets' health as well?
Types of Pet Insurance
What types of pet insurance are there? We have the answer! There are three main types of pet insurance cover policies as follows:
Accident cover pet insurance
'Accident only' pet insurance policies cover harm or injury caused by an accident, e.g. accidents involving broken bones, burns, snake bites, or bites from other dogs or cats. This type of policy may not pay on all types of accidents or injuries if the pet's owner didn't take standard preventative measures. For example, removal and treatment for ticks and fleas will not be covered if the owner didn't use preventative medications. Injuries due to a pre-existing condition are also not usually covered, such as old orthopaedic (musculoskeletal) injuries flaring up, allergies, cancer, diabetes, gastrointestinal disorders, and other chronic conditions.
Imagine your dog running onto the road and being hit by a car, though. It's a blink of the eye accident that can cost a lot of money. Accidental insurance cover can help ease the cost of that unexpected event.
Accident and Illness cover pet insurance
Accident and Illness pet insurance covers accidents and injuries but also covers sickness or disease diagnosed by a vet. Your dog or cat should be covered for minor conditions such as ear infections, skin conditions, and bee stings, as well as major conditions such as cancer, broken bones, diabetes, infectious diseases, and hereditary conditions. Certain conditions will commonly be excluded from this level of cover, including pre-existing conditions and diseases where there is a known vaccine.
Comprehensive cover pet insurance
Comprehensive pet insurance policies cover accidents as injuries, sickness and disease, and also many routine care treatments. Routine care can include behavioural therapy such as dog behaviour training, de-sexing, dental care, and vaccinations. Routine care is sometimes called 'Wellness' or 'Extras' cover.
What type of pet insurance do you need?
What's the right pet insurance to get? There's no one right answer to that question; when choosing a pet insurance policy, you should consider the following:
What type of insurance will your pet need at this stage of their life?
Pets' health needs change over the course of their life. A young pet needs preventative vaccinations, de-sexing, health checks and microchipping, which are only covered by comprehensive policies. A pet after their first year should be fairly safe with accident and illness cover, even if they are of a breed that is predisposed to certain conditions such as diabetes, hereditary and congenital conditions. An older pet needs additional cover for old-age conditions such as arthritis, cancer, eye conditions, meaning an accident and illness or comprehensive policy. If chopping and changing your pet insurance around from one year to the next though, keep in mind that new pet insurance policies will often exclude pre-existing conditions.
Is your pet covered for life?
Some policies will not cover older pets, or will make you pay a higher percentage of the vet bill for an older pet. Some policies will only cover pets older than 8 years old for their life if you already had them insured before they turned 8. You can usually insure your pet from as young as 8 weeks old.
Can the annual benefit limit cover your pet's needs for the year?
There may also be sub-limits for the individual treatment categories, such as surgery or dental care.
What reoccurring or hereditary conditions are covered?
Many types of cats and dogs have reoccurring or hereditary conditions that are specific to their breed, so it's important to know what your pet might get and whether they would be covered for it or not. Accident and illness policies will cover many hereditary conditions.
Is routine care covered and does it cost extra?
Some policies will let you add certain routine care treatments as an option without taking out a comprehensive policy. For comprehensive cover, is routine care included, or is it labelled an optional extra that must be paid for on top of your comprehensive policy? A comprehensive policy should include Wellness or Routine Care treatments.
Does it suit your budget?
There are a couple of ways to make sure you can afford to insure your pet. First, you can choose a cheaper Accident Only or Accident and Illness policy. Secondly, you can pay a lower monthly premium if you have a higher excess, which is the amount you pay if you have to make a claim. However, you need to make sure that you could actually afford to pay the excess if your pet were to need emergency treatment unexpectedly.
What you might receive back from your insurer when you make a claim
What percentage of the vet bill will your insurer pay, and what excess will you have to pay? In 2014, PROSURE gave us the example of a small, 8-year-old dog who had been insured for 6 years already with no prior claims. The dog's owner made an insurance claim for surgery and post-op treatment of $24,100 in total and was paid back a benefit of $14,500, as this was their total annual limit.
You can compare pet insurance policies and cover here.
What animals are covered by pet insurance?
Pet insurance generally covers cats and dogs. Insurers deal with these under a few different "types" of cat or dog:
Pet Type
Small breed dog
Medium breed dog
Large breed dog
Unknown breed dog
House Cat
Insurers will also ask what specific breed of dog or breed of cat you have. While the breed of cat will generally not make a difference to your premium, the breed of dog you have can significantly alter the amount that pet insurance will cost.
Age Type
Young: <1-4 years
Mature: 5-9 years
Some providers also cover horses under equine insurance policies, such as Petplan, which is backed by Allianz Australia. Very few providers cover birds, fish, reptiles, or exotic animals.
Can you get pet insurance for your iguana if you live in Australia? Probably not, sorry.
Written by: TJ Ryan