What is Income Protection Insurance?
Income protection insurance could pay you a benefit if you were temporarily unable to work for a period of time because of illness, injury, or if you became partially or totally disabled.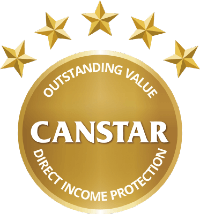 Typically, the amount of money you could receive is set as a certain portion of your income, and is paid on a regular basis until you can return to work, until you reach a certain age or for the agreed period under your policy – whichever is sooner.
These types of policies typically cover someone when other mechanisms, such as Workers' Compensation, do not apply.
Income protection insurance is not to be confused with redundancy insurance, which offers limited financial protection in the case of involuntary redundancy.
You can use the Canstar website to compare income protection insurance that is available direct from an insurer. Other options include taking out a policy through a financial adviser or within your super.
On this page:
How does income protection insurance work?
Income protection insurance could provide financial backup when someone experiences a temporary reduction to their usual pay, providing their claim meets their policy's conditions.
For example, a policyholder has an accident at home which injures them to a degree that they will be off work for a significant period of time, but – thankfully – they are expected to eventually recover and be able to go back to work. They would contact their insurer to notify them of their injury and to make a claim. Depending on their policy, the policyholder would typically have to be off work for a period of time, called the "waiting period", before the payments would start. If the insurer approves their claim, the injured worker would then receive the payments until they can go back to work, or until the policy's "benefit period" expires. Some of the terminology used in this hypothetical example is defined further below.
Typically, there is an age or time cut-off stipulated in policies, after which claims cannot be made and new policies cannot be taken out (for example, at age 65).
Types of income protection insurance policies and key terms
There is one type of income protection insurance policy available for purchase:
Indemnity-value policy – Provides cover up to an agreed percentage of the policyholder's salary, which could change over time.
Prior to industry reforms in 2020, there was a second type of policy sold by insurers, but that is no longer available for new policies:
Agreed-value policy – Provides cover up to an agreed amount of money that's decided at the time of taking out the policy.
There are also generally two main ways that people can choose to structure their income protection premium payments:
Stepped premiums can be "stepped" up or down by the insurer over the length of the policy, usually increasing each year in line with a policy renewal or age increase;
Level premiums are not linked to age or policy renewal timeframes, but may still increase over time due to other factors such as increases by the provider to factor in variables such as inflation.
Moneysmart advises that stepped premiums usually start out cheaper but may increase more quickly than level premiums.
There are also few more key terms that could help when it comes to considering this type of insurance:
The sum insured amount, or "benefit": This is the amount of money that would be paid to you when you claim, providing your circumstances meet the policy conditions. For indemnity-value policies, it is often expressed as a percentage of your income (normally up to 85%, depending on your policy) which is capped at a certain amount per month. The higher your sum insured amount, the more expensive your premiums over the life of the policy will usually be. The benefit you receive could be reduced if you are able to generate income in other ways, such as working part-time, receiving payouts from other insurance policies or receiving sick-leave payments.
Benefit period: The maximum length of time for which you may receive monthly payments from your insurer if you are sick or injured to the point where you can't work. A policy is typically more expensive with a longer benefit period.
Waiting period: For income protection insurance, a "waiting period" means the number of days you need to be off work after an accident or illness before you may be eligible to start receiving monthly payments from your insurer. When taking out a policy, some insurers could allow you to choose the length of your waiting period, with most waiting periods ranging between two weeks and two years. A policy is typically more expensive with a shorter waiting period.
Partial disability benefit cover: Some insurers offer a partial disability benefit as an optional extra, which covers you if you return to work but at a reduced capacity (e.g. part-time). This means if you have been off work due to sickness or injury and you then return to partial work duties, you could receive a reduced monthly benefit until your benefit period ends or you return to work completely (whichever happens first).
Why have income protection insurance?
Income protection insurance is a specific type of insurance policy that could help people cover their living expenses, such as bills and loan repayments, if their income was affected by a prolonged illness or injury. This could help to make financial ends meet until you are well enough to return to work and start earning your regular income again. Other types of insurance, such as life insurance or total and permanent disability insurance, could require that a person is either diagnosed with a terminal illness or that they will never be well enough to return to their occupation, or to work of any kind. In addition, income protection insurance payments can be used to help cover any living expense you choose. This is different to the types of insurance that place restrictions on how a person is able to use the funds, such as Mortgage Protection Insurance which can only be used on mortgage repayments.
The Australian Government's Moneysmart website states that income protection insurance could be important if you:
Are not covered by an employment arrangement that gives you sick leave or annual leave, such as if you're a contract worker, business owner or casual employee
Are a main source of income for your family
Have debts that need to be paid no matter if you have an income or not, such as a home loan.
It's important to note that some insurers do require applicants to provide medical and lifestyle information before deciding if they're eligible for cover and what their premium costs will be.
What does income protection insurance cover?
Income protection insurance covers a policyholder if they suffer an illness, injury or disability which results in them not being able to work at the same level as before. Typically, the cover applies to temporary ailments, or where someone is expected to be able to return to work in some manner.
Examples of hypothetical scenarios where this type of cover could apply include:
when a policyholder has surgery which requires a lengthy recovery period, during which time they cannot work;
or when someone is being treated for cancer and cannot work to their full capacity until they recover;
or when someone is injured on a sporting field on the weekend and has to take time off to heal.
It could be a wise idea to read insurance policies carefully to ensure you understand the cover before signing on, and seek professional advice if necessary.
What does income protection insurance not cover?
There could be some exclusions to income protection insurance coverage which a policyholder might not expect. These could mean that a payout is not made. It could be a good idea to read the product disclosure statement (PDS) and other policy documents carefully to ensure you are familiar with what is and isn't covered in a policy.
For example, some insurers' income protection insurance policies state that they might not pay a benefit if the illness or injury is:
Minor enough that the person claiming could reasonably be expected to work
Caused by self harm
As a result of war, civil unrest
Suffered by someone while serving in the armed forces
Due to a normal pregnancy or childbirth
Due to a pre-existing condition excluded under the policy.
How much income protection insurance do I need?
To work out how much cover you may need, such as the benefit paid and the duration of time you could need it to be paid, it could be a good idea to:
consider your savings buffer, or how long you could continue to maintain your lifestyle, pay bills and service debts without your full income before experiencing financial stress
calculate the ongoing costs of a policy's premiums, to work out if you can afford them in the long run.
If your policy is provided by your superannuation fund, it may also be prudent to consider the impact premium deductions could have on your super balance at retirement.
Being armed with this information could help you to estimate what type of cover you could need.
Does income protection insurance cover loss of a job?
No, most income protection insurance policies do not cover you by default if you lose your job, such as through an involuntary redundancy or if your employer were to go out of business. Insurance for these sorts of circumstances is known as 'redundancy cover' and may be available as an optional extra on some income protection policies.
How do you buy income protection insurance?
There are a number of ways to access income protection insurance:
Direct income protection insurance
Advised income protection insurance
Income protection insurance in super
What is direct income protection insurance?
Direct Income Protection Insurance is when a policy is purchased directly from an insurer. Canstar compares a range of direct income protection policies and providers in its Star Ratings and Award research.
What is advised income protection insurance?
Advised income protection insurance is when a policy is purchased through a financial advisor, broker or other type of financial service.
What is income protection insurance in super?
Some superannuation funds offer the opportunity to take out an income protection policy provided by the fund. This can either be automatic cover – where a fund member working in a dangerous job or aged 25 or older is granted cover by default upon joining or meeting certain criteria (such as having a minimum balance of $6,000) – or as an extra "add-on" expense. Either way, the premiums are typically deducted from your superannuation balance. The fund may also offer other types of insurance through super, such as life insurance. When comparing superannuation funds, or checking your existing superannuation fund arrangements, it could be a good idea to find out if you have this type of cover, and to work out its costs and impact on your super balance, before considering another type of income protection insurance.
How much does income protection insurance cost?
Income protection insurance premiums – how much a person is charged each month or year to maintain their cover – can vary widely. This is because the premium is typically calculated according to the policyholder's age, income and job type, as well as the size and payment timeframe of the benefit and other variables as determined by the company providing the insurance cover. For this reason, it could be wise to obtain a few quotes before deciding on which policy to buy, to enable you to compare how much the premiums will cost you and how much money you may receive if you made a claim. You could use Canstar's comparison selector (at the top of this page) to compare income protection insurance policy providers generally, exploring variables such as potential maximum monthly benefit and how long that benefit would be paid, as well as if a waiting period is required and if it is possible to apply online for a policy.
Income Protection Insurance FAQs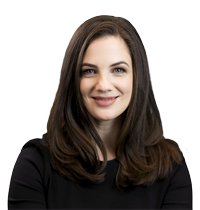 As Canstar's Editor-in-Chief, Nina heads up a team of talented journalists committed to helping empower consumers to take greater control of their finances. Previously Nina founded her own agency where she provided content and communications support to clients around Australia for eight years. She also spent four years as the PR Manager for American Express Australia, and has worked at a Brisbane communications agency where she supported dozens of clients, including Sunsuper and Suncorp.
Nina has ghostwritten dozens of opinion pieces for publications including The Australian and has been interviewed on finance topics by the Herald Sun and the Sydney Morning Herald. When she's not dreaming up ways to put a fresh spin on finance, she's taking her own advice by trying to pay her house off as quickly as possible and raising two money-savvy kids.
Nina has a Bachelor of Journalism and a Bachelor of Arts with a double major in English Literature from the University of Queensland. She's also an experienced presenter, and has hosted numerous events and YouTube series.
You can follow her on Instagram or Twitter, or Canstar on Facebook.
---
This content was reviewed by our Deputy Editor Sean Callery and Sub Editor Tom Letts before it was published as part of our fact-checking process. You can also read more about Canstar's editorial team.