Whether the financial sun is shining, the sky looms grey or you're getting drenched from the continuing economic uncertainty of the COVID-19 pandemic, it might be time to create a personal emergency fund.
What is an emergency fund?
An emergency fund is an amount of money you set aside to cover urgent or unexpected expenses that may pop up. This could be car repairs, your hot water system breaking down or an urgent medical bill. An emergency fund could also act as a buffer to help tide you over if you experience a loss of income. The idea is to create a financial safety net so you don't have to borrow money if something happens to you or your family.
In uncertain times it pays to focus on what you can control. Growing a stash of emergency money can be good for both the bank balance and your peace of mind.
Having an emergency fund is one of the foundations of financial wellbeing. Savings can leave individuals feeling more optimistic and in control when faced with financial emergencies. Savings may also support you planning for your long-term future.
In 2021, building up 'rainy day' savings ranks top of the list of reasons Australians want to save money, according to research. Yet, many Australians are struggling to build an emergency fund that can provide them with much-needed relief when they require it.

Why might you need an emergency fund?
However, worryingly, ME Bank's latest Household Financial Comfort Report found that while the financial comfort of the average Australian household is at an all-time peak, 21% of Aussies had less than $1,000 in savings in June 2021.
The report found that less than half (46%) of households could maintain their lifestyle for more than three months if they lost their income. Almost a quarter (24%) of households reported they would be able to maintain their current lifestyle for only one month, with 11% only able to maintain their current lifestyle for two weeks, or the equivalent of a short COVID lockdown.
Establishing a pool of emergency funds can be the key to weathering a financial storm. You never know when you might need to dip into an emergency fund, to survive financially after an unexpected job loss, pay for large medical bills, or even cover car repairs. Drawing money from your emergency savings won't set you back. Dipping into your super or home deposit savings, however, could lead to long-term financial pain.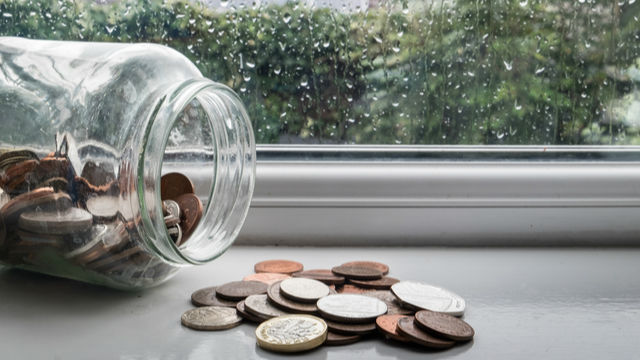 How much money should you have in your emergency fund?
There's no 'magic' amount that Australians should be working towards when building emergency savings. An emergency fund is unique, as everyone will have a variety of different factors to consider.
A handy benchmark to work towards is to have the equivalent of three months' worth of regular expenses in your rainy-day fund. This can give you breathing space to pay bills, buy groceries, and maintain rent or home loan payments.
To figure out what you should be working towards, add up what you and your family spend on essentials each month, then multiply the total by three.
Setting a target is also important. Research from the Financial Planning Association shows that we're more likely to save when we have goals to work towards.

What hacks could help me build an emergency fund?
Growing your emergency fund may seem like a daunting task, especially at the beginning. Try these simple strategies to build up your rainy-day savings:
1. Open a savings account you can live with
Some savings accounts impose strict conditions to earn the top rate of interest. Look for a savings account where you can easily meet the conditions to maximise the return on your money. This will help your savings build gradually over time.
2. Make savings automatic
Set up an automatic transfer that sweeps money into a separate account every time you get paid. Also, take the time to plan your year to automatically set aside expected cash injections such as your tax return, providing further boosts to your emergency fund savings.
This can make saving effortless, and you won't miss what you never had.
3. Have a game plan to follow
A popular way to grow a cash stash is the 70:20:10 plan. Just divide your money between:
70% for everyday living
10% for splurging
20% for saving
Play around with the numbers and your overall approach to see what works for you. A non-negotiable ingredient for success is to regularly save at least part of your take-home pay.
If you start today, before too long – if you keep to your financial plan and focus – you may have a tidy pool of savings to see you through turbulent times.
If you are struggling with your finances, free counselling is available in Australia. You can contact the National Debt Helpline (NDH) on 1800 007 007. As well as running a helpline, the NDH helps consumers find individual counsellors and organisations near to them for support and advice.
---
Compare Savings Accounts with Canstar
The table below shows some of the savings accounts on Canstar's database for a regular saver in NSW. The results shown are based on an investment of $10,000 in a personal savings account and are sorted by Star Rating (highest to lowest), then provider name (alphabetically). For more information and to confirm whether a particular product will be suitable for you, check upfront with your provider and read the Product Disclosure Statement or other terms and conditions before making a decision. Use Canstar's savings accounts comparison selector to view a wider range of savings accounts. Canstar may earn a fee for referrals.
Main image source: igorstevanovic (Shutterstock).
---
Thanks for visiting Canstar, Australia's biggest financial comparison site*
---
---