Writing a budget can be the first step in gaining more control over your finances. Here's a step-by-step guide for how to write a budget, plus some advice and resources that could help you stick to it.
Canstar money expert Effie Zahos believes that writing a personal or household budget does not have to be a complicated process. While there are lots of software programs or apps that could help you to prepare your budget (such as the Canstar app), at its most basic, all you need is a pen and a piece of paper (or two).
"It is important to know where every dollar is – just like in your home you have a place for everything so you know where something is when you need it," Ms Zahos said.
"Having a budget is about having some control over your money. If you are just throwing all of your money into a bank account and praying that it will come out alright in the end, you could risk ending up in a financial mess.
"Budgeting is only hard in the sense that you have to be honest with yourself when you are writing it. If you are not honest, it's not going to work in reality."
The comparison table below shows some of the Savings Accounts on Canstar's database for a regular saver in NSW with links to the provider's website. The results shown are based on an investment of $100,000 in a personal savings account and are sorted by Star Rating (highest to lowest), then provider name (alphabetically). For more information and to confirm whether a particular product will be suitable for you, check upfront with your provider and read the Product Disclosure Statement before making a decision.
What is a budget?
A 'budget' is an itemised list of how a person would like to use their financial resources in the future. Typically, a budget sets out how much income someone or a household earns, and then lists how that income is to be spent over a specific time period. A well-written budget can help to set out a plan to achieve a savings or loan-repayment goal.
Budget lingo: What does this mean?
'Balanced' budget: The budget has the same amount of money coming in that has been allocated to money going out.
Budget is 'in the red': When a "budget is in the red", that means there are more bills than income. This is typically bad news, and usually results in debt. It is also known as a 'budget deficit'.
Budget is 'in the black': When a budget is 'in the black', it typically means there is more income than there are expenses, and room to save money (or splurge on something special). Also known as a 'budget surplus'.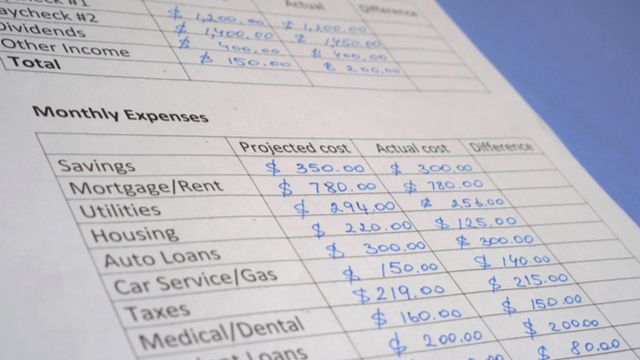 How do you write a monthly budget?
First up, you'll need to get an overview of how much money you have coming in and how much is flowing out – your 'actual' financial position. Then, it's a matter of deciding what you want to achieve with your finances. Once that's done, you can write a budget – a plan for how you hope to spend your money in the future. Then, to make sure you stay on track, it's a good idea to regularly monitor how closely you are following your budget, and review if necessary.
Here's a simple guide for how to write a monthly budget:
1) Knowledge is power: gather your financial details
Before you start writing your actual budget, it could be a wise idea to gather up all the information that you may need. This includes:
Your income details – pay slips, any notices about government payments, or interest payments on savings accounts – any record of money coming in.
Records of what you spend your money on – such as utility bills, council fees, rent or mortgage repayments; and how much you spend on entertainment, such as subscriptions – any record of money going out.
Often, all of these details can be found on your online banking statements and credit card accounts. When you are preparing your budget, it could be a good idea to have printouts of your statements with you, or be logged into your bank accounts so you can easily reference them.
"These days, there's a digital footprint for everything," Ms Zahos said.
2) 'Actual' incomings: work out how much you earn
Write down all of the money coming in on one side of the page. Make a note of how frequently this money is paid to you, such as monthly, weekly, etc. Now, work out how much each of those income amounts are per month.
Salary
Bonuses
Investment income, such as interest paid to you
Other income, such as government payments or subsidies
Add up those monthly amounts to find your total monthly income.
3) 'Actual' outgoings: Work out your expenses
Take a fresh piece of paper (or a new document or spreadsheet), if you like. Go through your statements and write down all of your monthly expenses. Try to be as accurate as possible. For regular expenses that might fluctuate from month to month, make an estimation. You might calculate an average estimated monthly cost for such variable expenses, for example, by tallying the total for the expense over a period of six or 12 months, and dividing by the same number of months.
Fixed or periodic expenses could include:
Rent/mortgage repayments
Utilities and council fees or rates
Phone and internet plans
Education and childcare fees
Pet expenses
Loan repayments, such as personal loans, car loans, credit cards and buy-now-pay-later repayments
Insurance, such as health, car, home and contents and life insurance
Additional superannuation contributions
Subscription entertainment, such as streaming services and magazines
Membership fees, such as for unions, sporting clubs and social clubs
Types of expenses that might change from month to month could include:
Groceries
Alcohol
Medical and pharmaceutical costs
Transport costs, such as public transport, parking, petrol and vehicle maintenance costs
Home maintenance costs
Clothing
Eating-out costs, such as takeaway and restaurant meals
Sports and hobbies
Gifts
Holidays
Other entertainment costs
Add up your monthly expenses to find out your total monthly expense.
4) Truth time: How does your actual budget balance?
Write your monthly income total and your monthly total expenses down, side by side. To work out your 'actual' monthly financial performance, use this sum:
Income – expenses = 'actual' result.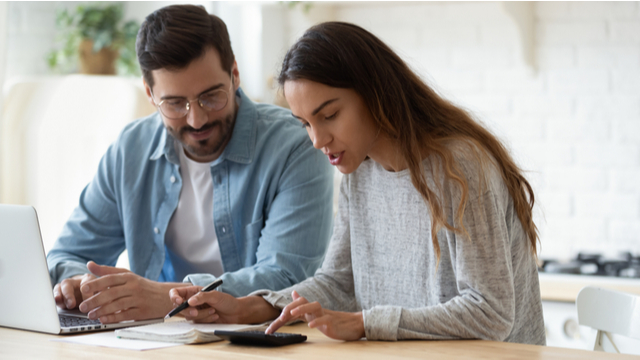 5) Plan: evaluate and set goals
Now that you have a clearer picture of your financial situation, it's time to work out how you feel about the result, and, if needed, to plan what changes you'd like to make.
Write a list of goals that you'd like to achieve with your new budget. Questions you might like to consider could include:
What can I do if my budget is in the red?
Are expenses outweighing income? This will be the case if the answer to the above equation is a negative number. For example: $2,000 income per month minus $2,500 monthly expenses = negative $500. That means there is $500 more money going out than there is coming in. This could mean that the household or person has to rely on debt, such as credit cards or dipping into the mortgage, to get by each month. Or, it could mean that the person's savings are being eroded over time.
"Unfortunately, it is possible to be in the red and not realise it, particularly if you've never written a budget before," Ms Zahos said. "There could have been red flags along the way, such as being late paying bills, constantly dipping into credit card debt, or having to take money out of savings that you didn't intend to."
It was also possible to chart a way forward, she said, and to try and balance the budget.
"Get out your highlighter and mark all your discretionary spending. Forget the big ticket items for now, such as your home loan or rent payments and energy bills – I am not saying that you can't reduce those, but the best place to start cutting is that discretionary spending.
"If you are going into the red all the time because unexpected things pop up, such as a hole in the tooth or a flat tyre, and you need to constantly use credit cards or buy-now, pay-later schemes, it could be the case that you need to find out where the money is leaking out of your budget."
If there appears to be little or no room to cut expenses, one option might be to seek out qualified financial advice to help balance the budget. Right now, due to the COVID-19 economic fallout, there are many people finding themselves in a new, potentially stressful financial situation, and options to increase income could be limited. There is government assistance available to help, such as new policies around accessing your super early and welfare payments. The banking industry has also offered relief to some eligible customers on home loans and other financial products.
"Budgeting often doesn't come easy," Ms Zahos said. "We are not taught it at school and if our parents are not good at it, that makes it even harder. Don't be embarrassed to get help – lots of people do it."
Need help? These articles may be of interest:
Example of goals you may like to aim for if your actual budget is in the red:
Not take on any more debt, such as on a credit card debt or a buy-now-pay-later service
Reduce unnecessary expenses to try and put money into an emergency fund
What do I do if my budget is balanced?
If your expenses equal your income, that means you can meet all of your financial obligations and needs as they currently exist. However, it could be a good idea to work out if the budget would still be balanced if there were to be a financial shock, such as a reduction in income or an unexpected expense. Would there be enough accessible savings to cover unexpected expenses?
"If your budget is balanced all the time, then you are pretty clever," Ms Zahos said. "It says that you know what money you have coming in and you are spending it until it's very end. However, it also says to me that you could do better and have some leftovers to put towards savings."
Examples of goals you may like to aim for if your budget is balanced:
What do I do if my budget is in the black?
If your expenses are less than your income, that means you could have some room to save funds or make lifestyle improvements.
"This is a great place to be," Ms Zahos said.
Being in the black means that it could be possible to create a larger financial buffer if the worst was to happen, such as a recession-induced job loss or reduction in wages.
However, if your prospects looked fairly stable, she said it could be time to start thinking about how you wanted to handle your funds in the future. That could mean investing in property, business or other potential income-generating ventures.
"With such low interest rates around at the moment, maybe it could be time to think about how you'd like to invest your excess money and make it work for you?"
Example of goals you may like to aim for if your budget is in the black:
Save a certain amount of money to pay for a holiday
Pay down your mortgage faster
Now that you have considered your current situation and what goals you might like to aim for, it's time to write a new budget which could help to guide your financial future.
6) Roadmap: Write a new budget
Take a fresh piece of paper (or document), and write on it your income, as above, on the top of the page.
Take a look at your expenses and divide them into categories.
"I always put expenses into three buckets: the 'must haves', the 'need to haves' and the 'love to haves'," Ms Zahos said.
"The 'must haves', or the fixed expenses, are the ones that unfortunately you can't do away with. You need a roof over your head, food on the table and you need to be able to switch on the lights. They are fixed ‒ but that doesn't mean you have to spend the amount that you do on them. You could, for example, renegotiate your home loan rate, or find a better energy deal. You can take a look at that as a way of reducing your spending."
She said the other two buckets of expenses were typically more negotiable.
"They are the type of expenses that happen when you walk out the door, for example, or on entertainment," she said.
Examples of expenses that could be in the buckets include:
'Must haves': rent/mortgage repayments; utility bills; car insurance; school fees; staple groceries such as meat, fruit and vegetables
'Need to haves': Subscription TV, clothing
'Love to haves': Dining out; luxury grocery items, such as sweet treats
In a column, list the 'must have' expenses, with how much you are obligated to spend on each of them.
In a column next to your fixed expenses, write a list of the expenses you think you could reduce spending on. Assign a new amount of money to that item, and note the amount that you could save.
Current spending on takeaway food a month: $300
New spending on takeaway food a month: $200 (saving: $100)
When you have adjusted the budgeted amounts to your satisfaction, tally up the possible savings. Evaluate what impact that would have on your budget ‒ would it help to balance it? It could take a few adjustments of the estimates to get the result that you need.
When you are happy with the end result, this is your new budget, which sets out what you can spend on which items.
How do I stick to my new budget?
To help stick to the new budget, it could be wise to:
Be realistic when you are forming your new budget – it might be a case of making small changes over a long period of time, rather than making a big promise that could be hard to meet.
Write your budget in such a way that is easy to understand and keep it on display, such as on the fridge or your bedroom wall.
Keep tabs on your spending frequency, either with the help of an app or by writing it down.
Have your goals on display, too, to try and keep you motivated.
Write down what you would like to do with any savings, such as put them in a special higher-interest savings account or against a specific debt.
Think about your behaviour and how it relates to your finances – can you change any habits that might make you prone to spending, such as always buying a coffee before work or purchasing lunch?
Adjust your budget as you go to keep it based in reality.
"If those budget red flags come up, have a look at your budget again," Ms Zahos said. "If your income changes, review it again.
"And remember that it is possible for those fixed costs to change over time, too. For example, interest rates could change and it might be possible to get a better deal on your mortgage; or there might be a new deal on electricity that you could take advantage of. For that reason, reviewing your budget twice a year is a great idea."
Main image source: Visual Generation/Shutterstock.com