Many Australians are doing it tough as the economic impacts of coronavirus are beginning to be felt. While these are hard times financially for many people, there are some things that you can take charge of right now.
With Australians advised to stay at home as much as possible, now could be the time to get on top of your personal admin and take steps to put yourself in the best financial situation you can.
That's why we called on eight finance experts to provide their recommendations.
Check your home loan is still competitive
The Reserve Bank of Australia (RBA) announced two cash rate cuts in March, bringing the official rate down to an unprecedented 0.25% in a bid to help stimulate the economy. This makes it more affordable for banks and other lenders to access money, which in turn often translates to lower interest rates for consumers taking out loans. In light of this, Canstar has seen two-year fixed home loan rates from as low as 2.09% (3.77% comparison rate) and variable home loan rates from 2.39% (2.40% comparison rate) at the time of writing.
Canstar Editor-at-Large Effie Zahos said this could present an opportunity for some people to save thousands every year.
"We are seeing great deals in fixed-rate home loans right now due to the recently-announced quantitative easing from the RBA," Ms Zahos said.
"And there is a lot of variation in variable rates between the cheapest and the dearest.
"It is a good time to look at what your current interest rate is and compare it with other home loans on the market to see if yours is still competitive. And keep in mind the lowest rates right now may be from lenders you have never heard of."
However, Ms Zahos said that as the current environment is so volatile, you may also need to consider if you are in a position to apply to refinance your home loan.
"If you have had your hours cut down or there are changes in your household income, you need to ask yourself can I move to a better deal in my current situation?" she said.
"If you have done your research on available products and feel you are in a good position as a customer, call your lender knowing what rates others are offering, and see if you can get a better deal. If you're not satisfied with their response, consider switching."
The comparison tables below display some of the fixed rate home loan products on Canstar's database with links to lenders' websites, for refinancing owner-occupiers in NSW making principal and interest repayments on a loan of $350,000 with an 80% LVR. Choose between the 1-year fixed, 3-year fixed and 5-year fixed tabs to view results most relevant to you. The results are sorted by 'current rate' (lowest to highest). Before committing to a particular home loan product, check upfront with your lender and read the applicable loan documentation to confirm whether the terms of the loan meet your needs and repayment capacity. Use Canstar's home loan selector to view a wider range of home loan products.
Assess your situation and reach out if you need help
According to CEO of peak body Financial Counselling Australia, Fiona Guthrie, the first step is to get a good picture of your current financial position.
"What are your priority expenses and how much do you need to live on?" Ms Guthrie said.
Once you know what your essential expenses are and what is discretionary, you can look at where you may be able to cut back. If you are finding it difficult to reconcile your finances or make ends meet, Ms Guthrie suggests it could be time to contact people who can help.
"Reach out to your creditors and tell them what you can afford to pay. Don't agree to pay more than what you can afford, as some people can be overly optimistic and it may be the case that you can't afford to pay anything," she said.
"There are legal obligations for major providers – such as banks, telcos and electricity companies – to consider hardship requirements."
If you feel your provider isn't listening to your needs, you're feeling overwhelmed or you have questions, Ms Guthrie recommended contacting the national debt helpline on 1800 007 007.
If you can, stay the course with investments
The stock market is currently a very volatile place, having dropped significantly and then this week picking up again, and it shows no sign of stabilising soon. However, according to Chris Brycki, founder and CEO of online investment adviser Stockspot, right now is a time to keep a level head and try to avoid cashing out of investments out of panic.
"Moving your investments to cash may seem like a sensible thing to do, but it means you are trying to time the market by cashing out before it hits the bottom and potentially buying in before it picks up again. This strategy almost always performs worse than staying the course, because it is very hard to predict the bottom point and you could end up buying it back at a higher point and miss out on returns, plus pay transaction costs," Mr Brycki said.
Instead, Mr Brycki recommended consumers evaluate their goals and continue with their investment strategy, if they're financially able to do so.
"Something you may want to consider is checking if your portfolio is diversified – meaning you own assets across different classes, such as bonds, gold and the share market. This creates a more defensive portfolio in case one asset takes a dive. Now is a good time to re-evaluate your diversification, as parts of your portfolio may have shrunk and you may want to rebalance it using profits made from better-performing assets."
Check your income protection insurance
The number of Australians infected with COVID-19 continues to increase, and some of these people are unable to work as a result. This is where income protection (IP) insurance may come in handy, however it comes down to how long you are out of work, as Canstar Group Executive, Financial Services & Chief Steve Mickenbecker explained.
"Most IP policies have waiting periods of 30 days and some longer, so the time from the symptoms developing through to recovery and clearance from isolation is likely to fall within that period in most cases, meaning in practice there would be no claim," Mr Mickenbecker said.
When it comes to redundancies, cover is offered by some providers as an optional extra, typically at an extra cost. If you already have a policy that includes redundancy cover and you are made redundant because of coronavirus, you could generally expect your policy to provide cover, according to Mr Mickenbecker. However, if you are taking out a new policy now, you may not be able to get covered for redundancy caused by the virus.
"In most cases, new policies will not cover job loss due to coronavirus as it is a known event when cover is taken out."
If you have an existing policy or are considering purchasing one, it is a good idea to check your product disclosure statement (PDS) or speak with your insurer to understand the policy's exclusions and waiting periods, and to clarify whether you are covered.
Compare Income Protection Insurance
Be smart with your savings
For those fortunate enough to have savings and wondering where to put them, Channel 7 Network Finance Editor Gemma Acton says there is some good news.
"The major banks have launched a series of savings products around the 1.7% level," Ms Acton told Canstar.
"Don't forget to check out the neobanks too – the most established ones have the same $250,000 government guarantee and you can still get rates above 2%."
Ms Acton said she believed it was always sensible to ensure you have some cash on hand, but if you are considering investing, and have a savings buffer in place, she said the companies to consider are the ones that are fundamentally well run and in industries that are "likely to stabilise or grow quickly when some economic normality returns".
"Seeing how management performs during this disruption will be instructive. Be prepared for more dividends to be scrapped or cut – but for the companies that choose to maintain them, the yields (dividend divided by share price) will be looking much more compelling now than they were two months ago."
Try to support local, small businesses
We know that many businesses throughout Australia are currently doing it tough as they have been forced to close their doors or alter the way they do business. This is severely impacting many business owners' livelihoods, as well as those of their employees. In light of this, Founder of She's on the Money Victoria Devine suggests that if you have the means to, try to support businesses near you, as they need us now more than ever.
"If you are in the financial position to do so, pre-book things such as sessions with your PT or beauty appointments for later in the year so they have cashflow now. Support local restaurants that are still offering takeaway and look around, as some are offering dinner packs. You could have a themed date night with help from the Italian restaurant down the road and get creative with your set up at home," Ms Devine said.
Other ways Ms Devine suggested you could support local businesses included sending deliveries such as flowers or cupcakes to a friend who might need some cheering up, tipping delivery drivers who were putting themselves at risk, researching local grocers, butchers and bakers to use rather than larger supermarkets and considering buying gift cards for services or goods you will need in the future. However, if you buy a gift card or pre-book, be aware that if the business goes under you are unlikely to get your money back, she warned.
"Another way to show your support is by reviewing businesses you like online to help boost their morale and potentially get them more business, or think about whether your skills could be put to use helping local businesses."
Local businesses make a huge contribution to the nation's economy, according to the Australian Small Business and Family Enterprise Ombudsman. The ombudsman agency's Small Business Counts 2019 report states that small businesses make up 98% of all businesses in Australia and, in July last year, employed 44% of the national workforce. They account for 35% of Australia's Gross Domestic Profit (GDP), too.
Spending money on products and services offered by small businesses could help the country rebound when the crisis passes. A benefit of supporting local businesses is it can help keep people employed, which not only makes a huge difference in those people's lives, but it also could mean less people requiring access to the Government's support packages, in turn helping the economy. It also keeps business for their suppliers and has a broader knock-on effect for the economy as a whole.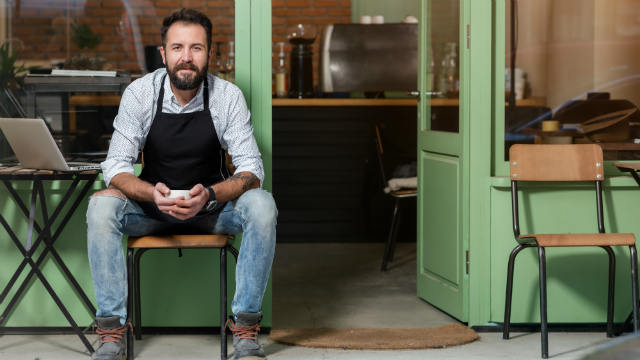 Access your super only as a last resort
As one of its measures to help Australians who are financially struggling, the Government recently announced it would make it easier for people to withdraw from their super. This new law will enable super account holders who are eligible, such as those who are unemployed or had their work hours or business turnover reduced by at least 20%, access up to $10,000 from their fund this financial year and another $10,000 in the next.
However, according to CEO of superannuation industry peak body ASFA, Dr Martin Fahy, that should be the last resort for most people.
"We would encourage Australians, particularly young Australians, to only take steps to access their superannuation retirement savings in dire circumstances," Dr Fahy told Canstar.
"Drawing down on your balance now will mean you lock in recent equity market losses and it will impact your long-term retirement savings. Someone in their 20s could miss out on over $100,000 in their eventual retirement savings if they draw down on their super early."
Instead, Dr Fahy suggested researching your options for financial support.
"The Federal Government is providing extensive financial support to help people who have reduced income or employment because of businesses cutting back, or those who lose their jobs, during this incredibly challenging time. It's important that people prioritise Federal Government assistance over taking steps to access their retirement savings."
Innovate with your income
Every day we are hearing news of more Australians losing their jobs, as the pressure placed on businesses becomes too great to keep doors open. Financial Planner at Investment Management Corporation, Andrew Evans, said if you are still in a job, now is the time to knuckle down to make yourself a valuable employee and help the business navigate through this challenging period.
"Some ways to show yourself as a valuable employee could be helping to project manage the business getting online, and maintaining strong relationships with your clients or customers. Identify potential future problems and offer some solutions. Offer to help your boss, who is likely lying awake at night concerned about cash flow, in any way possible and put your hand up to help by researching any government support the business may be eligible for," Mr Evans said.
For those who had lost their jobs or were facing a reduced income, Mr Evans said it could be a good time to innovate.
"Firstly, keep up to date with the Government's stimulus packages and if you are eligible for Centrelink support, don't delay applying as this could reduce the time between the last payment from your employer and the first payment from Centrelink. If you need immediate money, consider selling things around the home, including any assets that have debt owing, such as a car.
"When planning for tomorrow, you can consider taking an online course or broadening your skill set to make yourself more appealing to employers. You can also think about working for yourself by looking at your skills and feeling the pulse for where your services may be helpful, and this may be something different to what you were previously doing. Perhaps you could provide your services online or if you are making something, offer home deliveries."
While times are currently undeniably tough for many, and life as we know it altered, there are things that are within our control and the way we navigate this period could make a big difference to our future finances. If you are facing financial hardship, feel overwhelmed or would like support, contact the National Debt Helpline on 1800 007 007 or find a free, government-funded financial counsellor near you.
If you or someone you know needs support, call Lifeline on 13 11 14 or beyondblue on 1300 224 636. If it is an emergency, call 000.
Cover image source: fizkes (Shutterstock)
As with all our content, Canstar's Coronavirus coverage will always be free for our readers.