What is a term deposit?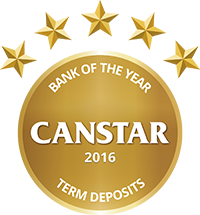 A term deposit is an investment of cash placed with a financial institution for a fixed period of time, known as the term, with a fixed interest rate for your return at the end of the term. Term deposits commonly referred to as a TD but are also known as a certificate of deposit or CD.
Fixed terms can range from 1 month to 5 years and the money can usually only be withdrawn at the end of the term. 'Advance notice' term deposits' allow you to withdraw the money earlier if you pay a penalty fee and give advance notice of 31 days. You may receive a slightly higher interest rate for an advance notice term deposit than for a standard term deposit.
Term deposits are popular for use by investors who prefer receiving a set return instead of anxiously watching the daily fluctuations of the share market. Other investors use term deposits as just one part of their particular mix of investments.
According to the latest Westpac-Melbourne Institute Index of Consumer sentiment, 29.4% of consumers favour term deposits with a bank as the wisest place to increase their savings. Other customers preferred to invest in real estate (24.6%), followed by customers who used their savings for debt repayment (16.5%).
Applying for a term deposit is essentially the same as applying for a normal savings bank account, and most applications can be made online these days.
At the height of the GFC, the federal government introduced the Australian Government Deposit Guarantee Scheme to promote financial stability in Australia by ensuring that financial institutions had enough funds to run. The Financial Claims Scheme has thankfully remained in place post-GFC – a government guarantee or security on bank deposits (including term deposits) of up to $250,000 per customer per institution. (For more information, see APRA's factsheet.)
What are the current interest rates for term deposits?
In 2015, the Reserve Bank of Australia has lowered the official cash rate twice, bringing it to a record low of 2.00% in May, and it is currently expected to hold steady at that rate.
A low cash rate doesn't necessarily mean a lower rate for term deposits, as it is not the only factor banks consider. However, we did see a drop in term deposit rates from January to July 2015. Rates decreased for $10,000 deposits from 3.02% to 2.50% for 3 months, and from 3.61% to 2.89% for 4 years.
Among the term deposit providers we researched in 2015, 69 out of 76 cut their interest rate by less than 50 basis points (0.01%) from January to July. 12 lowered their rates by more than 50 basis points, and 4 providers did not change their rates at all.
Financial institutions prefer to fund their activities by offering 'home grown' term deposits to individual customers, as this is cheaper than borrowing funds from the expensive wholesale banking market.
Finding the highest interest rate before locking in your term deposit is especially important when rates are this low. You can compare the interest rates for different term deposits on our website. You can also compare the interest rates for savings accounts.
Written by: TJ Ryan