The impacts of the coronavirus crisis have extended to Australians' hip pockets, impacting spending habits in many households. If spending smarter is on your mind, here are a few ways to free up cash flow and make debt more manageable during these uncertain times.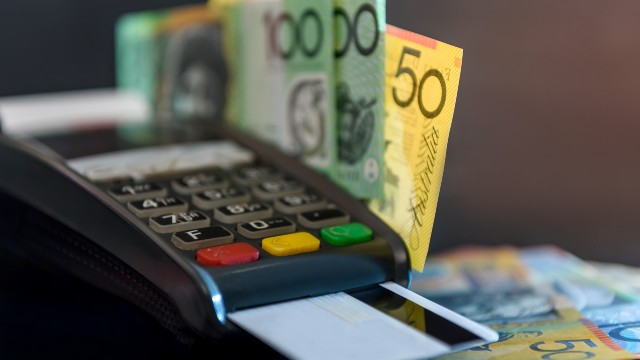 Commonwealth Bank's analysis of credit and debit card transactions released during the first week of May revealed consumer spending had improved and suggested we may be past the "low point" of COVID-19's unprecedented impact on spending – where falls of up to 20% year-on-year were recorded in recent times. These falls were only partially offset by an increase in panic buying at grocery stores and a DIY-spending phase where people were buying handy equipment and furnishings for around the home, according to the analysis.
CBA noted it seemed households have become more eager to fill up the virtual shopping trolley, as its data now showed consumers were increasingly spending online. But despite some improvement in recent weeks, total spending over the fortnight to 1 May was still down by 10% compared to the same time last year.
National Australia Bank's quarterly survey on spending behaviour, released in April, reflected similar falls in spending over the first three months of 2020. It also revealed consumers were feeling increasingly anxious, particularly around job security and the cost of living. Australians surveyed reported their income and level of savings had fallen over the past three months, and they tended to be much less positive about their incomes, savings and debt for the next 12 months than they had been at the end of 2019.
Now that some restrictions are starting to lift and there's been positive news on the slowdown of COVID-19 transmission, Australians may be more willing to loosen the purse strings than they were in early April. Here are a few ways households could spend smarter and make credit card debt more manageable during this time.
If you're currently comparing credit cards, the comparison table below displays some of the low interest credit cards currently available on Canstar's database for Australians looking to spend around $2,000 per month. Please note that this table features links direct to the provider's website, and is sorted by Star Rating (highest to lowest), followed by provider name (alphabetical). Use Canstar's credit card comparison selector to view a wider range of credit cards.
1. Could you secure a payment freeze on your credit card?
There was still a great amount of personal debt in Australia as we entered the coronavirus pandemic, leading some Australian banks to introduce relief measures to help their customers stay afloat. It could be worthwhile getting in touch with your bank to see what it can do to help.
Canstar money expert Effie Zahos said it makes complete sense for lenders to give customers a helping hand, given the latest statistics from the Reserve Bank of Australia showed consumers owe around $43 billion on personal credit cards, with $27.2 billion accruing interest.
HSBC, for instance, is allowing home loan, personal loan and credit card customers experiencing financial hardship to apply for repayment deferrals of up to six months. The bank indicated on its website that interest wouldn't be added to a customer's credit card balance over this period. A HSBC spokesperson said customers would temporarily be unable to make transactions on the card during the deferral period, and the deferral would be reviewed after the first three months. Depending on the product, HSBC customers struggling financially may also be able to move to a lower interest rate or an extended payment plan, the spokesperson said.
ING has a similar measure available, with the fine print explaining that cardholders who take up this option wouldn't be able to use their credit card for purchases while payments are paused. Interest and fees would continue to accrue and customers would be put on an installment plan if they were unable to repay the balance owing once the pause is lifted, ING's terms explain.
The major banks – who faced mounting pressure from consumer advocates to provide relief to credit card customers – have also introduced credit card support packages. CBA announced it had expanded its relief measures and would automatically refund any credit card late fees and interest for March for customers experiencing financial difficulty who missed their minimum payment during that month. ANZ may allow its credit card customers facing financial hardship to transfer to a card with lower interest rates or decrease their credit limit, if they're eligible. Westpac is allowing a three-month repayment and interest pause for its customers who have lost a job or suffered a loss of income due to COVID-19. National Australia Bank is the only one of the four major banks to have reduced its credit card interest rates so far.
The Australian Banking Association (ABA) recently addressed the issue of how loan deferrals could impact credit ratings. According to the ABA, any Australian who is granted a deferral on their loan repayments – whether it be for a home loan, credit card or other credit product – will not have their credit rating affected as a result, provided they were up to date with repayments prior to the COVID-19 pandemic.
2. Could you spend smarter by using up your credit card rewards points?
One way rewards credit card holders could look to free up some cash flow in the budget is to make the most of the points system on their card. For instance, if you're confident you can pay off your credit card balance before the end of each repayment period, you may be able to earn rewards points by using a rewards credit card to pay for groceries or fuel, and then eventually redeem those points for vouchers.
The American Express David Jones rewards credit card, for example, currently allows customers to earn three rewards points for every dollar they spend at major supermarkets – such as Woolworths, Coles and IGA – or at petrol stations like BP, Caltex Woolworths or 7-Eleven. On this particular card, it would take 15,000 rewards points before they could be redeemed for a $100 voucher at David Jones stores. While cards such as these may come with a sign-up bonus of extra points – which may sound appealing to people wanting to earn some rewards from their grocery spending at this time – it's also worth carefully weighing up the fact that they typically also come with a hefty annual fee attached and may have a high interest rate.
3. Could you spend smarter by taking advantage of supermarket reward programs?
Regular shoppers at Woolworths and Coles supermarkets would also be familiar with their respective loyalty programs – Woolworths Rewards and flybuys – and may be hoping to make the most of the associated discounts as many head to the shops more often than going out for a meal or ordering in.
The discount earn rates from Woolies and Coles are pretty similar, with $10 off your shop when you earn either 2,000 Woolworths points or 2,000 flybuys points (customers earn one point per $1 spent at these chains and their associated stores). Woolworths automatically gives that discount at the checkout, but Coles customers need to log into their flybuys account to transfer those points to "flybuys Dollars" before their next shop. Another key difference that may impact shoppers at the moment is that Woolworths Rewards' discounts can be used for online purchases, whereas flybuys Dollars cannot.
4. What else could you spend your frequent flyer points on?
Both Virgin and Qantas' frequent flyer programs typically allow members to buy a range of items including gift cards, wine, electronics and merchandise by redeeming their loyalty points to pay for goods in their respective online stores: Velocity Rewards and the Qantas Store. This may be an appealing option for points-holders who would like to make the most of their balance while travel restrictions are in place.
Ms Zahos said while you would typically get more bang for your buck by redeeming points for flights, very few people were able to fly at this time, meaning some could be better off using those points to buy what they need right now.
"My key tip would be that if you are on a crisis budget due to COVID-19 and you want to reserve your cash flow, then while it may not represent the best value for your points by picking up a vacuum cleaner, it's still better than using your cash on such items which you may need to direct elsewhere," she said.
"If that gives you a buffer of cash to put food on the table or pay for the roof over your head, that's far more valuable than using the money to play the 'points game', especially during these uncertain times."
Unfortunately, Velocity members can't redeem their points for store items at the time of writing, after the business hit pause on redemptions until 1 September following the uncertainty surrounding its partner airline Virgin Australia going into voluntary administration on 21 April 2020. In the meantime, however, Velocity recently announced that members could redeem their points on domestic flights "for travel from 1 September 2020 to some of our most popular destinations".
One option for frequent flyers who have earned points with Qantas could be to purchase a Woolworths Group gift card using Qantas frequent flyer points and then use it to purchase groceries, which may take some pressure off cash-strapped households.
Some customers may find, however, that new restrictions on how frequent flyers and other customers can use their loyalty points could impact what's available. For instance, prior to its full-scale points freeze last month, Virgin flagged it had limited customers to one retail gift card purchase per day and had temporarily suspended the transfer of Velocity points to Singapore Airlines' KrisFlyer scheme. Qantas' online store recently had a notice telling customers it had introduced a limit for each customer of "two items per product per day" due to "high retail demand", though that limit has now been removed.
Prior to Virgin's collapse into administration, industry analysts highlighted how the unprecedented shutdown of the aviation sector due to COVID-19 could be a big drain on Qantas and Virgin's cash reserves, not to mention the potential impact of frequent flyer members rushing to use up their points.
While Velocity members can't purchase items using their points as they could previously, they can continue to earn those points by purchasing items via the Velocity Rewards Store from partnered retailers using regular money. For instance, customers could still earn 2 Velocity points for every $1 spent at Kogan.com or the Apple store at the time of writing.
To help give you an idea of what's currently available in the Qantas Store, where business is largely 'as usual', we've listed some items below that are currently available and could be helpful for people stuck in isolation.
Redeeming Qantas frequent flyer points
Type of product
Qantas Store products
Something to help you with working from home
Audio-Technica Over-Ear Wireless Noise Cancelling Headphones – 31,130 Points

Apple iMac 21.5 Inch Display 1TB, 2.3GHz Dual-Core Intel Core i5 Desktop – 295,480 Points

Something for online shopping
David Jones $100 Gift Card – 17,360 Points
Something to help you relax
Glasshouse Fragrances 350g Candle – 10,080 Points
Something to keep the kids busy
LEGO Technic Remote-Controlled Stunt Racer – 25,220 Points
Something to get you outside
Weber BabyQ (Q1000) LP BBQ – 64,180 Points
Something fun and different!
Gasmate Charcoal Spit Roaster Medium – 64,650 Points

Source: Qantas Rewards Store, 14/05/2020.
5. Need to consolidate your debt? These are some of the top balance transfer options on our database
Many Australians may have some extra downtime at the moment where they could take the opportunity to look at their budget, highlight debt payments such as any existing loans, credit card balances or other borrowings and consider consolidating them into a single product. This may be an appealing option for people paying multiple repayments and fees across a number of credit products.
One of the common options for debt consolidation is to transfer your credit card debt onto a credit card with a balance transfer offer. Balance transfers involve rolling your existing credit card debts onto one new card that comes with a low or 0% interest rate on repaying that existing balance for a certain time period.
The below table shows the top five balance transfer offers with the lowest overall cost that are currently available on Canstar's database for $5,000 balances paid off over two years. Canstar research analysts determined that if a person were to pay off $5,000 in two years, they would pay an average of $258 per month and $1,184 in interest and fees, which, respectively, is around $40 and $1,000 more than they'd pay with the cheapest balance transfer offers.
Top 5 Balance Transfer Offers – $5,000 Paid Off Over 2 Years
Provider
Card
Intro balance transfer rate (p.a.)
Intro balance transfer period (months)
Balance transfer fee (% of balance)
Revert Rate (p.a.)
Purchase Rate (p.a.)
Ongoing annual fee
Balance transfer fee on $5k
Monthly Repayments Required
Total Fees and Interest Paid
ANZ
Low Rate
0.00%
22
1.50%
20.24%
12.49%
$58.00 ($0.00 first year)
$75
$214.32
$143.61
QBANK
Bluey Card
0.00%
12
–
11.99%
11.99%
–
–
$215.00
$160.03
St George
Bank of Melbourne
BankSA
Vertigo
0.00%
18
–
21.49%
13.99%
$55.00
–
$216.15
$187.56
Westpac
Low Rate Card
0.00%
16
–
21.49%
13.74%
$59.00
–
$218.79
$251.03
Australian Military Bank
Low Rate Visa Card
0.00%
12
–
11.99%
11.99%
$49.00
–
$219.22
$261.17

Source: www.canstar.com.au – 29/05/2020. Top 5 selected based on the balance transfer offerings with the lowest total fees and interest costs; offer must be currently available for new applications. Total cost based on the annual fee, balance transfer fee, balance transfer interest rate and the balance transfer revert rate given a 2-year period of equal monthly repayments. Top 5 selection assumes balance transfer offer is utilised to pay down debt and is not used for purchases. Balance transfer offers may be available for a limited time only, contact the provider for more details.
Credit cards with a balance transfer offer usually have a promotional interest rate that will typically only last for the first six to 18 months, depending on the card issuer. At the end of this period, any remaining balance on the credit card will attract a standard (usually higher) interest rate. In many cases, a higher interest rate will also apply to any new purchases you make on the card, so it could be worth avoiding these if possible.
The main advantage of this strategy is that you could be paying little or no interest on your debt for a certain time frame, provided you meet the minimum monthly repayments and avoid making new purchases on the card. If you can also repay your debt within the promotional period, then this option may be worth considering.
Balance transfers only require you to make the minimum repayments, meaning there is generally no requirement to pay the debt down within any certain time frame. So, if you choose this strategy of debt consolidation, it could be helpful to have a strict repayment plan in place for yourself. Lastly, be wary of any fees that may apply, such as annual fees and balance transfer fees.
Another thing to keep in mind is it may not necessarily be prudent to chase the best rates around by continuously switching over to new balance transfer offers at the end of your introductory period, as this could potentially impact your credit score.
It's not all about spending: Other finance tips to consider during COVID-19 shutdown
While we've laid out a few tips for how to spend smarter and make debt more manageable during these uncertain times, consumers may also wish to consider giving their budget, superannuation, home loan and other finances a health check. We can help out there: