Canstar has crunched the numbers to show you how much you need to have in super to achieve your dream retirement.
"How much money do I need to retire?" It's one of the most common questions I hear. I wish I could give you a simple answer, but the truth is there is no magic number that will suit everyone.
You may have heard you need $1 million or that you should have enough savings to provide an income equal to 70%-80% of your final salary. Then there is the ASFA Retirement Standard which benchmarks the annual budget needed by Australians to fund a comfortable standard of living in their post-work years. It estimates that a couple hoping for a "comfortable" retirement will need $640,000 in savings, or $545,000 if you're single.
These figures are all very interesting and can give you a rough guide but to work out how much you really need it's important to do some number crunching for yourself.
How to work out how much money you need for retirement
There are three important factors to consider when calculating your retirement number: the annual cost of your lifestyle in retirement, when you want to retire and your life expectancy.
The annual cost of your lifestyle in retirement
It's important to think about the type of life you want to live in retirement. If you plan to travel the world and enjoy fine dining, you'll need more than someone who is happy to have a local holiday every few years and prefers the local club to fancy restaurants. And if you're renting in retirement you'll need more cash than someone who owns their own home.
So, sit down and work on a retirement budget. Start with the basics such as food, clothing, transport and utilities and then decide the nice-to-haves like dining out, holidays and hobbies. The final factor to look at is the luxuries. Would you like a caravan, for example?
When you want to retire
Your life expectancy
This one is a little tricky to predict. Broadly speaking, women today can expect to live to 85 and men until 80.9, according to the Australian Bureau of Statistics. Of course, these are just estimates and your life expectancy will depend on your family's health history and your lifestyle. One way to predict your life expectancy is with an online calculator such as The Death Clock or My Longevity.
Your life expectancy is important because it will shape how much time you'll spend in retirement and therefore how much you're going to need in savings.
Add this all up
The final step to knowing how much you need for retirement is to bring together the three factors.
Let's say, for instance, that you do the sums and find your retirement lifestyle will cost $40,000 a year. If you plan to retire at 65 and have a life expectancy of about 85, you could be looking at 20 years in retirement. On that basis you'll need around $800,000 to fund your lifestyle.
---
Compare Superannuation with Canstar
The table below displays some of the superannuation funds currently available on Canstar's database for Australians aged 30 – 39 with a super balance of up to $55,000. The results shown are sorted by Star Rating (highest to lowest) and then alphabetically by provider name. Performance figures shown reflect net investment performance, i.e. net of investment tax, investment management fees and the applicable administration fees based on an account balance of $50,000. To learn more about performance information, click. Consider the Target Market Determination (TMD) before making a purchase decision. Contact the product issuer directly for a copy of the TMD. Use Canstar's superannuation comparison selector to view a wider range of super funds. Canstar may earn a fee for referrals.
Fee, performance and asset allocation information shown in the table above have been determined according to the investment profile in the Canstar Superannuation Star Ratings methodology that matches the age group specified above.
---
How much super do you need to retire on $50,000, $70,000, $90,000 or $100,000 a year?
Canstar has crunched the numbers to show you how much you'd need in super based on various annual incomes and when you plan to retire. All of these hypothetical scenarios assume you need the money to last until you're 85.
As the table below shows, if your goal is to retire on $70,000 a year at age 50, you'll need $1,223,026 but if you're happy to wait until you're 67 you'll need $854,522 – almost $370,000 less.
If you're hoping to retire at age 50 with an annual income of $100,000, you'll need a whopping $1,747,180 in super!
Superannuation balances required for various retirement ages and annual income streams
Annual Income*
Retirement Age
50
60
67
$50,000
$873,590
$743,409
$610,373
$70,000
$1,223,026
$1,040,773
$854,522
$90,000
$1,572,462
$1,338,137
$1,098,671
$100,000
$1,747,180
$1,486,818
$1,220,746
Source: www.canstar.com.au – 27/04/2021.*Income stream is assumed to be paid monthly until age 85. Annual retirement income stream and balance at retirement are shown in 'today's dollars', i.e. they have been adjusted for inflation.
Are you on track to reach your goal amount?
It can be difficult to know whether you're on track to reach your target amount. To give you an idea, Canstar has worked out how much a 30-year-old would need to have in their super now to be on track to achieve their target.
As the table below shows, a 30-year-old who is hoping to retire on $70,000 a year at age 60 should have $155,248 in their super right now if they want to reach their target. If you're older then you will need to have a higher super balance to have enough in super to reach your goal.
Current superannuation balances required for various retirement ages and annual income streams for a 30-year-old
Annual Income*
Retirement Age
50
60
67
$50,000
$263,915
$78,220
$0
$70,000
$405,783
$155,248
$36,149
$90,000
$547,651
$232,276
$82,353
$100,000
$618,585
$270,790
$105,455
Source: www.canstar.com.au – 27/04/2021.*Income stream is assumed to be paid monthly until age 85. Based on a 30-year-old with starting gross annual income of $74,516 per ABS Characteristics of Employment (median full-time earnings), growing 2.5% annually per RBA Target Inflation. Employer contributions are assumed to be taxed at 15%. SG contribution amounts per government announced rates assumed to be paid into the superannuation account quarterly. Net returns assumed to be 7.22%pa based on the average 5-year return of balanced investment options on Canstar's database available for a 30-year- old (returns effective to end of February 2021). Average life and TPD insurance premium of $162.46 and $126.87 respectively (increasing with RBA target inflation of 2.5% each year) are assumed charged at the end of each financial year, based on products in Canstar's database for a 35-year-old. Insurance premiums are assumed to end at the retirement age. Please note all information on income, net returns and insurance premiums are used for illustration purposes only. Actual returns and the value of your investment may fall as well as rise from year to year; this example does not take such variation into account. Past performance is not a reliable indicator of future performance.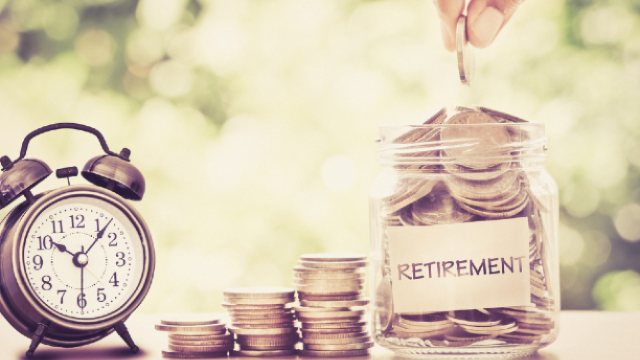 What if you're not on track to reach your goal?
These numbers can seem quite overwhelming. If you think you might be falling behind there are a number of things you can do to give your super a boost.
What if you don't have enough money when you are closer to retirement?
If you're nearing retirement and your super is falling short, there are a number of things you may be able to do. These include:
Work for longer where possible, even if it's part time.
Revisit your retirement budget – are there things you can cut back?
Check if you are eligible for the age pension. Many retirees rely on a full or part age pension to fund their retirement.
Consider downsizing your home to free up some extra cash.
Cover image source: Day Of Victory Studio/Shutterstock.com
---
Thanks for visiting Canstar, Australia's biggest financial comparison site*