If you are dreaming of hitting the open road for a well-deserved break, using a caravan (or camper trailer) can be a great way to travel.
Owning a caravan can potentially give you the freedom to stay in numerous places across the country and travel on your own terms, especially as more people turn to Australia-based travel to accommodate the COVID-19 restrictions. But buying your own caravan can be a big investment, not just because of the upfront costs involved but also due to the ongoing maintenance, registration, storage and repair expenses that can come with owning one.
So, what are your options when it comes to financially protecting your much-loved home on wheels in case something happens to it while it's parked at home, or if it's involved in an unexpected incident on the road? We take a look.
---
---
What is caravan insurance?
Caravan insurance is a stand-alone insurance product that can provide a level of financial cover if something were to happen to your caravan or its contents while in Australia.
Depending on your policy, it may provide cover for accidental loss or damage, theft, and legal liability for damage to another person's property caused by the use of your caravan.
You can typically purchase insurance to provide cover for your caravan while it is travelling on the road, when it is on-site at a caravan park, and/or when it is not being used for a certain period of time. Some insurers may also offer cover for a trailer, camper trailer or horse float under a caravan insurance policy.
There are typically different levels of cover available under a caravan insurance policy, which are generally grouped into two areas:
Comprehensive – policies that cover damage or loss of the caravan and property inside it, as well as any damage to other people's's property
Third party – policies that only cover damage to other people or someone else's property where the policyholder is at fault. You and your property are typically not covered if you are at fault. These types of policies could include cover for fire and theft by default, or these types of incidents could be included only as an add-on expense, depending on the insurer.
How has COVID-19 impacted caravan insurance?
Travel is restricted in some states of Australia at the moment to try and reduce the chance of the COVID-19 outbreak becoming worse. If you are planning on travelling, it could be important to check with your state or territory government, as well as the authorities in your destination, before heading off.
Due to the travel restrictions in some states, some people who own caravans may have found they cannot use them and have had to park them in a safe spot until the crisis passes. It has also meant that some travellers have not been able to return home or complete planned trips, and have had to spend extended periods parked in the one place, such as a caravan park. If this is the case for you, it could be a wise idea to make contact with your insurer to explore what your policy covers under those circumstances.
This check could also potentially save you money. Some insurers offer premium reductions when a caravan is stationary for long periods of time, as part of their product offering, which is also called "lay-up cover" (discussed in more detail, below). Other insurers are advertising that they are offering special discounts to eligible customers who can prove they have been adversely financially impacted by the coronavirus outbreak and its economic fallout. Check with your insurer.
Do you need caravan insurance? What does it cover?
Caravan insurance is typically not a legal requirement in Australia, unlike compulsory third party (or CTP) insurance, which is a must for all cars driven on public roads. However, as with comprehensive car insurance, not having caravan insurance could leave you financially vulnerable if an accident were to occur, or if your caravan was stolen. It is worthwhile doing your homework to determine whether the cost of caravan insurance is worth it for you, bearing in mind the potential risks of going without it.
Are caravans covered by car insurance?
Caravans can have insurance cover under a certain type of compulsory policy an owner takes out on the vehicle towing it – but this cover is limited.
If your caravan were to be involved in an accident, this could be covered by your car's compulsory third party insurance (CTP), provided the caravan was in a roadworthy condition and was being towed by a registered car (check your CTP policy). In some states and territories, caravans themselves have to carry a separate registration certificate, although they may not need separate CTP insurance (check with your local authority).
CTP's cover is limited, however. In the case of an accident, CTP only covers liability for injuries or death caused to other people. For example, if you were to be in an accident and your caravan, while being towed, hit another car, causing injury to that driver or passenger, then your vehicle's CTP insurance may help cover the costs to compensate those injured.
However, CTP insurance will not cover your property or the property of others. For example, in the event of an accident, CTP would not pay for any damage caused by your caravan to another vehicle, nor would it cover repairs to your caravan or car.
Typically, caravans are not covered in other forms of car insurance, either, such as comprehensive insurance, unless your policy specifically states otherwise. If you need cover for damage or loss then you may want to consider separate caravan insurance.
What can caravan insurance cover?
Coverage offered by your caravan insurance will vary depending on the policy and level of cover you choose, but in general, it may provide some financial protection for loss or damage to your caravan caused by or arising from:
Accidental damage
Theft or attempted theft
Fire
Storm and flood
Earthquake
Vandalism or a malicious act by a third party
Emergency repairs, accommodation and transport.
It could also cover the costs of:
Food spoilage
Storage
Towing
Contents up to a certain amount.
What does caravan insurance not cover?
Exclusions for caravan insurance will vary depending on your policy. Some common exclusions that may apply include loss, damage, injury or death arising from:
Deterioration, depreciation, rust, corrosion, mold, or wear and tear of the caravan
Vermin
The lawful seizure or confiscation of your caravan or any part of it
Acts of war or terrorism
Faulty design, or mechanical or structural failure in the caravan
Fusion of electric motors
A failure to secure your caravan, or leaving it in an unsafe position
Using your caravan for an unlawful purpose
An intentional act by you, a family member, or a person who has your permission to use your caravan
Pre-existing damage from before you took out your policy
Water escaping from a shower recess or shower base
Scorching or melting where there was no flame (check details with your insurer).
Caravan insurance: Optional benefits and extras
Most caravan insurance providers will offer some optional benefits or extras you can add to your policy. These benefits will usually come at an additional cost to your insurance premium. Some of these benefits may include:
Contents cover
Some insurers will ordinarily only provide cover for your contents up to a certain amount, whereas some may not cover them at all. If you want to take out contents cover beyond what your policy offers, you may be able to purchase this through your provider as an optional benefit. You may also be able to specify particularly valuable items on your policy so you can cover them for what it would cost to repair or replace them. Keep in mind your insurer may exclude certain items from your policy, such as sporting equipment, computers or cameras. Check your exclusions for details.
Lay up cover
Your provider may allow you to add cover for your caravan while it is not being used, and to do so at a reduced premium. This is known as lay up cover. This option typically allows you to maintain certain cover at a reduced premium for the months you know you will not be using your caravan. However, this cover may only apply if you keep your caravan in a safe and secure spot while it is not being used, such as a carport or lockable garage. It may also only be available for a certain period of time, such as six months. Check with your provider to see what is available.
Annexe cover
Some providers may not cover your caravan's annexe (if you have one) under their standard benefits for caravan insurance, or they may apply restrictions on the sorts of coverage they offer for your annexe. An annexe is usually a caravan extension made out of vinyl or canvas material with walls, windows and a roof or awning over the top of it. If it is not included in your standard benefits, your insurer may offer annexe cover as an optional extra for an additional premium.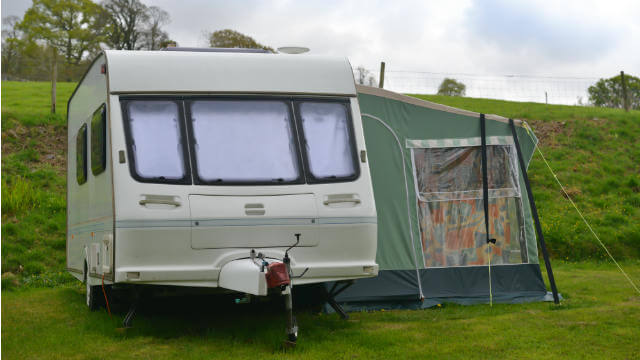 How much does caravan insurance cost?
The cost of your caravan insurance will depend on a range of factors, including:
Type of cover you choose: Your premium will differ depending on whether you choose to cover a touring (or travelling) or an on-site caravan (one located at a caravan park, for example).
Level of cover and extras: Some providers may offer different levels of cover to choose from, such as comprehensive, third-party fire and theft or third-party property caravan insurance. Comprehensive cover will usually carry a higher premium. If you choose to take out any optional extras, this could also add to your premium.
Sum insured: Providers of this type of insurance may offer agreed value or market value when determining the sum insured for your caravan. Agreed value is a fixed sum you and your insurer choose for the caravan, whereas market value is based on the amount your caravan is worth at the time of the claim. Agreed value policies tend to carry a higher premium.
Excess: The excess is the amount you agree to pay out-of-pocket when making a claim. If you choose a higher excess, this will tend to lower your premium.
Considerations when choosing caravan insurance
Before you take out caravan insurance, read the Product Disclosure Statement (PDS) of each policy thoroughly so you are aware of the terms and conditions involved, including the benefits and exclusions, and any additional excesses that may apply.
If you are buying caravan insurance from the same provider you use for other insurance policies, such as your car insurance, it could be worth checking to see if you are entitled to a multi-policy discount.
What is the difference between a caravan, camper trailer and motorhome?
What is a caravan?
A caravan is an unpowered (engineless) vehicle that can be towed by a car. It often includes some basic bedding, seating, bench space, kitchen facilities, and sometimes a shower and toilet. A caravan can be plugged into a power outlet or have its own battery pack or small generator to power lights, fridges or other kitchen appliances on board.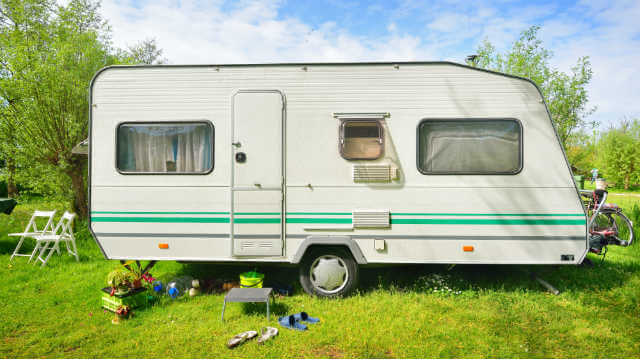 What is a camper trailer?
A camper trailer is a compact version of a caravan and can be towed by a car. When stationary, it can fold out into a small tent-like living space with a roof and walls. This space may include a bed or lounge, storage space and some basic kitchen facilities. Some insurers may offer cover for a camper trailer under a caravan insurance policy.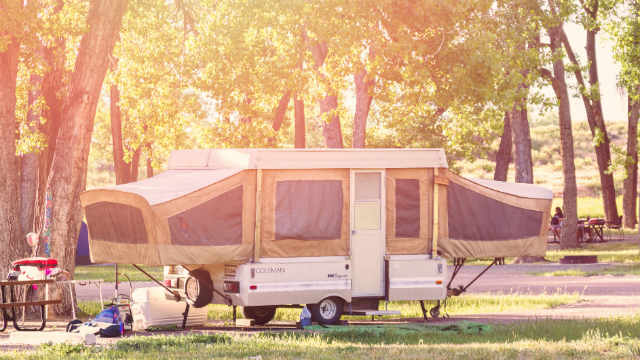 What is a motorhome?
A motorhome, otherwise known as a campervan or RV, is a large engine-powered vehicle, usually the size of a small truck. These vehicles often include bedding, kitchen facilities, a toilet and shower and other home style comforts. Motorhomes are usually not covered under a caravan insurance policy. There are, however, motorhome insurance policies on the market in Australia.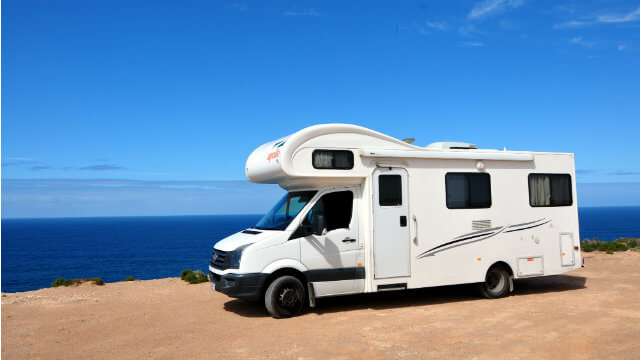 Cover image source: Philip Schubert (Shutterstock)