Have you ever been asked for your car's VIN and weren't quite sure what it was? Well, unlike your banking PIN, your vehicle's VIN is something you may need to share.
What is a car's VIN?
A Vehicle Identification Number or VIN is like a fingerprint for your car, in that no two of them are the same. It's made up of 17 characters provided by the car manufacturer and is permanently marked on your vehicle as its unique permanent identifier. A VIN isn't the same as your car's registration number. Unlike a VIN, the registration number can be easily changed.
In Australia, road vehicles made after 1989 must carry a VIN, and the composition and location of the VIN must meet the requirements and international standards defined in the relevant mandatory Australian Design Rules (ADRs). A VIN can't include the letters I, O and Q to avoid errors when being read and can only be made up of numeric characters 0 – 9 and upper-case alpha characters A – Z (with letter exclusions as mentioned).
Where can you find a car's VIN?
The VIN will be stamped or etched on your vehicle structure somewhere, and it will be on either a plate or a 'self-voiding' label which can't be removed without destroying the label. The self-voiding feature prevents it from being removed and reused for re-identification purposes on a stolen vehicle.
There are a number of locations where you may be able to find your VIN – a common one is under the lower left corner of the front windscreen, which you can normally see from outside the car through the glass.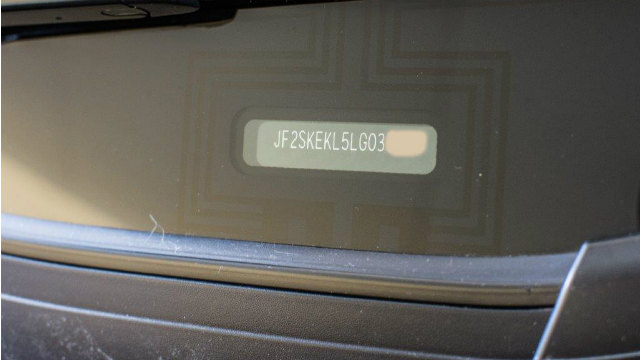 Depending on the car, the VIN could also be on a label or a plate in a door opening (usually the driver's door), stamped or etched into a chassis rail (vehicle frame) under the side of the car, printed into the floor panel or on a plate inside the boot near the spare wheel, or under the bonnet in an area such as a suspension tower or the firewall (the panel between the engine compartment and the cabin).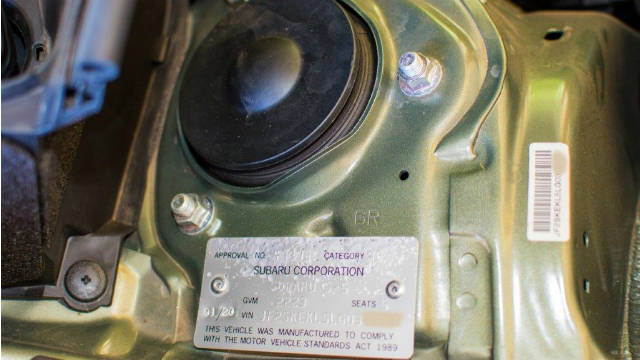 The VIN may also be in the cabin footwell on a forward-control style commercial vehicle, the A-Frame or front wall of a trailer, or on the steering head of a motorbike or moped.
The vehicle owner's handbook will likely show where to find the VIN on the vehicle.
What is a VIN used for?
A VIN is used to assist in identifying the specific vehicle it is attached to when buying, selling, sourcing parts, insuring, financing or registering the vehicle, or for safety recalls. For example, you might be asked for your car's VIN when buying spare car parts, as it accurately and fully identifies your vehicle. A dealer may not be able to assist you with correct parts without it.
Manufacturers will also identify vehicles subject to recall by year and VIN range as that is a vehicle's known point of reference relative to its production.
The VIN is also relied on when checking if a car has been written off or stolen in the past, and to verify its personal properties and securities register (PPSR) status (an official government register of security interest in personal property).
A VIN will be recorded on your vehicle's Safety Certificate which is necessary in most cases for the sale of a registered vehicle and transfer of registration to a new owner.
Why do you need to know a car's VIN when you have a registration number?
As the VIN is the unique identifier attached to the vehicle it will be recorded in documents and databases associated with registration records and financial or other contracts, or anywhere else the vehicle must be identified with certainty.
As previously noted, a registration number can easily change and could thus be unreliable as the single source of identification.
VINs and vehicle history checks
You can use your car's VIN to get a full PPSR check (a small fee applies), which we at RACQ highly recommend doing if you're considering buying a used car.
A PPSR check will show if there is finance owing on a vehicle, if the VIN of that vehicle has been listed as stolen, and a vehicle's Written Off Vehicle Register (WOVR) status. It could also show up odometer reading discrepancies on a vehicle and whether that vehicle is subject to a Takata airbag safety recall.
It is a good idea to complete your PPSR check and print out the PPSR certificate before the transaction is completed on the sale of a vehicle. Once you have this certificate, keep it safely stored away as it is your proof the vehicle was free of financial burdens when you purchased it and could protect you in the future from having the vehicle repossessed. If there is an issue, don't proceed with the transaction until it has been resolved.
A vehicle that has been written off and repaired is also something you should be cautious about. The flag showing it has previously been a write off stays with the vehicle and might make future sales more difficult, reduce the vehicle's value, and repair quality could be problematic with the potential for ongoing issues.
It's vital that the correct vehicle details are used when doing the PPSR check, including the correct VIN, as any errors will invalidate the certificate and you won't have any protection.
What do the numbers and letters in a VIN mean?
A VIN is made up of 17 numbers and letters, with each section having a specific meaning.

The first three characters are the World Manufacturer's Identity (the origin of where the vehicle was made and by which manufacturer).
The next five characters (the Vehicle Description Section) contains general vehicle information such as the production line, body type and engine size.
Character nine is a security check digit (which identifies the VIN as being authorised by the manufacturer).
Character 10 is the model year for the car.
Character 11 indicates which production plant assembled the vehicle.
The remaining six characters (positions 12 – 17) are the vehicle's unique serial number.
Individual manufacturer's internal codes used within VINs for items such as engine, transmission or other equipment can change year to year or with the production plant.
Where can you go to check a car's VIN?
You can check a VIN using the vehicle's registration number with the vehicle registration authority in your state or territory, even if the rego number has expired. It's easy to do online and could be worth doing if, for example, you are considering buying a car and want to check its details. The check will usually include the registration status, the rego expiry date, the vehicle details (make, model, body type, purpose of use- private or commercial), and in most states/territories, CTP insurer and expiry. A check won't show details if the rego has been cancelled.
What should you do if the VIN doesn't look right?
If you're in the market for a used car, and you notice anything about the VIN, the plate, or panel/chassis rail area it is marked on that suggests it may have been tampered with, we at RACQ recommend playing it safe and seriously reconsidering buying it.
Also, if there is anything substantially different about the vehicle you're looking at compared to the vehicle rego and PPSR details for that VIN, be suspicious (naturally, double-check you have entered the vehicle details correctly when you did the searches). There's a good chance the car could be stolen and has been re-identified with a 'clean' VIN that isn't listed as stolen, and you may want to consider reporting it to police. A range of measures by authorities including stricter registration and reporting systems have made the re-identifying of vehicle's more difficult and less common. However, if you buy a vehicle that turns out to be stolen it could be repossessed, even several years later and often without you receiving any compensation.
About John Ewing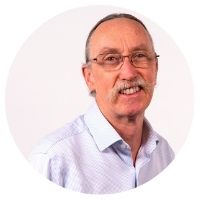 John Ewing is the Principal Technical Researcher at RACQ. He has worked at the Club for nearly 30 years in a variety of technical positions, is an A Grade motor mechanic and is a motoring writer for The Road Ahead. For the past 15 years he has been one of the judges for the national motoring clubs' car awards program, Australia's Best Cars.
Cover image source: Scharfsinn (Shutterstock)