Co-author: TJ Ryan
Insurers use different terms to explain what they will and won't cover in relation to floods. Canstar explains how to know whether or not you are covered for flood damage.
Is my home covered for flood?
Your home may or may not be covered for flood damage, depending on your insurance provider and the inclusions and exclusions of your home and contents insurance policy. Flood cover is included in many home insurance policies as standard and is a major exclusion from other policies.
The table below displays a snapshot of home & contents products with flash flooding cover and direct links to the providers' websites, sorted by Star Rating (highest to lowest) then by provider name (alphabetically). These results are based on a policyholder under 50 years old in New South Wales and ACT for building & contents worth less than $550,000.
Compare Home & Contents Insurance with Canstar
Still, other insurers include flood cover as standard but allow homeowners to 'opt out' of this cover to make their insurance premiums cheaper.
The confusion arises due to the fact that insurers use different terms to explain what they will and won't cover in relation to floods.
Type of flood
Covered by insurance?
Water that escapes from its natural course, such as rivers, creeks, and water-catchment systems that are swollen with heavy rain
Usually yes
Sudden, excessive run-off water as a direct result of a storm, including overflowing creeks or storm water drains
Usually yes
Waves from tsunami caused by earthquake or volcanic eruption
Usually yes
Flash flood that involves rainwater mixed with floodwater
Varies
Cause of flood was man-made, such as a blocked or broken storm water drain
Usually not (usually excluded from cover)
Waves from normal movement or changes in sea or ocean levels (actions of the sea)
Usually not
Waves from high tide or king tide (actions of the sea)
Usually not
Source: www.canstar.com.au
Most policies will cover rainwater run-off, which is a flood caused when there is too much rain in your area and there is nowhere for the water to go.
However, most policies will exclude (refuse to cover) flooding without rain in your area, landslip due to storms and tidal flooding events.
There is a sliding scale of coverage where damage is caused by flash flooding of rivers, creeks, drains or heavy rains. In the event of flash flooding, the source of the damaging heavy rain seems to be of paramount importance to insurers. Another question insurers ask is how soon after the storm did the flooding occur?
This means that even if your policy excludes flood damage, your home and contents insurance will still cover you for events such as storm damage or rainwater damage.
If you are renting and only have contents insurance rather than home insurance, check whether your contents insurance policy covers flood damage to your belongings (see the policy disclosure statement or PDS for details). The building you live in must be covered by your landlord's building insurance or by the body corporate's strata building insurance.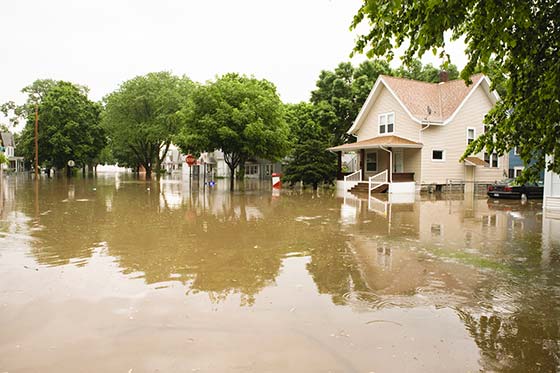 Compare Contents Insurance with Canstar
Is my car covered for flood damage?
Your car may or may not be covered for flood damage, depending on your insurance provider and the type of car insurance policy you hold. Typically, most car insurance providers will offer flood cover for those with Comprehensive car insurance.
If your car has been damaged by flooding, read our guide for the dos and don'ts of storm damage cover.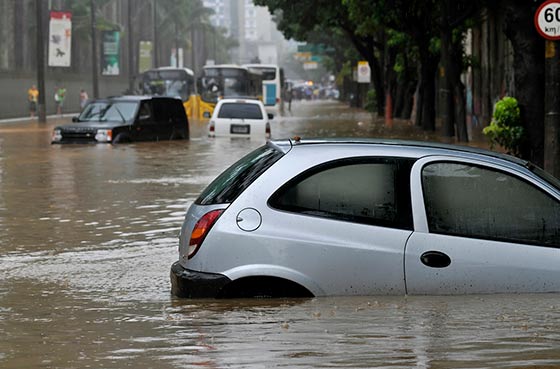 In the market for a car insurance policy? The table below displays a snapshot of car insurance policies on Canstar's database with a no claims bonus for hail or flood claims and links direct to providers' websites. Please note this table has been sorted by Star Rating (highest to lowest) then by provider name (alphabetically) and was formulated based on a male aged 30-39 in NSW, without an extra driver under 25 years old.
Compare Car Insurance with Canstar
Are you covered by the new definition of 'flood'?
In the wake of the 2010-11 Queensland floods and after extensive consultation with industry, a standard definition of 'flood' was developed for home and contents insurance. Introduced in June 2012, the new definition of flood is:
"The covering of normally dry land by water that has escaped or been released from the normal confines of:
Any lake, or any river, creek or other natural watercourse, whether or not altered or modified; or
Any reservoir, canal or dam."
Insurers were given two years to include this definition in their policies (by June 2014), so they should now be up-to-date. You can check what definition of flood your insurer is using either in the product disclosure statement (PDS) that you can usually view online or by calling them to find out.
If you need assistance in understanding your insurance policy, have any queries about how the claims process works or any general enquiries, it might be worth contacting the Insurance Council Australia Catastrophe Hotline on 1800 734 621.
Is there mandatory flood cover?
No. Following the 2011 Queensland floods, the federal government floated the idea of making flood cover a mandatory part of insurance policies, and specified the new, standard definition of a 'flood'.
Although the new definition stuck, flood cover was not legislated to be mandatory in the end, so it's not legally compulsory for insurers to include flood cover in their policies.
Based on the new definition, many insurance companies only offer policies that do include flood cover, which has unfortunately made home insurance more expensive in certain areas. It means that people in very low-risk flood zones may still have to pay a flood insurance premium depending on their insurance company.
Read on below for more information about how to get a good deal on flood insurance.
Are you at risk of a flood?
There are 17,000 homes built in high-risk flood areas, according to the Insurance Council of Australia in 2016. NRMA Insurance said that according to their data, around 13% of properties in NSW will be flooded at some point in time, with 2% considered high risk.
Check the Australian government's Flood Risk Information Portal to find out the risk of flood in your area, which has been developed by the state and territory governments in tandem with the insurance industry.
If you are at risk of flood, make sure you are flood-prepared with our Flood Checklist for planning for floods, preparing for an oncoming flood, how to survive a flood and clean-up after the flood.
Source: Bunnings Warehouse
How to get a good deal on flood insurance
Getting a good deal on flood insurance is as simple as shopping around for the right home and contents insurance. As flood cover can be included within home and contents insurance, business insurance or even car insurance, it's important to check exactly what you are covered for and what you need to be covered for.
If you are in or near a flood zone, you may have difficulty obtaining flood cover. But never fear – since insurers classify flood risks according to different sources and different scales, if one insurer won't cover your area for flood cover, you can always ask another insurer.
If you live in a flood zone but you can get flood cover, be aware that you may have to pay more for it. There may be a surcharge (a higher premium) or a flood excess (an excess charged if you make a claim), depending on the risk level perceived by the insurer.
Again, this presents an opportunity to shop around for an affordable price on the level of cover you need.
Compare Home & Contents Insurance
If you live in North Queensland, check your eligibility for the Suncorp Cyclone Resilience Benefit, an award-winning home insurance benefit that offers a discount on premiums for residents who protect their homes from cyclone damage. Home insurance typically costs much more in North Queensland, a region plagued by natural disasters including cyclones and storms.
The main thing to remember when choosing a home insurance policy with flood cover is to make sure it offers enough cover to completely repair or rebuild your home after a flood:
| | |
| --- | --- |
| Total Replacement Policies | The insurer repairs and/or rebuilds your home to the same size and standard of what it was prior to the damage. |
| Sum Insured Extended Policies | This policy offers a safety net – So if your property is totally damaged and your insured amount isn't enough, you're paid the additional amount. |
Find out how much home insurance and contents insurance you may need. Getting information from your local council will be essential in determining what level of flood cover you may need.
It's a good idea for anyone with home and contents insurance who is at risk of flood damage to review the terms and conditions of their cover by reading the PDS. If in doubt, contact your insurer to clarify the situation.
And if you do not already have home and contents insurance, now is the time to compare your options.