A retaining wall can help to add another dimension to your garden and green spaces. If you're considering adding one to your property
, you may be interested to how much it might cost you, what ongoing maintenance may be required and what regulatory considerations apply.
What is a retaining wall?
A retaining wall is a rigid barrier built for the purpose of preventing soil (and/or other organic material such as stones) from moving downhill or shifting more generally. Retaining walls can be used to create stepped levels for landscaping purposes, or for practical reasons where soil would otherwise encroach on a road or public footpath.
A retaining wall may be necessary or desired in situations where soil has been built up, or if a sloped area has been partially excavated and the remaining soil requires support.
What kind of retaining wall do I need?
According to local business directory, Top4, there are a range of retaining wall types used for different purposes, including:
Gravity retaining walls

, which rely solely on their mass to withstand the pressure of the soil behind them. These are often built using stone or concrete, and are appropriate for most domestic situations in which soil is the only material being retained.

Cantilevered retaining walls

, which are generally made of concrete or masonry that has been poured and set in place. They are usually shaped like an upside-down T, with the footing of the wall set underground and providing additional support against the pressure of the soil being retained.

Sheet pile, or piling, retaining walls

, which are generally thinner than other types of retaining walls, and are comprised of long, vertically set beams or wooden planks that have approximately one third of their length buried into the ground.

Anchored retaining walls, which are secured at one or more points by cables anchored in the soil or rock sitting behind the wall


When choosing which type of retaining wall to go with, it's worth considering what it will be used for at a practical level, plus any aesthetic preferences you may have. It may also be worth consulting with a professional landscaper or builder in order to determine which type of retaining wall is best suited for your circumstances and desired goals. Another factor which may influence your decision is the varying sustainability of different types of retaining walls and the materials required to build them – for example, timber is generally more sustainable than steel.
How much does a retaining wall cost?
A retaining wall will generally cost you between $137.50 and $250 per square metre, according to tradesperson listing directory ServiceSeeking.com.au. In some cases you may be asked to pay the contractor an hourly rate instead, and ServiceSeeking.com.au advises that this will be around $55 per hour.
However, owner and principal builder of Ascent Design and Build, Bruce Parke told Canstar that the question of how much a retaining wall costs is a bit like asking "how long's a bit of string?".
He explained that "different types of building methods, heights, lengths, and the materials used for construction" will all have an impact on the final cost of your retaining wall.
Additionally, Mr Parke advised that if the ground that needs to be retained exceeds a certain height, the wall will need to be designed by a structural engineer to make sure it lasts. This will likely further increase the end cost of your retaining wall.
The maximum height to which you can build a retaining wall without it needing to be designed by a structural engineer varies by state/territory. According to hipages, you'll need to engage the services of a structural engineer, and potentially seek permission for the build from your local council, if:
You live in NSW or the NT and the wall exceeds 600mm in height

You live in Queensland, South Australia, or Victoria and the wall exceeds a metre in height

You live in Western Australia and the wall exceeds 500mm in height
According to licensedtrades.com.au, the regulations covering retaining walls in the ACT are more complex than a simple height maximum. If you live in the ACT, you must obtain a development approval and hire a structural engineer to design your retaining wall if it will be:
Within 1.5m of a side or rear boundary

Higher than 400mm above natural ground level at its lowest point

Taller than a metre in height at its highest point
ServiceSeeking.com.au advises that structural engineering services will generally cost an average of $120 per hour, but may reach as much as $180 per hour depending on the complexity of the job.
If you're not sure whether you'll need to engage the services of a structural engineer for your retaining wall, you can contact your local council. It will generally be able to advise you of the relevant regulations and bylaws.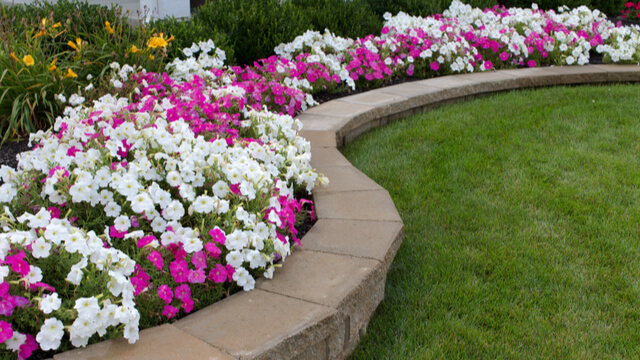 Does a retaining wall require maintenance?
The ongoing maintenance requirements of a retaining wall will generally depend on the materials it is made from, and how it was constructed.
For wooden retaining walls, Mr Parke recommended that you use "something like an H4 timber, which is a treated timber", which will have some degree of resistance against rot and wear. However, he did note that even these types of treated timbers "do have a shorter lifespan than something like galvanised (steel) posts or concrete".
"But if you do a rock retaining wall and it's built correctly, it'll last pretty much forever", he suggested.
That being said, a retaining wall built with adequate backfill – gravel or a similar substance placed behind a wall for drainage purposes – will generally last much longer than one without any built-in drainage or backfill, regardless of the material(s) used. According to Baines Masonry, a retaining wall built without adequate drainage may collapse after heavy rain, due to the added pressure of rainwater collecting behind the wall.
Who is responsible for a retaining wall that straddles two or more properties?
While the specifics of laws regarding retaining wall disputes vary by state and territory, McAndrew Law says that a retaining wall will generally be the responsibility of whoever's land it is retaining.
If you're looking to have a retaining wall built, it may be worth ensuring that it won't encroach on a neighbour's property, in order to avoid any potential disputes regarding future maintenance.
What should I consider before installing a retaining wall in my garden?
Mr Parke says that if you're going to try to build your own retaining wall, you need to do your homework. "You really need to know what you're doing if you're going to build a wall, otherwise you'll end up with something that's got a very short lifespan," he said.
He also noted that when it comes to retaining walls, "you get what you pay for". Large rocks or stones will be more expensive than any other material used to build a material wall, but they'll also last the longest, he explained.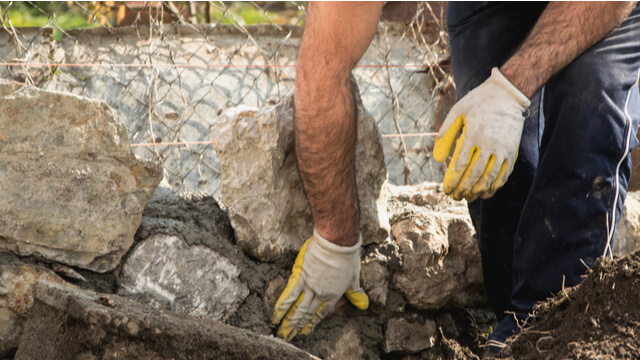 How can I pay for my retaining wall?
You may want to obtain a quote for your retaining wall before deciding which form of finance is most appropriate for your personal circumstances.
If you need to borrow money to fund the job, be sure to pay close attention to factors such as the interest rate you're charged by the lender, any fees that apply and whether you will be able to afford the repayments.