Dishwashers can make short work of one of the most repetitive daily chores, so it's no wonder more than half of households in Australia have one. But how much do they cost to install? We take a look.
Australians are increasingly choosing to ditch the age-old ritual of filling up the kitchen sink and scrubbing the dinner party plates clean. The latest Roy Morgan research on the issue (2019) shows that the amount of traditional dishwashing liquid – the stuff you use when washing by hand – is steadily declining, down 2% over two years despite a growing population. At the same time, the sale of electronic dishwashers has grown steadily, to the point that almost 12 million Aussies (58%) now own a dishwasher. And for the past four years, we have installed on average 550,000 per year into homes that have never before had a dishwasher – and that doesn't count those which were replacing existing appliances.
How much does it cost to install a dishwasher?
The cost to install a dishwasher depends largely on if you are replacing an existing one or if it's a new installation. It's typically much cheaper if it's a replacement, as installing one from scratch could mean making adjustments to your kitchen and hiring a plumber and an electrician. The below costs are in addition to the price of buying the appliance.
Replacing an existing dishwasher
Online trade website Service.com.au puts the price of replacing a dishwasher with a new one as anywhere from $30 per hour, or $100 on a per-job basis, to $60 an hour, or $200 on a per-job basis. Hipages puts the average cost at $149 for a simple installation and an average price of $176 for a semi-integrated dishwasher (see below for more details on this). However, if the replacement dishwasher requires a licensed plumber, that could cost more, according to Hipages – between $100-$150 an hour (charged in 15 minute intervals), with an installation time of anywhere between 20mins to an hour, plus a call-out rate of between $60 and $100. These charges could vary according to the type of dishwasher, the difficulty of the installation job and where you live.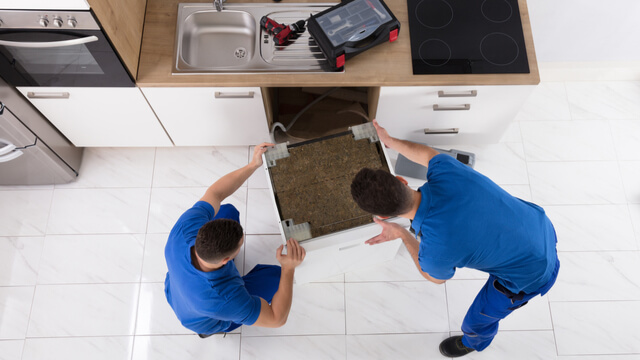 A new installation
It is generally more expensive to install a dishwasher in a new spot in the kitchen or if there hasn't been one in the kitchen previously. That's because you may need to have a power point installed, drainage and water lines connected, and kitchen cupboards altered or added to accommodate it. You could therefore need a plumber, an electrician and a cabinetmaker, which, according to Hipages, could cost you:
Plumber: $500-$1,500, depending on the time and materials needed, and there could also be a callout fee of $60 to $100 or so.
Electrician: $140-$180, depending on the scope of the job. There could also be a callout fee of between around $60-$100.
Cabinetmaker: Difficult to estimate, as there are many factors that could influence the price, such as the difficulty of the job, how easy it is to adapt a cupboard, the amount of changes needed to the existing kitchen, or if you were planning on replacing the entire set of kitchen drawers and cabinets.
What types of dishwashers are on the market?
Dishwashers are available in a few main design types, which naturally can also impact the cost of installation:
Freestanding – this style of dishwasher has an outer shell to protect its contents
Underbench – typically has no outer shell on the top and sides, and is designed to slot in snugly under a kitchen bench
Integrated – designed to slide in under a bench and the door looks like one of your kitchen cupboards;
Semi-integrated –- designed to slide in under a bench and the door looks like one of your kitchen cupboards, but leaves room for the dishwasher's electronic controls to show on the door;
Dishdrawer – offers all the above options but is divided into to pull-out drawers;
Benchtop – usually smaller units that can sit on top of a bench.
In Australia, freestanding dishwashers are the most prevalent, according to Euromonitor International, although built-in units were recorded as experiencing strong growth over the 2013-2018 period.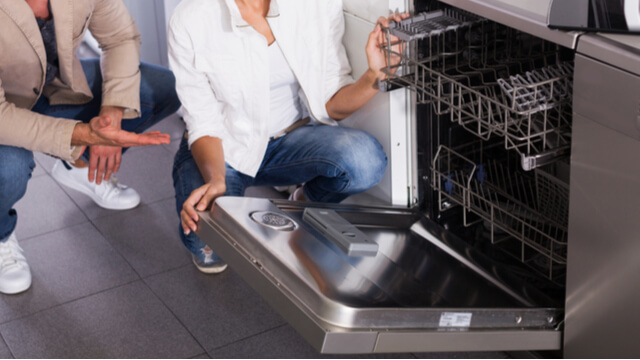 Wondering which one could be best at your place? You may be interested in these articles from our friends at Canstar Blue:
Adding a dishwasher to your home may increase your energy use, which could mean it's a good time to compare your energy provider to see if you are getting the best deal.


Main image source: Pikselstock (Shutterstock)