Had enough of staring at your kitchen's daggy splashback tiles from the 1970s? Want to upgrade your laminate benchtop to a sleek stone surface? Or perhaps you're ready for a full demolition job to make way for a completely new design with an island bench, a butler's pantry, stylish cabinets and integrated appliances?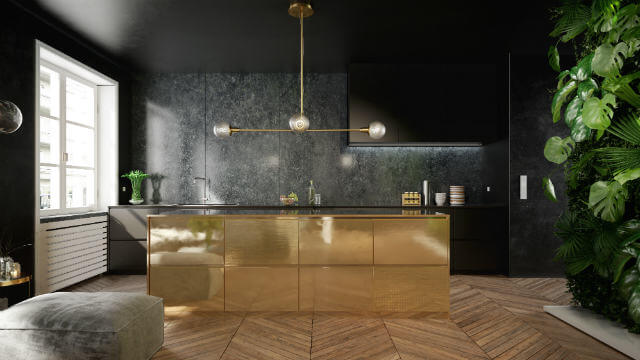 Kitchens are the heart of the home – a place where we gather to cook, talk, eat, work and entertain our loved ones. If you're itching to renovate and turn your kitchen into a space that will make you feel as warm inside as a freshly-baked tray of muffins from your new oven, you'll no doubt be wondering how much your dream will cost and what upgrades your budget will allow.
So how much can a kitchen renovation cost these days? Let's take a look and see if we can find out.
When should I renovate my kitchen?
While few people renovate kitchens less than five years old, if you're feeling guilty about wanting to renovate your decade-old kitchen, it might help to know you're not alone.
The Housing Industry Association (HIA)'s Kitchens and Bathrooms survey conducted in February/March 2019 found the overwhelming majority of kitchen renovations in Australia last year – 78% – were performed in homes that were between 11 and 20 years old.
What's the average cost?
According to the same HIA survey, the average cost to renovate a kitchen is $26,280 (not including appliances).
While the exact cost for you will depend on a range of factors, the Archicentre Australia 2019 Cost Guide estimates kitchen renovations will cost between $15,000 and $43,000, not including white goods.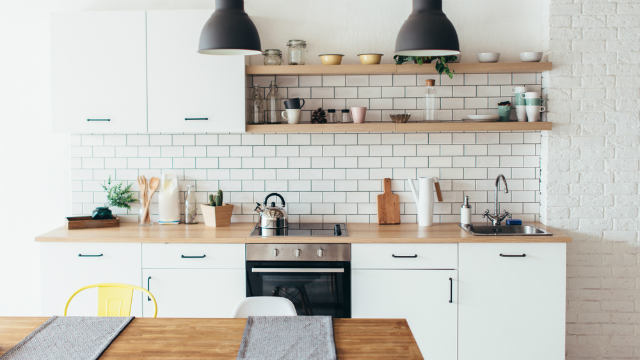 What are the options to finance a kitchen renovation?
How you finance the work on your kitchen may depend on how big the job is, which will impact much it costs. There are several options available for would-be home renovators to consider, including:
Home loan: If this job is big enough, or you are doing a range of jobs at the same time, one choice you may consider is refinancing or restructuring your home loan, or adding a "line of credit". For example, depending on your lender you may be able to add a redraw facility to your existing loan (although it's wise to keep in mind that some fees could apply to any loan changes and there could be redraw limits). Or, you could add an offset account, which could help reduce the interest paid on your loan while still allowing access to your money (although it's wise to keep in mind there could be some fees involved here, too, and higher interest rates could apply to these types of loans). Compare home loans with Canstar.
Personal loan: Depending on your personal circumstances and the cost of the job, you may consider using a personal loan to fund the work. This could be a secured loan, or an unsecured loan. It's worth keeping in mind, though, that interest rates are generally higher for personal loans than for home loans, and it's a good idea to read the lender's terms and conditions first. Compare personal loans with Canstar.
Credit card: It may also be possible, depending on the cost and your ability to repay the debt quickly, to pay for the job on a credit card. There could be some fringe benefits for doing so, such as extra insurance cover in some cases (read the card's Product Disclosure Statement to find out the conditions of the cover). Keep in mind that credit card interest rates are typically much higher than home or personal loans, and interest can quickly accumulate on large balances, so it is a good idea to weigh up your options and consider them carefully. If you don't think you'll be able to pay off the card's balance in full each month, it may be worth re-considering whether a credit card is the right option for you. Compare credit cards with Canstar.
What affects the cost of a kitchen renovation?
The older your home is, the more extensive your kitchen renovations are likely to be. The physical size of your kitchen will also have an impact on the cost of upgrading it. Considering the majority of kitchen renovation jobs (68%, according to the HIA report) involve enlarging the footprint – changing the physical size of the kitchen – you might want to have a little more saved up to allow for an expansion.
Prices will also depend on the quality of the materials, fixtures and fittings you choose, and whether you hire tradespeople to install your kitchen or do it yourself.
Also, it's important to remember that quotes are estimates of what the work is expected to cost. These estimates could change as the project progresses, especially if there are delays caused by factors like supply issues or changes to your original plans. New work could also uncover existing problems, such as water-damaged house frames or mould infestations, which can also mean delays, the need for more materials and, subsequently, higher costs. When planning your budget, it can be a good idea to consider leaving room for cost overruns.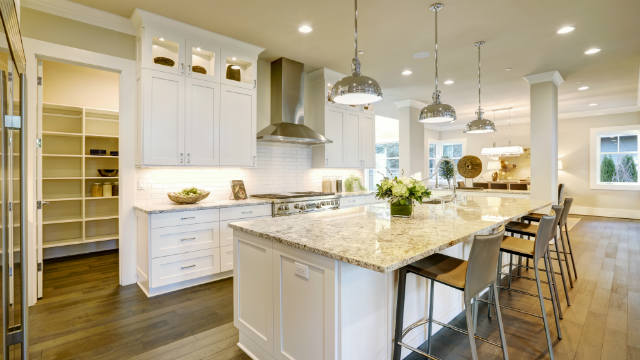 What parts of the kitchen cost what?
The materials you choose will have a big impact on the cost of your renovation, whether it's for your benches, splashbacks and cabinetry or your handles, tapware and sinks.
Price typically differs according to a product's quality, style, popularity or a combination of these factors.
Generally, the higher the quality of a product, the more it will cost, as those kinds of products are often marketed as being designed to perform better over time, or to require less maintenance. For example, more expensive tap ware could have more durable washers or be made of metals less prone to corrosion. Another example is the type of surface chosen for benchtops – hard-wearing, solid stone usually costs more than cheaper, thinner laminated board. Read this story about some of the choices that you could make when designing your dream kitchen.
The styling of a product can also change the cost of a product. For example, tiles can differ in price depending on how they decorated. Generally, hand-painted tiles or artisan-glazed ceramics are considerably more expensive than mass-manufactured options in standard colours. Natural stone also usually costs more than manufactured tiles, even though they may look similar.
The prices below will vary but could help give you a ballpark figure for some of the bigger-ticket items, as found in the Architecture Australia report:
Benches:
Laminate bench top, approx $200/sqm
Stone bench top, approx $450/sqm
Hardwood timber or stainless steel bench top, approx $900/sqm
Natural stone or marble bench top, approx $1500/sqm
Splashback:
Tile splashback, approx $45-$250/sqm
Acrylic splashback, approx $150/sqm
Glass splashback, approx $450/sqm
Cabinets:
Melamine (made from compressed wood covered with paper and resin), approx $4,500
Polyurethane (a more durable board covered in paint that has been mixed with a hardener), approx $7,000
Two-pac (a special, two-part paint finish that is generally harder and more durable than other coatings), approx. $13,000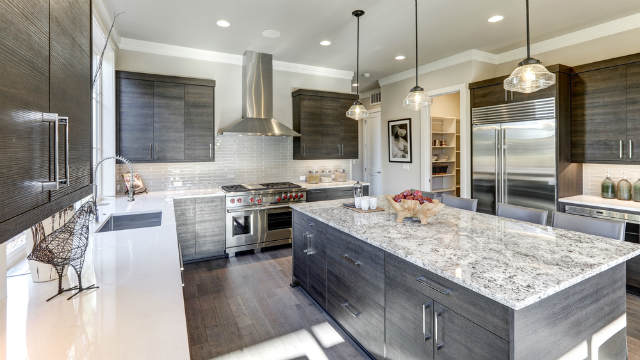 Appliances:
The HIA and Archicentre average price estimates do not include appliances. These workhorses of the kitchen – stove, oven, fridge, microwave, dishwasher and other electrical items – can also be a considerable added expense when it comes to updating a kitchen.
Fortunately, there is also a wide range of choice and a competitive market for prices. For example, while there are some ovens available to buy for as little as $300, larger models with more functionality made by quality brands can run into the thousands of dollars.
When choosing an appliance, you may want to consider the size of the space available to fit it, how it will be powered or fueled (in the case of gas ovens and cooktops), and what functions you require it to perform. For example, some gas cooktops have a special fitting for woks, while others have built-in teppanyaki or grill plates.
The installation of some appliances requires an electrician, plumber or other suitably qualified and licensed professional.
How long does it take to renovate a kitchen?
The majority of full kitchen installations take four to 12 days to renovate from the beginning of onsite work to completion, according to the HIA survey. Again, this will depend on the extent of the renovations, who does them, and the materials chosen.
It could be possible to stay in the home while the renovations are taking place, unless you're making some serious structural changes to the room. It's a good idea to remember that you probably won't have a kitchen to use during this time. While the toaster and kettle might do just fine on the dining table for a week, you may have to plan alternative ways of catering for your household. You might find yourself embracing the convenience of take-away – which could become costly – or have some ready-to-heat meals prepared to pop in the microwave.
Header image source: Pixel-Shot (Shutterstock)
---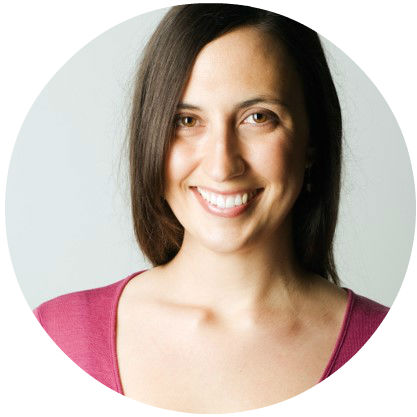 About Tonya Turner
Tonya is a Brisbane-based journalist, feature writer, copywriter and editor. She has worked as a journalist at newspapers across Australia, and now writes about design, architecture, home interiors, food, the Arts and travel. She loves anything to do with creative industries and meeting the people pushing the realms of what is deemed possible, helping us imagine and understand the world differently.