Buy now pay later services
If you are one of the many Australians using 'buy now pay later' services, you may want to compare providers and consider if it's the right payment option for you.
We break down how buy now pay later generally works and the main costs involved.
Find out more about these type of services:
What is 'buy now pay later'?
Buy now pay later (BNPL) is a service that allows consumers to purchase goods or services and pay for them in instalments over a period of time. It has some similarities with the lay-by system you might have used previously. Whereas lay-by involves a store putting goods aside for you and then you paying for them in two or more instalments before taking them home, BNPL services generally involve the provider paying the retailer for the goods upfront, allowing customers to take their purchases home immediately. The customer then pays for the goods in instalments, which go to the BNPL service instead of the store. BNPL services can be used at a growing number of retailers in Australia, in-store or online.
How does buy now pay later work?
BNPL services are offered at certain retailers as another method of payment, as an alternative to buying something with cash, a debit card, a credit card or a PayPal account, though PayPal has recently expanded from its existing payments service to also offer BNPL in Australia from July 2021.
You can usually apply to use BNPL via the provider's app or website and then log into your account during an online transaction, or generate and display a purchase code via the app in a store. Alternatively, you could set up an account for the first time during the transaction process at a retailer, and wait to receive approval from the BNPL provider for your spend amount. Approvals for BNPL are generally processed shortly after you provide your details.
Whether or not you can use BNPL will depend on if the retailer is partnered with your service of choice. Some BNPL providers may also do a credit check on you, so you may not be approved if you have a poor credit rating.
BNPL can allow customers to buy things without having to take out a traditional loan or, credit card, and without having to pay interest (in some cases). However, there are often late payment fees and other costs attached, and the payment method could wind up costing you extra money, much like a credit card or personal loan would.
The repayments you have to make would typically be deducted automatically from the card or bank account you have attached to your BNPL account. This happens at regular instalments – commonly fortnightly, but check with your BNPL provider to confirm the details of this. If you don't have enough money in your account at the time of the deduction, the BNPL provider may charge you a late fee, and your bank may also charge you an overdraft fee, or interest if you're paying by credit card. Some BNPL services may also charge additional fees, such as account-keeping fees, or interest if you fail to fully repay a purchase within a certain timeframe.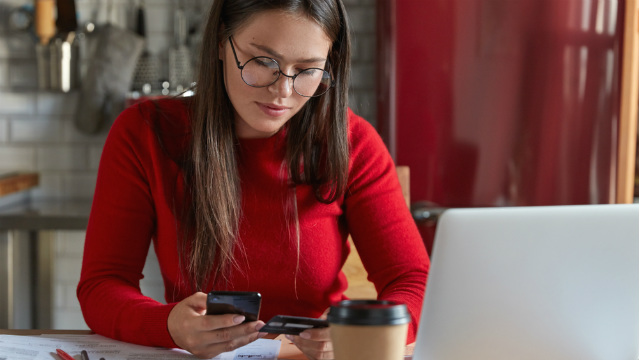 How are people using buy now pay later services?
You might think a service like BNPL would mainly be used to buy relatively low-cost clothes and accessories, but this is not necessarily the case. For instance, depending on the provider you choose, you can use BNPL to pay for more expensive goods and services such as IVF treatment, purchasing glasses or contact lenses, going to the dentist or getting veterinary care for your pet.
The BNPL industry has changed the payments landscape in Australia, with the services being used as a spending and budgeting tool by some, but racking up debt for others.
The Australian Securities and Investments Commission (ASIC), a key regulator in the financial services industry, released a report on the industry in November 2020 that revealed the substantial growth to the sector. The number of BNPL transactions in Australia increased from 16.8 million in the 2017-18 financial year to 32 million in 2018-19, representing an increase of 90%.
As a result, there was a considerable increase in BNPL debt in 2020, as revealed in Canstar's latest Consumer Pulse Report. Close to one in five (18%) people surveyed said they had debt in the form of one BNPL service, up from 10% in 2019. The majority (56%) of Australians with debt still held most of it on a credit card, but that was down from 67% in 2019.
While the usage of BNPL services continues to rise, the industry – which is exempt from some of the regulation applied to other forms of credit such as the National Credit Code – hasn't escaped scrutiny about how vulnerable consumers could be accumulating more debt and be worse-off financially by using these payment methods.
Is buy now pay later regulated in Australia?
On 1 March 2021 a group of eight of Australia's largest BNPL companies signed up to a voluntary 'code of practice', which they drafted in consultation with ASIC. The code sets out the minimum standards the companies need to meet, including a cap on late fees, credit checks being required on transactions of more than $2,000 and a minimum age of 18 years for customers to be able to use the services.
It applies to Afterpay, Brighte, Humm, Klarna, Latitude, Openpay, Payright and Zip at this stage, and PayPal has indicated it is looking at the code, having announced it will enter the Australian BNPL space in the coming months.
The companies signed up have so far managed to side-step much of the government regulation that applies to more traditional lines of credit, such as credit cards and personal loans.
The voluntary code was introduced in response to a Senate inquiry two years ago that called for greater safeguards for customers via self-regulation, and comes not long after a November 2020 report that found Australians had almost doubled the amount of credit taken out via BNPL providers in the space of a year.
Are buy now pay later services worth it?
BNPL services can be convenient forms of payment for some, and may appeal to people who want to spread out their payments but still receive a product instantly, without having to use a credit card. But there could also be some of the following significant financial risks involved. For example:
People who may already be financially vulnerable are relying on these services the most
In its November 2020 report, ASIC found one in five consumers in the past year had missed or been late paying other bills in order to make their BNPL payments on time. Missed payments included things such as household bills (44%), credit card payments (32%) and home loan repayments (22%).
ASIC also found some consumers were experiencing financial hardship in an attempt to make BNPL payments on time, with reports of people cutting back on or going entirely without essentials such as meals, or taking out additional loans.
While most of the services are interest-free, costs can still quickly add up
Afterpay, for instance, has been reported to make a significant chunk of its income from late fees, although the majority of its revenue comes from retailers paying to be on the platform. It implemented a cap on late fees in 2018 following scrutiny of its business model by consumer groups and regulators, cutting off fees for each order above $40 at 25% of the purchase price or $68 (whichever is lower). For orders less than $40, a maximum of $10 in late fees can be applied per order.
The voluntary code of practice also stipulates that late fees will be "fair, reasonable and capped", and that BNPL services will notify customers of upcoming payments. It suggests getting in touch with your provider if you think you might be unable to make a payment on time. It could be a wise idea to check the service's policy before signing up.
BNPL services are not subject to the National Credit Code
ASIC stopped short of recommending new consumer protections for the BNPL industry, in its review published in November last year. The industry is not currently subject to the National Credit Code, meaning customers who use these services do not have the same degree of protection as they do with credit cards or personal loans, which are regulated by the Code. It also means there is no legal requirement for a BNPL service provider to adhere to responsible lending obligations, such as by checking if you can actually afford to make the repayments, though this step has been added into the voluntary code of practice.
BNPL providers have previously argued that applying the National Credit Code to their industry would slow down the approval process for customers, which currently tends to be rapid and easily accessible in most cases.
What's more financially responsible: Credit cards or buy now pay later?
As part of its recent Consumer Pulse Report research, Canstar asked consumers what form of payment they felt was more financially responsible: a credit card or buy now, pay later services such as Afterpay and Zip. Of those surveyed, 60% said they viewed credit cards as more financially responsible, down from 68% the year before.
The younger generations had a more favourable opinion of buy now pay later services, however. Canstar's research showed 62% of Gen Z respondents thought buy now pay later was more financially responsible than using a credit card, while only 27% of Baby Boomers thought so.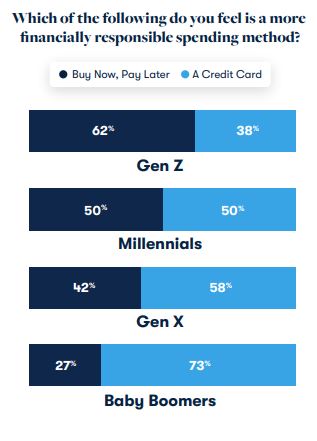 Do buy now pay later providers do a credit check?
Under the voluntary code of practice, BNPL providers will be required to perform a credit check or similar evaluation on new customers who request transactions of more than $2,000, using their income and expenses data or by checking a credit file. Spend limits above $15,000 must check both these sources. Spend limits of $2,000 or less (or $3,000 for existing customers) don't require a credit check using external data, but other checks will be necessary, such as ensuring the customer can afford to make the first payment up front and not allowing more purchases if you miss a payment.
It's worth also noting that your credit score may be affected in other ways if you use these services, according to ASIC. This is because if you take on more credit than you can afford and can't keep up with repayments, your BNPL provider may report any late payments or defaults to credit reporting agencies.
If you'd like to read more information about buy now, pay later services, you may be interested in the following articles:
Compare buy now pay later providers in Australia