A beautiful outdoor space can really catch the eye of a potential buyer and inspire an emotional connection to a property, but how much does it cost? We break down the average price ranges you can expect when landscaping and the work that goes into it.
What is landscaping?
Landscaping has been practiced for centuries, as far back as the ancient Mayans. Today, landscaping refers to the planning and construction of backyards to enhance the appearance and functionality of an outdoor space, according to the Landscaping Network.
Landscaping is an activity where many preferences are considered, such as:
Colour – Is there a specific colour scheme?
Decor – Are you looking to install a fountain or sculpture?
Plants & flowers – What types are you after?
Design – How do you want your yard to look?
Climate – Does your locations weather only allow certain plants/flowers to flourish?
The season – What time of year are you landscaping? How much sunlight a day does your yard get?
Should I landscape?
Though the idea of beautifully green grass, bright flowers and eye-catching designs can make us want to dig into our wallets immediately, understanding the whole concept and all the details prior to development can help ensure you are adding value to your home without negatively impacting your family's space or the environment.
According to Better Homes and Gardens, real estate studies have stated landscaping can increase your property's value by as much as 5% to 15%. However, the director and general manager of online lender State Custodians, Gavin Smith, does warn a complicated design can throw off potential buyers all together and recommends keeping it simple.
The potential value increase to your home is definitely an incentive, but it might not be the reason your neighbour is adding in those extra rose bushes. Popular reasons for landscaping, according to Landscape Queensland, include:
A way to reduce stress
Adding extra privacy to your house
Reducing heating and cooling costs (more time outside, less time using heaters and aircons)
Wanting a more inviting, entertaining area for friends and family
Deciding whether or not to landscape your yard can come down to factors such as cost and location. Take for example Queensland: If you were to landscape a yard in the sunshine state, you'd have to take possible water restrictions and heat waves into account to make sure the beautiful garden design you've just planted doesn't die within a few days causing heartache to both you and your bank account. Researching thoroughly is beneficial in making sure no time or money is wasted.
How much does landscaping your garden cost?
According to trade services website ServiceSeeking, landscaping your garden can range from $20/hr for minor work, but can reach $350+/hr for more complex garden projects. The average hourly rate for this type of job sits at $50, with a cost between $2,000 and $5,000 being estimated for a full design service. This typically varies, depending on factors such as the size of the yard, ease of access and the complexity of the work.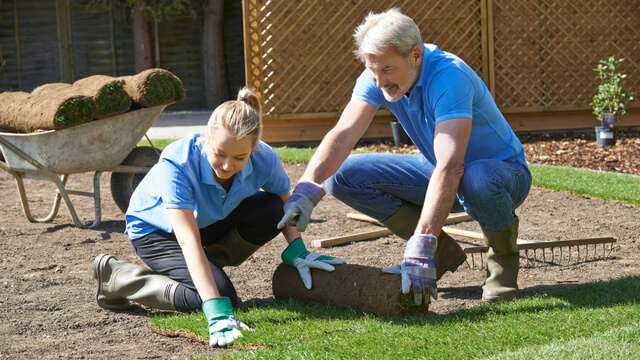 For a complete landscaping job (new plants, trees and lawn on empty backyard), Open Agent states that the general rule of estimating the cost is finding 5% to 10% of the value of your home. For example, if your home is valued at $500,000, Open Agent's recommended amount to set aside for landscaping would be $25,000 to $50,000.
ServiceSeeking does state that rates can fluctuate due to the size, location, the features you want (type of plants, lawn etc.) and the difficulty of the task.
Common costs of landscaping tasks, according to ServiceSeeking
| Landscaping Task | Typical Quoted Price |
| --- | --- |
| Landscaping with new plants and a retaining wall | $3,000 |
| Install natural turf and new garden lighting | $2,500 |
| Plant multiple new trees and bushes | $3,500 |
| Install a retaining wall using materials already onsite | $1,300 |
| Install a new lawn, plants, and trees on an empty backyard | $6,000 |
| Decking | $280 – $320/m2 |
| Paving | $280 – $350/m2 |
Common cost of popular plants, according to ServiceSeeking
| Type of plant | Estimated cost per plant |
| --- | --- |
| Tropical palm (25-30cm) | $35 – $47 |
| Mother-in-law's tongue (18cm) | $30 |
| Rose bush (20cm) | $37 |
| Aloe vera (12cm) | $13 |
| Foxtail agave (18cm) | $18 |
| Blue agapanthus | $20 per bulb pack |
| Assorted gerberas (13cm) | $8 |
Who should I hire to landscape my garden?
According to Hipages, there are various professionals who can assist, such as a:
Landscape architect – Usually focussed on the design and planning, they are hired mainly for larger-scale projects where many elements are desired.
Estimated cost: $120 to $150/hr
Landscape designer – Though having similar skills to a landscape architect, a landscape designer will usually work on smaller projects.
Estimated cost: $50 to $150/hr
Landscape contractor – As Hipages says, contractors are there to "get their hands dirty and the job done." They can also provide advice on the project as well as give practical insights.
Estimated cost: $50/hr
What are the options to finance landscaping?
How you finance the work may depend on how large the job is and how much it costs. There are several options available to consider, including:
Home loan: If this job is big enough, or you are doing a range of jobs at the same time, one choice you may consider is refinancing or restructuring your home loan, or adding a "line of credit". For example, depending on your lender you may be able to add a redraw facility to your existing loan (although it's wise to keep in mind that some fees could apply to any loan changes and there could be redraw limits). Or, you could add an offset account, which could help reduce the interest paid on your loan while still allowing access to your money (although it's wise to keep in mind there could be some fees involved here, too, and higher interest rates could apply to these types of loans). Compare home loans with Canstar.
Personal loan: Depending on your personal circumstances and the cost of the job, you may consider using a personal loan to fund the work. This could be a secured loan, or an unsecured loan. It's worth keeping in mind, though, that interest rates are generally higher for personal loans than for home loans, and it's a good idea to read the lender's terms and conditions first. Compare personal loans with Canstar.
Credit card: It may also be possible, depending on the cost and your ability to repay the debt quickly, to pay for the job on a credit card. There could be some fringe benefits for doing so, such as extra insurance cover in some cases (read the card's Product Disclosure Statement to find out the conditions of the cover). Keep in mind that credit card interest rates are typically much higher than home or personal loans, and interest can quickly accumulate on large balances, so it is a good idea to weigh up your options and consider them carefully. If you don't think you'll be able to pay off the card's balance in full each month, it may be worth re-considering whether a credit card is the right option for you. Compare credit cards with Canstar.
Is landscaping a DIY project?
Whether or not you can execute your own landscaping depends on many factors, including your skill level, the complexity of the job and the size of the area in question. While there are many people who DIY their yard upgrades, Hipages adds that, typically, using a professional landscaper could ensure your new garden is planned properly, landscaped on budget and meets your preferences and any legal requirements.
Before undertaking a DIY task, Better Homes & Gardens recommends considering and evaluating these points:
Analyse your skillset – What is your experience? Have you done similar tasks in the past?
Figuring out your style – Comparing your style and landscaping aspirations to the current condition of your yard can help determine whether you can DIY it or not.
Break down pricing – Create a plan, even with a designer, first to help figure out whether you can afford to hire a professional.
Even if you are enthusiastic about your new project and see yourself as a DIY connoisseur, these type of projects may require the help of a pro such as a licensed tradesperson, according to Hipages:
Permits and planning
Porches, patios and decks
Lighting, wiring and electrical
Pools and water features
Don't worry as there are many simpler DIY tasks you might be able to undertake that don't typically require the need for a professional, such as:
Cleaning – Raking leaves, hosing down any concrete and getting rid of any fallen branches and sticks
Removal of any dead annuals (flowers that perform their entire life cycle within one season)
Pruning your shrubs (cutting the shrub in a specific way to control its growth and pattern)
Straighten up any planting beds – remove any debris, rake to move the soil and pull out any weeds
Planting trees, shrubs and flowers
Creating a stone path for a rustic vibe
Building a stylish seating area for entertaining
Thinking of improving your home? These articles may be of interest:
Main image source: SingjaiStocker (Shutterstock)