Nothing says summer in Australia quite like cooling off in a swimming pool on a scorching hot day, especially if that piece of paradise can be found in your own backyard.
If you are looking to install a pool, or are just dipping your toe in with some preliminary research, here are some factors you may want to consider before taking the financial plunge.

How much does a pool cost?
The cost of a pool can vary massively depending on factors such as the size, style and materials used. For example, budget options such as above-ground vinyl or fiberglass pools can range from around $10,000 to $25,000, while you could pay $60,000+ for a large in-ground or natural pool, according to Domain.
Having a good idea of the type of pool you want before approaching installers for quotes could help ensure that you get as accurate an estimate as possible, particularly if you have a set upper budget in mind.
Will your pool be in-ground or above-ground?
This initial decision will help direct your focus when considering other aspects of your pool design, and the subsequent bill. For example, Sydney-based swimming pool manufacturer Affordable Pools suggests that above-ground pools are generally cheaper and in some cases can be dismantled should you wish to take your pool to your next property. In-ground pools are usually the more expensive option, but they can offer a wider variety of additional fixtures and aesthetic features than the above-ground variety.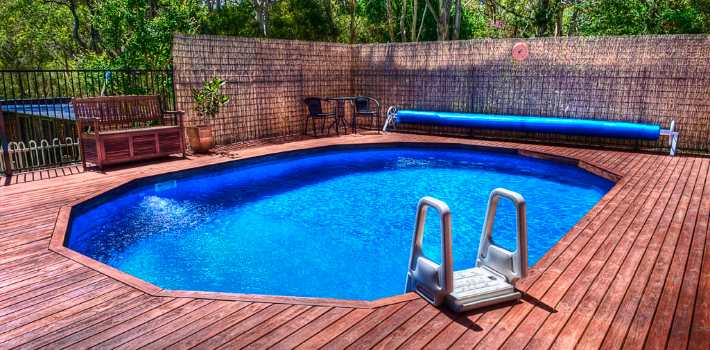 Regardless of whether your pool is in-ground or above-ground, there are a number of factors that may affect the installation process and potentially incur added expenses. For example, an in-ground pool requires excavation and Brisbane pool builder Performance Pool and Spa notes that builders may charge extra for areas with limited access, or for the use of an additional truck. Depending on your yard, an above-ground pool may require surface-levelling services or a concrete slab before installation. Additionally, the progress and price of an in-ground or above-ground pool may be affected by further complications once installation is underway, such as large rocks, water lines or wet weather.
What materials will your pool be made from?
Generally, the primary material used for your swimming pool will be one of three options: fibreglass, concrete or vinyl liner. The vinyl liner option is often the cheapest material – it can be around $10,000 at the minimum for an above-ground pool, according to Australian pool designer and maker Compass Pools, and can be used for both in-ground and above-ground swimming pools.
Fibreglass is generally used for in-ground swimming pools and can usually be installed relatively quickly, as the fibreglass shell is typically fabricated in advance. According to Compass Pools, a professionally-installed fibreglass pool would typically cost you between $25,000 and $35,000, though they can cost upwards of $50,000 depending on your wants and needs.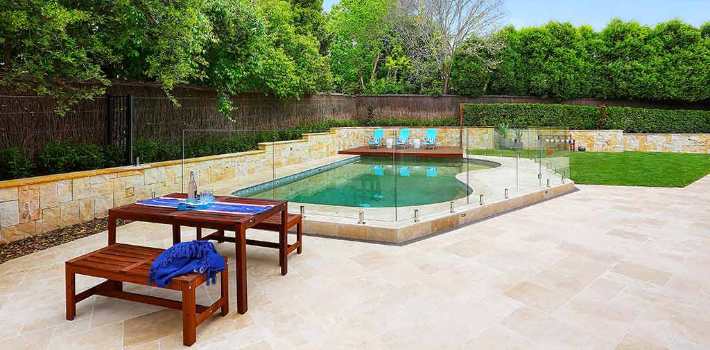 While concrete swimming pools have the benefit of being almost fully customisable in style and design, this means that the expense of choosing this option is harder to estimate. Performance Pool and Spa's online estimator tool puts the entry price for a 5 x 3 metre plunge pool at $24,000, whereas a 15 x 2.5 metre lap pool starts at $52,000. While this is comparable to the cost of some a fibreglass pools, Compass Pools states that concrete pools generally have a much higher "top-end" price point.
How will your pool be installed?
Another consideration, before the construction of your pool begins, is how you plan to have your pool installed. Generally, a professional builder or specialist pool builder can provide you with a quote and carry out the entire project from start to finish. Some installers may also offer to take care of some of the trickier but important aspects of construction, such as gaining council approval and ensuring the project complies with the relevant building regulations and standards. The Swimming Pool and Spa Association of Australia (SPASA) provides a variety of contract documentation specifically tailored to pool construction, to help ensure that the whole process goes swimmingly.
Building codes and pool safety rules can differ in each state and territory, so it can be wise to check with your local regulators on what the rules are.
Hiring a professional
If you choose to have your swimming pool professionally installed, it may be beneficial to do your research before selecting a builder. This can not only protect your project financially, but legally as well. Bodies like the Queensland Building and Construction Commission (QBCC), and its equivalent in other states and territories, often provide a variety of tips and information regarding approvals needed before building a pool, what to include in a building contract and the mandatory follow-up procedures that your builder should perform after the project is finished.
Consider checking with your local state-based authorities on whether your chosen builder is appropriately licensed. Online reviews can also give you an idea of how other customers have rated their experience with a particular provider.
When it comes to getting a quote for the cost of your pool, the QBCC advises that it should outline:
The shape, location on your property, interior lining, size and depth of the pool

The number and type of inlets, skimmer boxes and drains required

Any filtration equipment required – type, capacity and positioning

Accessories such as underwater lights, cleaners, ladders and handrails
Ensuring that your quote covers all of these elements could help prevent any hidden costs arising down the track. Additionally, the New South Wales Fair Trading body recommends that you gain quotes from at least three builders, ensuring that the quotes have the same inclusions so that you can compare price and value effectively.
Do-it-yourself
If you would rather forgo the expense of a builder, there are a number of DIY options and kits available. There are some risks involved, however, and you would need to consider the pool building requirements of your state. For example, according to New South Wales Fair Trading, any work that costs more than $5,000 must be done by a person or company holding a licence issued by NSW Fair Trading for building or swimming pool building.
How long will your pool installation take?
Depending on your choice of pool, installation can take anywhere from a few days to several months. As fibreglass pools are prefabricated, they can generally be installed quickly, providing that excavation and installation goes smoothly. On the other hand, according to Performance Pool & Spa, concrete pools have an estimated construction time of six to eight weeks. The QBCC recommends drawing up a contract with your builder to determine an estimated installation time in advance and include provisions about unforeseen events that might cause delays.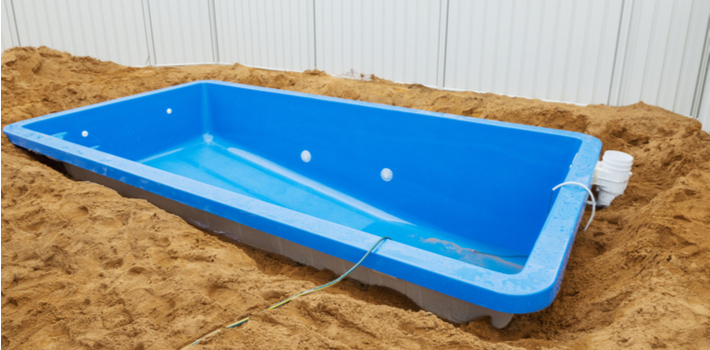 What other factors might sink your budget?
In addition to the initial costs, there are a number of other factors during and after construction that may cause your expenses to ripple out.
Landscaping:

An attractive aspect for many people of having a swimming pool is designing it to complement your property and lifestyle. This usually requires landscaping, which can be a considerable additional expense. For example, you may wish to add decking around an above-ground pool, or paving if your pool is in-ground. There are also a variety of aesthetic details available which you might wish to consider, including the interior finish of the pool, water features, an attached spa or plants and trees to surround it.
Safety fencing:

All backyard swimming pools are required to comply with safety guidelines and that includes the installation of a fence. Once a pool is filled with 300mm of liquid or more, it is required to have a safety barrier or fencing. There are a number of pool fencing standards that must be met, such as the height, non-climbable zones and the latching device location. These can be found on the

SPASA website

.
Insurance: The installation of a swimming pool on your property may affect your home insurance policy, if you have one. Consider letting your insurance company know about what's being installed, to ensure your swimming pool is covered under your existing home and contents policy, or arrange to have your cover extended.
Maintenance and accessories:

Ongoing maintenance and accessories for your swimming pool are an added expense that you may need to keep in mind. This can include the cost of a pool cleaner (or the chemicals and cleaning tools if you choose to do it yourself), pool covers, pumps and vacuums. According to Compass Pools, the liner of a vinyl-lined swimming pool generally needs replacing every 10 years or so. Pool building quotes or DIY kits will often include some of the basic tools. Look out for warranties on your accessories where you can.
How can you finance a pool?
If you are considering your finances, there are a number of options for covering the cost installing a swimming pool that may be appropriate depending on your circumstances.
Your existing savings: If you've been putting money aside to save up for something special, you might like to use it to splash out on sunny summers in a new pool. Using money that you have saved is usually more cost-effective than a loan because it can enable you to avoid paying interest and fees.
A secured personal loan: This kind of loan requires you to use an existing asset, such as a car or your house, as security. While this adds an element of risk, the security that you have provided can in some cases mean being able to access a lower interest rate from your lender than you'd otherwise be able to get.
An unsecured personal loan: This loan does not require an asset to secure it, so while it is a less risky option than a secured loan in some respects, it may be harder to get approved and could cost you more in the long term due to the higher interest rates that typically apply to unsecured loans.
Refinancing your mortgage: Depending on the terms of your existing home loan, you may be able to use your home equity as security for a loan to increase your mortgage amount to cover the expense. Keep in mind the risk of changing interest rates, along with any added expenses of refinancing your home loan.
Whatever option you choose for financing your pool, it's worth keeping a close eye on costs to help avoid overspending and potentially overcapitalising your property (spending more on it than it's worth).
Will a pool add value to your home?
While it is difficult to predict exactly whether a pool will add value to your home, some determining factors may be your home's location, the climate and whether it complements your property aesthetically.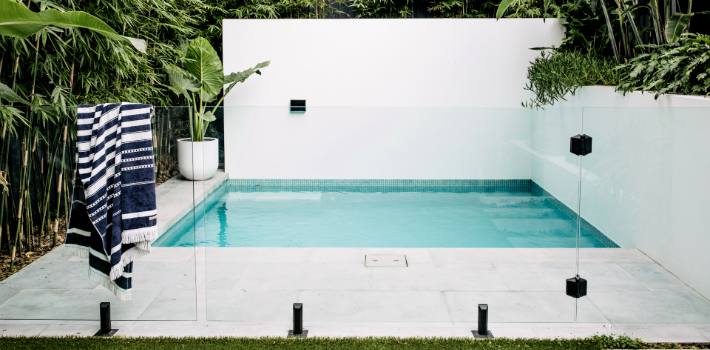 For starters, the value that a pool could add often depends on your local property market and whether pools are a desirable feature for houses in your area. Research conducted by Roy Morgan at the end of 2018 found that capital cities in the north of Australia, such as Perth, Brisbane and Sydney, were far more likely to feature swimming pools than their southern counterparts.
This suggests, as you might expect, that there is a higher demand for a backyard swimming pool in warmer climates than cooler ones. The added cost of pool heating that you might need to consider in some chillier parts of the country may be a contributing factor here.
Additionally, the presentation and maintenance of your swimming pool may determine its value as an asset. For example, if your swimming pool takes up your entire backyard, leaving room for not much else, it may not necessarily be as appealing to a potential buyer as a pool that seamlessly complements your property and landscaping.
Of course, how much you paid for the installation and how much it costs to maintain the pool can also be important factors. Any potential value added would need to be weighed up against these costs to determine the outcome overall.
With all this in mind, it could be a good idea to talk to a local real estate agent about whether or not a pool is likely to add value to your home, based on their experience with other properties in your area.
Overall, even if a pool may not automatically add any financial value to your home, the lifestyle value might make it worth it for some.
Main image Source: Harrison's Landscaping