Car servicing can be expensive. One way to get around it is doing your own services. Here are some pros and cons to think about before popping the bonnet.
Average cost to service a car in Australia
Research conducted by Canstar Blue in 2015 has shown that when it comes to car servicing, you can expect to pay $380 on average every time you pull up at the mechanic's workshop (an amount that can increase significantly depending on the type of car you drive). So what can you do if you don't have $380 to shovel into your car every 6 months? Some Aussies have become "backyard mechanics" to save on costs – or simply because they enjoy it!
Research from Roy Morgan shows 16% of Australians do all their own servicing, while 42% of Australians go to a qualified mechanic for their services, followed by 29% who take it to a dealer. Most of these backyard mechanics visit their local auto store regularly, with Supercheap Auto, Repco, and Autobarn being the most popular options. Supercheap Auto surveys show around 60% of their fans do their own servicing, while 40% prefer to visit a qualified mechanic.
There are a few things to consider before you pop the bonnet, though. Here are some of the pros and cons for servicing your car yourself.
Pros of self-service
It can be a lot cheaper
You can potentially save a lot of money on labour for a qualified mechanic by buying parts and tools yourself and going the DIY route. After all, your labour is free – as long as you have the time to put in.
Probably for the cost reason alone, more than half of the drivers surveyed by Canstar Blue admitted they wait as long as possible before getting a service to save money. This was highest with drivers aged 25-39, with 61% trying to cut costs on their car.
It's possible
Thanks to the internet, there are a bunch of regular service procedures that you can easily do yourself with literally no prior education about how your car works:
Check oil levels and change the oil if needed
Check water levels and top up the water in the radiator and the wiper and washer fluid container
Check and change air filters regularly
Test battery levels and change the battery as needed
Replace headlights (apart from that little light above the number plate, which is a bit harder to get to on my car)
Replace worn out windscreen wipers
Replace blown fuses
Cons of self-service
May invalidate your warranty
According to the ACCC law, a car warranty will remain valid if you follow the three main conditions:
Qualified staff: You can also have your car serviced by a non-dealer qualified mechanic during the warranty period. No need to service a car only with the dealer.
Manufacturer's specifications: You do need to get the services done at the recommended times in the logbook.
Fit for the purpose: The parts used do not need to be genuine parts but must be the correct part for the job.
This means that doing your own servicing will invalidate your warranty if you are not a qualified mechanic yourself.
Extended car warranties are slightly different – they do require you to service your car at the manufacturer or dealer's service centre, and this does not breach the ACCC law. So doing your own servicing during an extended car warranty will invalidate your warranty even if you are a qualified mechanic.
Check your car insurance policy first
Will your car still be insured if you are doing DIY services? Usually yes, you'll be fine. However, if you're doing some DIY modifications to the wheels, bodywork, or exhaust system, you may not be – so call your insurer before getting out the toolbox.
If you're considering car insurance policies, the comparison table below displays some of the policies currently available on Canstar's database for a 30-39 year old male seeking cover in NSW without cover for an extra driver under 25. Please note the table is sorted by Star Rating (highest to lowest) followed by provider name (alphabetical) and features links direct to the providers' website. Use Canstar's car insurance comparison selector to view a wider range of policies.
Some repairs and maintenance need to be done properly
A trained mechanic will need to complete certain tasks anyway, even though you can do most things yourself. Things like major repairs are best done by a professional.
It takes time
Servicing your own car takes a lot of time. It might even be cheaper and faster for you to buy the parts from your local auto store and have them install them for you. This is one option that doesn't invalidate your warranty, because the installer will be a qualified mechanic.
Battery
Audio system/subwoofers/head units
Wiper blades
Light globes in headlights or overhead cabin light
Roof racks and storage pods
Baby seats
Aerial antennae
Seat covers
I've had parts fitted by an auto store many times now, and I highly recommend it. Getting new wiper blades fitted costs just $3 (for $14 blades) at Supercheap Auto, and it was ridiculously quick and easy, taking about 5 minutes in total. Compare this to the two times I've fitted them myself – half an hour's worth of blood, sweat, and yes, a few tears of frustration. (Keep in mind that I am an absolute amateur.)
Getting a new stereo system installed cost $75 (for a $300 stereo). This wasn't a quick process, but it was certainly easier than doing it myself! My husband even sat in the passenger seat and helped "Captain Auto" install it, so that he can do it himself next time if needed.
Playing car mechanic
In this game for younger players, you clean up the workshop. It's a helpful way to learn the names of all the tools your mechanic uses.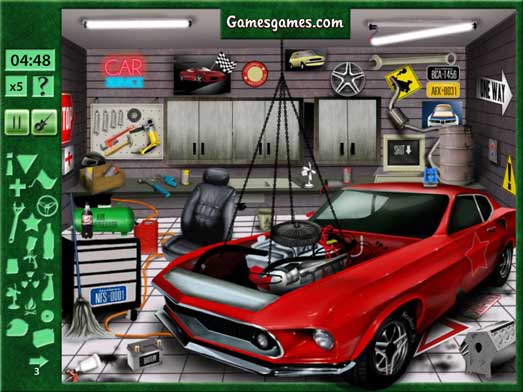 In this game for older players, you move waiting cars to the correct station and perform the correct service for their needs. It's a good way to learn multi-tasking, directing cars to different stations while performing a service on another car.