For many of us, buying a second-hand car is an exciting time and the culmination of both time and effort sorting our finance and finding the perfect car. There can also be an element of nervousness. Not everyone can find their way around a car boot, bonnet, and all that goes on underneath, which is why it could be worth considering a pre-purchase car inspection. Canstar reports.
Major motoring organisations, including the NRMA, RACQ and RACV, suggest getting a pre-purchase car inspection. Taking this step may ease some of your worries and help you feel more confident in your decision-making. No-one wants to get stuck with a faulty vehicle or a 'lemon', and while there will be a cost involved, it could save you thousands of dollars in unexpected repairs later down the track.
Let's explain how you can get a car inspection done before parting with your hard-earned cash (or getting a loan) to buy a used car.
What is a pre-purchase car inspection?
A pre-purchase car inspection is an independent service that evaluates the overall condition of a vehicle. A basic level inspection will check over the body and paint work to identify any structural or cosmetic damage, while a full inspection adds in an inspection of the chassis and mechanical work to check everything is in full working order.
A pre-purchase car inspection can be carried out by a qualified mechanic before you make a final decision on whether to purchase a used car or not. If you are buying from a dealership, the car dealer may provide you with the results of an inspection report during the sales process. For example, Toyota says they provide a Certified Pre-Owned Certificate that includes a full history check and comprehensive quality check. Mazda also provides a service where it will inspect any pre-owned Mazda vehicle, even if you are purchasing from a private seller. If buying a second-hand car from a private seller, you may want to consider getting a pre-purchase car inspection independently yourself. Even if a car has a good service history and up-to-date logbooks, there may be 'fixes' that are required soon, such as for the brake pads, that you may want to know about in advance.
Keep in mind that it is important to ask what is covered in your pre-purchase car inspection, particularly if this is done (or has been done) at a car dealership you are considering purchasing a second-hand car from. RACQ, the Royal Automobile Club of Queensland, explains: "If you are buying a used car from a dealer, they are required to guarantee clear title which offers you financial protection in the event of an ownership or financial interest dispute. However, in most cases the dealer is under no obligation to inform you of other significant factors that may affect the vehicle."
Pre-purchase car inspection vs vehicle history check: what's the difference?
A pre-purchase car inspection report shouldn't be confused with a vehicle history check, which lets you know whether the car you are planning to buy is free from any financial interests (such as whether it is listed as security for debt owing on a car loan), is not stolen and has never been written off. The pre-purchase inspection report will inform you of any functional problems with the vehicle to provide some added peace of mind before you consider signing on the dotted line.
What is typically included in a pre-purchase car inspection?
A pre-purchase inspection usually checks most aspects of a vehicle, including the exterior and interior, as well as the engine bay, wheels and tyres, brakes and suspension. The car is also taken for a test drive. A detailed report, including additional comments from the inspector will be provided to you upon completion of the inspection. You can also ask the inspector about any approximate repair costs that may be involved to better determine whether the asking price is reasonable.
If you are buying from a dealership, by law they must provide you with a limited used car warranty. You may want to check what exactly this warranty covers and if you need any further tests or repairs done to the vehicle, try and get them finalised within the timeframe of the warranty.
Why should I consider getting a pre-purchase car inspection?
Buying a second-hand car can be fraught with unknowns, whether you are buying online or in person, sight unseen or from interstate, from a private seller or a dealership or even from a friend. Unless you are a qualified car mechanic, there may be many things you miss or don't realise in assessing a car. Pleasing aesthetics can conceal major hidden issues under the hood. CarsGuide says getting a pre-purchase car inspection is an absolute must, as it helps you make an informed decision before handing over payment. You never know what may have happened to a vehicle with a previous owner. It could have been in an accident, been through dodgy repairs or just not been serviced regularly for wear and tear. The oil might not have been changed regularly enough, as one example.
An analysis of over 150,000 inspections on used cars by CarHistory found that almost a quarter were hiding a serious issue that needed attention. Depending on the results in the final report, a pre-purchase car inspection could also put you in a better position to negotiate a lower price or for necessary repairs to be done before you agree to drive away.
Where can I go for a pre-purchase car inspection?
Most mechanics, car dealerships and all the major state and territory motoring organisations will offer some sort of pre-purchase car inspection service. Many providers will offer you the choice of a mobile service, where they come out to the car, or an in-house service where you take the car to them. Having the mobile service is quick and convenient; however, taking it to the mechanic can mean the car is inspected using more specialised on-site equipment. If the car you want to purchase is a collectible, it could be a good idea to find an expert on that particular make and model of car to conduct the inspection.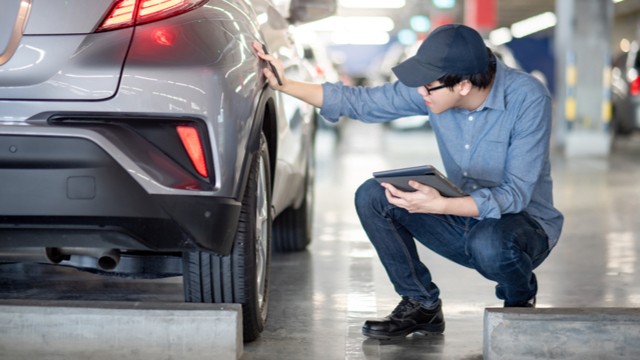 How much does a pre-purchase car inspection cost?
As a general guide prices range from $100 – $400, depending on the type of car to be inspected. NRMA members can get an inspection of a standard car from $270 ($300 for non-members) while a specialist vehicle or anything older than 10 years starts from $360 for members ($400 non-members). Prices from independent qualified car mechanics on AirTasker start from $110 up to $173 depending on the make, model and age of the car. Pre-purchase car inspection prices will also depend on whether it is a mobile service or conducted at the workshop. You may need to pay extra for the mechanic's time in travelling to and from where the car is.
Based on your requirements, a mechanic may also recommend that the car is moved to a workshop so they can inspect it properly (e.g. using a hoist if necessary). This may take place at your mechanic's workshop, or they may be able to negotiate to inspect the car at a dealership. It is a good idea to discuss the price and a suggested approach with your mechanic or inspector before the services are conducted, to ensure they are able to thoroughly check the car and provide you with relevant professional advice.
One final thing to note, once you buy your second hand car, you are fully responsible for it, so before you drive away it's a good idea to sort out some level of car insurance cover.
Cover image source: Standret/Shutterstock.com
---
Thanks for visiting Canstar, Australia's biggest financial comparison site*