AAMI Car Insurance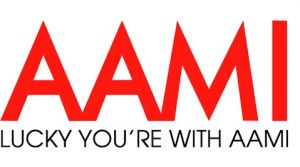 AAMI is a provider of car insurance, CTP/Greenslip insurance, home insurance, landlord insurance, travel insurance, life insurance, income protection insurance, and business insurance.
"Lucky you're with AAMI."
About AAMI
Founded in 1969, AAMI is one of Australia's oldest and largest insurance providers.
AAMI is the trusted insurer of around 1.9 million Australian drivers. Download the AAMI Safer Driver App to track your own driving record and see if you can earn 60 points and win free Roadside Assist with your AAMI comprehensive car insurance policy.
At their founding, AAMI pledged to provide a real person to answer every quote or claims phone call, and they still do today. Their customer service team is available 24/7 with no push-button menus or voice recordings. AAMI proudly advertises that they regularly receive customer satisfaction ratings of 90% for their call centre.
The original "AAMI Girl" was the Swedish model Carin Sinfors, who first appeared in an ad on TV for AAMI way back in 1979.
AAMI's slogan, "Lucky you're with AAMI", was first introduced in 1985 – over 30 years ago!
These days, many people know AAMI by their TV ads for the safer driver discount, including "What about me? I never claim" and the Rhonda series.
How AAMI supports the community
Learn to drive: Running their Skilled Drivers course for drivers under 25 to learn safe driving techniques. Has created 85,000 safer drivers since starting in 1982.
PARTY Program: Educated 2,500 young drivers about the devastating consequences of reckless driving since 2008 through the Prevent Alcohol and Risk Related Trauma in Youth (P.A.R.T.Y) program.
SES: Long-standing partner of the Victoria State Emergency Service (SES) since 2002. AAMI has contributed over $4.5 million towards equipment and tools to support their brave rescue work.
Melbourne Cup: Sponsoring the first day of the Melbourne Cup Carnival, the AAMI Victoria Derby Day since 1991.
See below for a snapshot of AAMI's car insurance products on offer for a 30-39 year old male living in Victoria who does not require an extra driver under 25. To compare other comprehensive car insurance policies, please click here.
AAMI Agreed Value Comprehensive Car Insurance
CANSTAR Research
Award:
2016 Outstanding Value Car Insurance
CANSTAR is an information provider and in giving you product information CANSTAR is not making any suggestion or recommendation about a particular insurance product. If you decided to apply for a car insurance, you will deal directly with an insurance provider, and not with CANSTAR. Rates and product information should be confirmed with the relevant insurance provider. For more information, read our detailed disclosure, important notes and additional information.
The inclusions mentioned represent a selection of what is covered at the time of writing. Additional terms and conditions may apply to different features. Additional fees may apply to the product. CANSTAR is not making any suggestion or recommendation to you about this product. Please ensure that you read the product disclosure statement to determine all the current options and inclusions for the product you are considering.
Important Notes: The Star Ratings in this table were awarded in May 2016. The search results do not include all providers and may not compare all features relevant to you. View the CANSTAR Car Insurance Star Ratings Methodology and Report. The rating shown is only one factor to take into account when considering products.