Bingle Car Insurance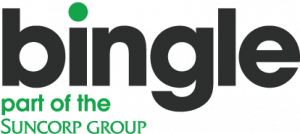 Bingle is a specialist provider of cheap car insurance.
"As simple as it sounds."
Compare Bingle Car Insurance
Here's a snapshot of Bingle car insurance for a 25-29 years old male living in NSW with no extra driver under 25. To compare other comprehensive car insurance policies, click here.

Compare other car insurance policies
About Bingle
Bingle was founded in 2007 by the Suncorp Group, to provide no-fuss, low-cost, car insurance for safe drivers.
They keep their premiums cheap by doing everything online, from quotes to claims to customer service. They also don't insure risky sports cars and extensive modifications, making premiums cheaper for their drivers.
Bingle's hilarious ads illustrate that getting a quote for their car insurance is so easy you can do it while riding two horses on the beach, playing the flute to a dancing crab, or being sawn in half as a magician's assistant. Even Joni the chimpanzee can do it, while sky diving.
At the time of writing, they offer a discount of up to 16% for those who haven't caused "a bingle" in the past 3 years.
Bingle's Claims Buddy app is available on the Apple iTunes Store and Google Play for Android.
How Bingle supports the community
Footy: Bingle is a major sponsor of the Richmond Football Club – the Richmond Tigers.
Road safety: Parent company Suncorp runs the Must-Have Safer Queensland Roads education and awareness program to improve road safety in Queensland.
Sun safety: Parent company Suncorp runs SunWise program to educate public about sun safety and skin cancer risks.
Marathons: Parent company Suncorp promotes a fit and healthy Australia by sponsoring the Blackmores Sydney Running Festival, Gold Coast Airport Marathon, and the Sunday Mail Suncorp Bank Bridge to Brisbane.
Disability: Parent company Suncorp supports Youngcare so young people with a disability can have a fulfilling life with other young people in age-appropriate care.
Community: Parent company Suncorp runs the Brighter Futures Giving Program to give over 60 grants per year to charities, individuals, or organisations nominated by employees.
Compare Car Insurance with CANSTAR
Bingle Car Insurance
CANSTAR Research
Award:
2016 Outstanding Value for Comprehensive Car Insurance
CANSTAR is an information provider and in giving you product information CANSTAR is not making any suggestion or recommendation about a particular insurance product. If you decided to apply for a car insurance, you will deal directly with an insurance provider, and not with CANSTAR. Rates and product information should be confirmed with the relevant insurance provider. For more information, read our detailed disclosure, important notes and additional information.
The inclusions mentioned represent a selection of what is covered at the time of writing. Additional terms and conditions may apply to different features. Additional fees may apply to the product. CANSTAR is not making any suggestion or recommendation to you about this product. Please ensure that you read the product disclosure statement to determine all the current options and inclusions for the product you are considering.
Important Notes: The Star Ratings in this table were awarded in May 2016. The search results do not include all providers and may not compare all features relevant to you. View the CANSTAR Car Insurance Star Ratings Methodology and Report. The rating shown is only one factor to take into account when considering products.