Budget Direct Car Insurance
Budget Direct is a provider of car insurance,
home insurance
, landlord insurance, life insurance,
health insurance
, travel insurance, and pet insurance.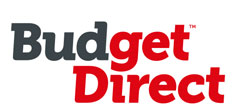 Compare Budget Direct car insurance
See below for a snapshot of Budget Direct's car insurance products on offer for a 30-39-year-old male living in Victoria who does not require an extra driver under 25.
What types of car insurance does Budget Direct offer?
Budget Direct offers Comprehensive, Third Party, and NSW Green Slip insurance. If you're unsure as to which kind of car insurance is most appropriate for you, or don't understand the differences between the different levels of cover, here's our guide to the different kinds of car insurance.
Top Car Insurance Policies by Star Rating
If you're in the market for a car insurance policy, check out the table below which displays a snapshot of car insurance policies on Canstar's database with links direct to providers' websites. Please note this table has been sorted by Star Rating (highest to lowest), and was formulated based on a male aged 25-29 years old in NSW, without an extra driver under 25 years old.
"The Star Ratings in this table were awarded in May 2018 and data is as at that date, updated from time to time to reflect product changes notified to us by product issuers. The table above is sorted in order of Star Rating, then alphabetically by brand. You can use the sort buttons at the top of each column to re-order the display. These results are general advice only and not personal financial product advice. The search results do not include all providers and may not compare all features relevant to you."
How do you buy car insurance from Budget Direct?
You can purchase a Budget Direct either online, or over the phone by calling 1800 555 878 (open Mon-Sat), after comparing car insurance on the Canstar website.
How do you lodge a claim with Budget Direct?
You can lodge a claim with Budget Direct either online, or by calling 1300 885 996 (open 24/7). Here's our guide to navigating the car insurance claims process.
Budget Direct Car Insurance
CANSTAR Research
Award:
Outstanding Value Car Insurance 2017