People's Choice Car Insurance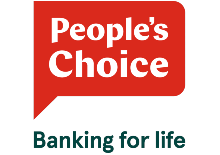 People's Choice is a provider of car insurance, home loans, credit cards, savings & transaction accounts, and various other forms of insurance.
Compare People's Choice car insurance
See below for a snapshot of People's Choice's car insurance products on offer for a 30-39 year old male living in New South Wales who does not require an extra driver under 25.
What types of car insurance does People's Choice offer?
People's Choice offers Third Party Property Damage, Third Party Fire & Theft and Comprehensive car insurance. It also offers three other kinds of motor vehicle insurance:
Motorcycle insurance
Caravan insurance
Boat insurance
If you're unsure as to which kind of car insurance is most appropriate for you, or don't understand the differences between the various levels of cover, here's our guide to the different kinds of car insurance.
How do you buy car insurance from People's Choice?
You can purchase a People's Choice car insurance policy online after comparing car insurance on the Canstar website. If you need help applying, call People's Choice on 13 11 82 or visit a local branch.
How do you lodge a claim with People's Choice?
You can easily lodge a claim with People's Choice by calling its 24/7 claims hotline on 13 24 80.
Here's our guide to navigating the car insurance claims process.
People's Choice Car Insurance FAQs