Canstar
has revealed the 2018 Comprehensive Car Insurance Star Ratings, rating 61 policies from 51 insurers across Australia.
Out of the 61 car insurance policies rated by Canstar across 36 driver profiles, 24 received a 5-Star Rating for Outstanding Value in one or more driver profiles. Our Star Ratings are designed to help consumers create a shortlist of products, with a 5-Star Rating indicating a policy offers Outstanding Value to Australian drivers.
Canstar's Car Insurance Star Ratings use a sophisticated and unique ratings methodology that compares premium and excess costs, as well as a set of product features including roadside assistance, repairs, claims processes and excess options, across comprehensive car insurance policies.
The driver profiles Canstar uses in its Star Ratings are as follows:
Under 25-year-old female
Under 25-year-old male
25-29-year-old driver
30-49-year-old driver
50+ year-old driver
Family with young driver
For more information about the specifics of these driver profiles and how ratings were determined, view the ratings methodology.
National Award Winners
Recognising insurers offering Outstanding Value when considering overall performance across all profiles and states assessed, Canstar's three winners of the national award for Outstanding Value Car Insurance in 2018 were Bingle, Budget Direct and CGU (listed alphabetically).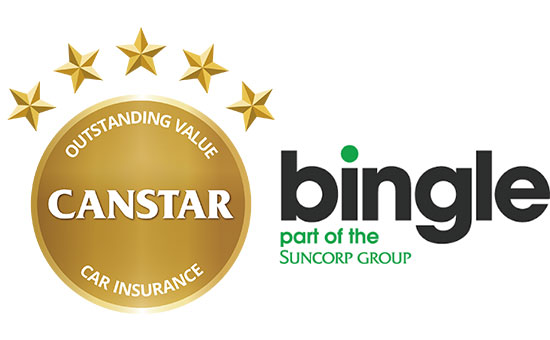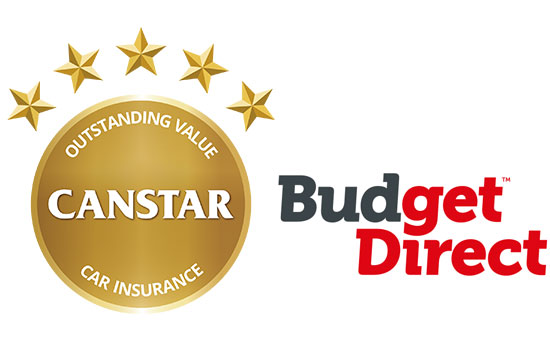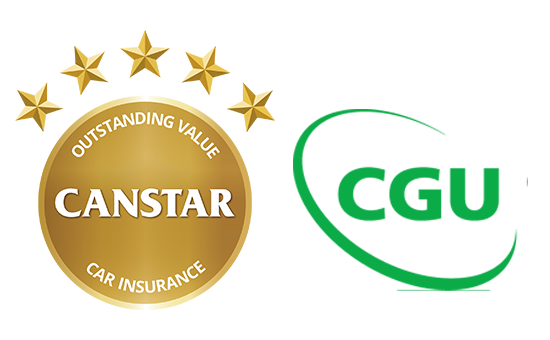 Why Bingle, Budget Direct and CGU?
Bingle, Budget Direct and CGU took out the top spots in this year's award, primarily driven by their competitive pricing – all three offered premiums below the market average throughout Australia.
Each of this year's National Award recipients offered product features including emergency accommodation and repairs, towing and cab fares after an accident and a lifetime guarantee on repairs as standard. Additionally, the winners' policies covered non-nominated drivers in the event of a claim.
Budget Direct maintained its Outstanding Value car insurance for the twelfth consecutive year, notably being the price leader in 16 out of 36 driver profiles in 2018. Budget Direct performed extremely well in each of the 6 states considered and led each driver profile in New South Wales (NSW).
This is the second consecutive year Bingle has received the national award, with particularly competitive product offerings in NSW and Western Australia. Bingle's below-market average premiums were reflected in the five profiles where their price score led the market.
CGU's win came as a result of their competitive performance in each of the six states considered. CGU also offered competitive features, including an accident clean-up benefit, choice to nominate repairer, cover for personal effects, child seats and capsules and a new car in the case of a write off.
If you're in the market for a new Car Insurance policy, the table below displays policies from Canstar's National Award winners for 2018 – each provider is shown in a different tab. The policies shown are based on a male driver aged 30-39 in NSW, without an extra driver under 25 years old. Check upfront with your provider and read the PDS to confirm whether a particular policy meets your needs before deciding to commit.
Click here to compare more policies tailored to your preferences.
State Award Winners
The winners of State Awards for overall performance across all profiles for selected states were as follows in 2018:
The Award winners represent Outstanding Value comprehensive car insurance offerings in each state, and we also have a full list of 5-Star Rated car insurance policies offering Outstanding Value depending on driver profile including age, location and other factors.
You can see the full Star Ratings to compare 5-Star policies for your own driver profile here:
Top Car Insurance Policies by Star Rating
If you're in the market for a car insurance policy, check out the table below which includes a snapshot of car insurance policies on Canstar's database for each of a 25-29, 30-39 and 40-49 year old male driver in NSW without an extra driver under 25 years old. The results are sorted by Star Rating, then by provider name (alphabetically). Check upfront with your provider and read the PDS to confirm whether a particular policy meets your needs before deciding to commit.
Customer satisfaction for car insurance claims
Canstar knows there's more to getting good value car insurance than just cheap premiums and a high level of coverage. That's why we also research and rate customer satisfaction during and after the claims process in the car insurance Star Ratings and Awards, with customer surveys conducted by Qualtrics.
In 2018, the winner for Canstar's Outstanding Claims Service Award was Suncorp. This marks the third year they took out this coveted title maintaining their award from 2017.
Suncorp received market-leading reviews for claims service including repairs, transport options and claim lodgement options. For example, Suncorp offers customers the choice to nominate any repairer, a lifetime guarantee on repairs and the use of genuine parts in repairs. Another stand-out feature according to those surveyed is that fact that Suncorp has no limit on the number of days a policyholder has access to a rental cars in the event of an accident or theft of the insured vehicle.