Last summer's bushfires provided a glimpse into the types of natural disasters that Australia may need to prepare itself for in the future, a report into the disaster has warned.
Natural disasters will become more complex, more unpredictable and more difficult to manage, the final report of the Bushfire Royal Commission said. Extreme weather has already become more frequent and intense because of climate change, it said.
Australia has a long history of natural disasters, including bushfires, floods, earthquakes, storms, cyclones and landslides. Natural disasters have been particularly damaging in recent years, both in terms of loss of life and economic impact. As natural disasters continue to increase in the future, one consequence of this is that it may make insurance unaffordable for some Australians.
We take a look at some of the types of natural disasters we have faced in recent times and how they are predicted to change in the future.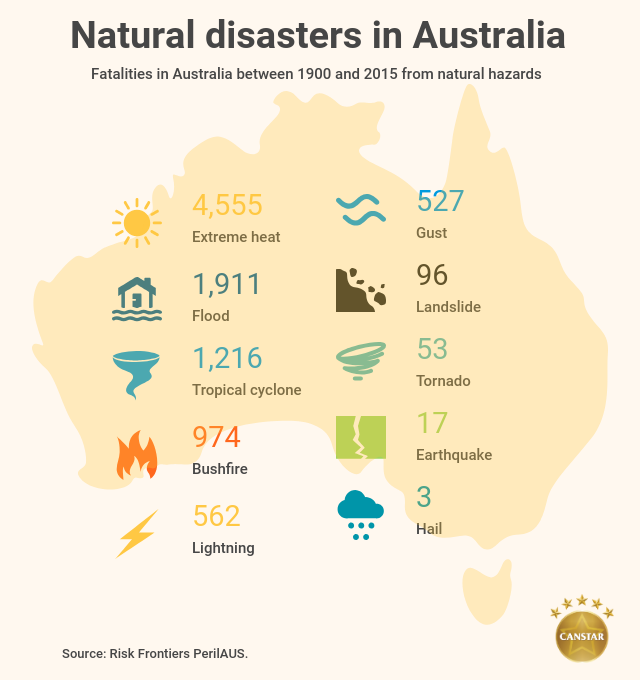 1. Heatwaves
Heatwaves are the deadliest natural disaster in Australia. The Bureau of Meteorology (BOM) defines a heatwave as three or more days of unusually high maximum and minimum temperatures in an area. Heatwaves account for almost five times more deaths than bushfires, according to natural hazards research centre Risk Frontiers. Approximately 4,555 Australians were killed from extreme heat from 1990 to 2015, it says. In 2009, for example, the heatwave that preceded the Black Saturday fires killed 374 people in Victoria.
Australia's climate has warmed by over 1.4 degrees celsius since 1910 and further warming is inevitable over the next 20 years, the BOM says. This warming has led to the increased intensity, frequency and duration of heatwaves across Australia. The BOM projects that Australia will face hot days, warm spells and heatwaves will occur more often and with increased intensity in the years to come.
2. Floods
One of the most notable and devastating floods to hit the country was the 2010-2011 Queensland Floods. More than 78% of Queensland (an area bigger than France and Germany combined) was declared a disaster zone, 33 people died and over 2.5 million people were affected. The Queensland Reconstruction Authority estimated that the value of the damage from the floods was over $5 billion.
Extreme rainfall is projected to increase in intensity in the future. According to the BOM, this may result in an increase in flood risks. Rising sea levels also mean that there will be increased flooding of low lying coastal and tidal areas.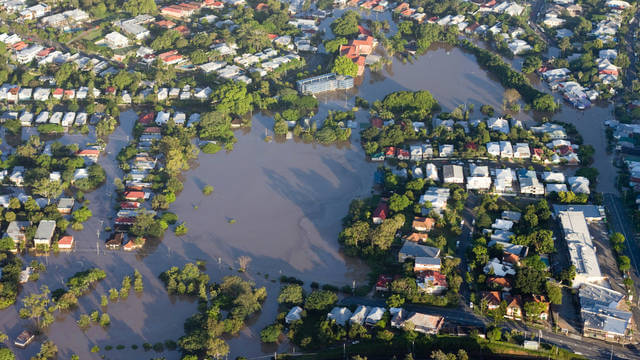 3. Cyclones
Cyclone Yasi was one of the most intense tropical cyclones to occur in Australia in the last few decades. In February 2011, the category 5 cyclone crossed the far north Queensland coast. About 1,000 people reported significant damage to their homes, more than 200,000 properties lost power and there was one fatality. Cyclone Yasi caused an estimated $300 million loss to agricultural production in Queensland, with banana and sugar cane crops hit particularly hard. Overall, the damage bill reached $800 million.
Australia's 2018 State of the Climate Report, created by the BOM and the CSIRO, reported that there has been a decrease in the number of tropical cyclones in Australia since 1982. While tropical cyclones are projected to continue decreasing in number, they are expected to increase in intensity. According to the CSIRO, coastal impacts from tropical cyclones are also expected to become worse due to rising sea levels and increases in cyclone-related extreme rain and wind events.
4. Bushfires
The 2019-2020 "Black Summer" bushfires were unprecedented in terms of scale and damage. During the fires, 33 people died, over 3,000 homes were destroyed, 24 million hectares of land were burnt, and nearly three billion animals were killed or displaced. It has also been estimated that over 400 people died from the effects of toxic smoke. The financial impact of the fires is estimated to be over $10 billion, according to the final report.
Bushfire weather conditions are expected to increase in frequency and severity in future years, according to the BOM. Australia has already witnessed more extreme conditions during summer in southern and eastern parts of the country, as well as an earlier start to the bushfire season, the BOM noted.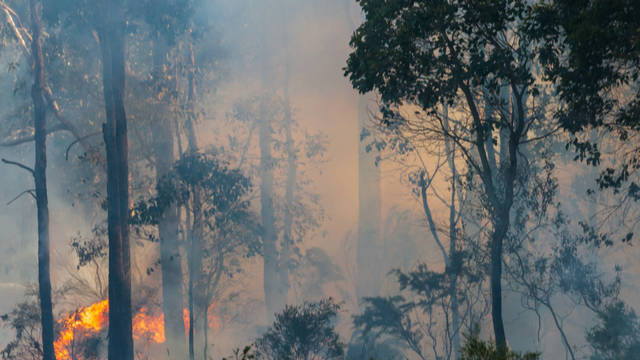 5. Earthquakes
There are about 100 earthquakes (with a magnitude of three or more) that happen in Australia each year, according to Geoscience Australia. One of the most destructive earthquakes in Australia's history was the 1989 Newcastle earthquake. The earthquake, which measured 5.6 on the Richter scale, had an epicentre about 15 kilometres south-west of the CBD. It caused 13 deaths, affected 30,000 people and damaged 50,000 buildings. The Insurance Council of Australia put the damage bill at over $4 billion in 2017 dollars.
Earthquakes are a geological-driven natural hazard rather than a weather-driven natural hazard (like bushfires, floods and cyclones). Geoscience Australia has forecast that over a 50-year period, about 10% of Australia is likely to experience earthquakes that exceed the expected peak intensity for the location, although the magnitude may still be low.
How much do natural disasters cost?
The figure below displays the insured losses from natural hazards across the last decade. According to data from the Insurance Council of Australia, 2011 – when devastating floods and Cyclone Yasi affected areas of Queensland – was the most costly year, with insurance losses totalling over $4.5 billion.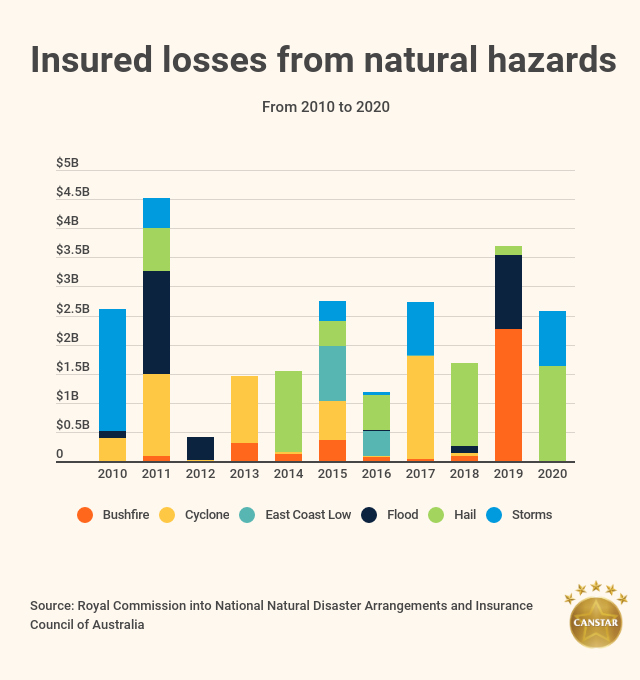 Research from the Australian Business Roundtable has predicted that the total economic cost of natural disasters in Australia will reach $39 billion each year by 2050. To mitigate the costs, the Australian Prudential Regulation Authority (APRA) says that about $3.5 billion needs to be invested into natural disaster mitigation and resilience each year.
One of the flow-on effects of natural disasters becoming more frequent and intense is that general insurance (including home insurance) may become unaffordable or unavailable in parts of the country. This concern was recently highlighted by APRA, who noted that without insurance it would take communities longer to recover from natural disasters.
This is already an issue in northern Australia. Since 2007, the average building insurance premiums have risen there by more than 178% and the average combined home and contents insurance premiums by 122%. According to Canstar's data, in Northern Queensland the average home and contents insurance policy is $4,357 (based on sum insured values of $550,000 for home cover and $50,000 for contents). This is over three times the cost of policies in New South Wales and Victoria. APRA says the increase in premiums has been driven by storms and cyclones, which are particularly common in the tropical parts of Australia.
Find out more about insurance for natural disasters:
Does your home and contents insurance cover fire damage?
Main image source: Daria Nipot (Shutterstock).