Co-author: Sam Bloom 
Heading to Thailand for your next holiday? Whether you are island trekking or poolside lounging, find out why travel insurance is a must.
Thailand is one of Australia's favourite holiday travel destinations – and no wonder. From the bustling energy of Bangkok to the tropical bliss of the islands such as Phuket and Koh Samui, Thailand offers a holiday location for everyone.
Being in relatively close proximity to home with a generous exchange rate makes Thailand an affordable and appealing destination. It's known for its spectacular beaches, street food and tropical scenery. Before you leave Australia, organise your travel insurance so you and your belongings are protected while you're away.
The kingdom of Thailand is one of the jewels in South East Asia. It is not surprising therefore that people on the Canstar site comparing travel insurance are looking for travel insurance for Thailand. With that in mind, this article should hopefully tell you all there is to know about Thailand travel insurance.
Here's some travel insurance policies for a couple under the age of 70 travelling to Thailand, with links direct to the provider's websites.
Compare Travel Insurance For Thailand
Facts about Thailand
Capital: Bangkok
Land area: 510,890 km2
Official language: Thai
Population: 68.8 million (2016)
Currency: Baht (THB)
Fun fact: There are about 35,000 temples in Thailand
Travel insurance for Thailand
Accidents are always on the cards anywhere you go, and in a limited-English speaking country, stress can escalate quickly in the event of an accident or illness. It's a great help to have the backup support of a good travel insurance policy you can claim on if needed. Some of the reasons why you might need travel insurance for Thailand include:
Cancellation costs for flights, accommodation and tours
An unexpected illness before you leave, or an illness in the family – even your employer denying your application for annual leave – can all be reasons why you might need to cancel your Thailand holiday. Travel insurance for Thailand can help reimburse you for any out-of-pocket expenses such as cancellation fees.
Overseas emergency medical expenses
An accident or illness while you're in Thailand could end up meaning a visit to the doctor or even the hospital. Medical standards vary throughout Thailand and treatment is pricey. A comprehensive travel insurance policy is therefore a must, regardless of how fit and healthy you are. Travel insurance for Thailand can cover emergency overseas medical costs, as well as medical repatriation to Australia (a quick flight home) if needed.
Watch out for exclusions…
Case Study: Lee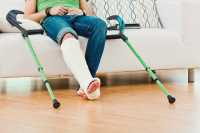 Lee was attending a wedding in Phuket, Thailand, when he fell down some stairs at the hotel, breaking his leg and several ribs. Because he'd been celebrating with a few alcoholic drinks, his insurer refused his claim for medical expenses, citing his intoxication at the time.
The incident cost Lee $10,300 in medical expenses, which had to be paid in full before he could leave the hospital. Lee's injuries also meant he was unable to work for the next six weeks, causing further financial hardship back home in Australia.
Source: SmartTraveller.gov.au 
Cover for theft or lost luggage and personal items
Theft is a risk wherever you travel, and the monkeys that so delight tourists to Thailand can be very cheeky about taking anything that's not bolted down. Travellers to any destination also run the risk of having luggage go missing or losing other items over the railing of a tour boat.
Travel delay/changed travel plans
Unexpected events can derail the best-laid travel plans. Happily, tropical Thailand is not prone to a vast array of natural disasters; however, political upheaval and the threat of terrorism have definitely been a concern in recent years. If anything does occur and your travel schedule is interrupted, travel insurance can cover you for any last-minute and unavoidable changes in your travel plans.
Compare Travel Insurance For Thailand
What does Thailand travel insurance cost?
Travel insurance for Thailand is necessary, but thankfully it's not as expensive as you might expect. To give you an idea of what you will be up for, we've crunched the numbers on policies from 79 providers to calculate the minimum, maximum and average travel insurance premiums you'll pay for a 10- or 21-day jaunt to Thailand.
All premiums below are based on the premium data collected for Canstar's 2017 Travel Insurance Star Ratings.  Premiums have been rounded to the nearest dollar.
Compare Travel Insurance For Thailand
What does Thailand travel insurance cover?
Cheap travel insurance is easy to find for Thailand, but keep in mind that price is not everything and cheapest travel insurance does not equate to best travel insurance. It's important to buy the cover that suits your particular situation, and Canstar's research shows you get what you pay for.
That's why our Star Ratings are based on coverage inclusions and exclusions as well as price, not just price alone.
When you compare travel insurance on the Canstar website, a 3-Star to 5-Star Rated policy will tend to cover most things whereas 1- and 2-Star Rated policies have various exclusions, even sometimes excluding basic cover for accidental death. Always check the fine print of the product disclosure statement (PDS) carefully to make sure you're covered for the things that matter to your trip, so you're covered if you need to make a claim.
With a typical policy, you will want the following coverage at a minimum:
Medical or dental emergency – hospital admission, emergency care and medical evacuation.
Repatriation – if tragedy strikes while you are away, repatriation covers the cost of flying your body and belongings back home to Australia. Some travel funds also include a separate sum for funeral expenses.
Lost or stolen luggage, passport or other items – replacing luggage and travel documents is the most common claim for travel insurance.
Cancelling your trip unexpectedly – due to illness, accident, holiday leave being revoked or a natural disaster at home or at your intended destination.
Legal liability – if you break a local law and need a lawyer/interpreter.
Compare Travel Insurance For Thailand
Risks in Thailand
The Australian Government's Smart Traveller website recommends travellers exercise a high degree of caution. Thailand has a history of civil unrest and, combined with the threat of terrorist attack, is a country in which to keep your wits about you. Lately, a number of small bombs have been detonated in locations frequented by tourists, so you need to pay close attention to your personal security at all times – even in paradise!
Crime reports are also common, from sexual assault to drink spiking, pickpocketing to scams. Keeping a close watch on your belongings while in populated areas is recommended, and never let your passport out of your hands.
Finally, the passing of the King of Thailand in October 2016 marked a period of great mourning for the Thai people. Disparaging the king in any way is a very serious offence in Thailand, and you should refrain from any festive or disrespectful behaviour whilst the nation is still mourning.
Getting help in Thailand
If the matter relates to criminal issues, contact the Tourist Police on 1155 or the Mobile Police on 191. For fire brigades phone 199, and for medical emergencies phone the Police General Hospital line on 0 2207 6000. Another helpful number is the Tourist Service Centre – phone 1672.
For embassy matters such as passports, contact the embassy in Bangkok:
Australian Embassy, Bangkok
Address: 37 South Sathorn Road, Bangkok
Telephone: +66 (2) 344 6300
Fax: +66 (2) 344 6310
Web: www.thailand.embassy.gov.au
You can also obtain consular assistance in Thailand from:
Australian Consulate-General, Phuket
Address: 77/77 Chalermprakiat Rama 9 Road (Bypass Road), Muang, Phuket THAILAND
Telephone: +66 (0) 76 317 700
Fax: +66 (0) 76 317 743
Email: consular.phuket@dfat.gov.au
Web: www.phuket.consulate.gov.au
Australian Consulate, Koh Samui
Koh Samui, Surat Thani
Contact through the Australian Embassy, Bangkok.
See the Embassy's website for information about opening hours and temporary closures that may affect service provision.
In a consular emergency, if you are unable to contact the Australian Embassy in Bangkok you can contact the 24-hour Consular Emergency Centre in Canberra on +61 (2) 6261 3305 (within Thailand) or 1300 555 135 (from within Australia).
Risks aside, the Thai culture is fascinating, with its Buddhist temples, local villages and tropical seaside villages. Why not start your Thai adventure by researching comprehensive travel insurance now?
Compare Travel Insurance For Thailand
Canstar also rates travel money cards, and you can check out our 2017 Research to help find one to take with you on your Thailand holiday.