Co-author: William Jolly 
France is a popular choice for Australians travelling overseas. Find out how travel insurance can help you have a stress-free trip to the land of the croissant.
France is on many people's bucket list, and for good reason. It has castles, palaces, vineyards, Mediterranean beaches, glorious scenery and even more glorious food. And of course, its capital Paris provides endless sightseeing opportunities, from the Eiffel Tower to the Louvre Museum.
Whatever piques your interest, you're bound to find it in droves in the land of the red, white and blue flag. Travel insurance for France is as essential to pack as a French language app and a beret.
Source: World Travel Guides
If you're thinking about travelling to France, then this article will hopefully tell you everything you need to know about buying travel insurance.
Here's some providers who offer travel insurance for a couple under 70 years old who are travelling to France, linking directly to the provider's websites.
Compare Travel Insurance For France
Quick facts about France
Capital: Paris
Land area: 643,801 km²
Official language: French
Population: 66.9 million
Currency: EURO (EUR)
Fun fact: Louis XIX was the king of France for just 20 minutes in 1830 – the shortest ever reign by a king.
Travel insurance for France
Accidents, illness or theft are always on the cards anywhere you go. When you're away from home, in a non-English speaking country, stress can escalate quickly in the event of a mishap. It's essential to have the backup support of a good travel insurance policy you can rely on if you need it.
Some of the reasons you might need travel insurance in France include the following:
Cancellation costs for flights, accommodation and tours
Many things could disrupt your French travel plans, such as an unexpected illness before you leave, or an illness in the family, or your boss saying you can't take a holiday. But don't bear the brunt of the cancellation fees if you need to cancel your France holiday – get travel insurance for France to help reimburse you for any out-of-pocket expenses from cancellation.
Overseas emergency medical expenses
J'ai la nausée… "I feel nauseous…" An accident or illness while you're in France could land you in front of a local doctor or even the public hospital. Travel insurance for France can cover the cost of emergency overseas medical treatment, as well as a medical flight home (medical repatriation) to Australia if needed.
The standard of medical facilities in France is very high but unfortunately, there is no reciprocal medical agreement between France and Australia. This means you're on your own if you have an accident or become ill unexpectedly. The costs in a public hospital range between $1,450 per day to $3,596 per day (AUD). That's why you need a comprehensive travel insurance policy, regardless of how fit and healthy you are before you go.
Travel delay/changed travel plans
Natural disasters can derail the best-laid travel plans. In summer in France, forest and grass fires occur regularly, particularly along the Mediterranean coast and Corsica. However, travel insurance can cover you for any last-minute and unavoidable changes in your travel plans.
Cover for theft or lost luggage and personal items
Theft is a risk wherever you travel. In fact, Southern Cross Travel Insurance reports the theft of personal items such as laptops, tablets, cash and jewellery make up the bulk of their property claims. Travellers to any destination also run the risk of having luggage go astray or their personal items getting lost.
Snow sports
The French Alps are a great drawcard for skiing and mountaineering activities, despite the avalanche and mudslide hazards. If you're planning on immersing yourself in snow sports, make sure that your France travel insurance policy covers you. Generally, you'll have to get a special snow policy, rather than a standard policy, and it's vital that you have the right cover before you go.
Case Study: Fieldtrip to France
A student, aged 22 and an inexperienced traveller, is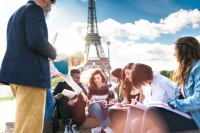 studying abroad on exchange in Germany. His course involves a three-day field trip to France, but on the day before the trip is to leave, his passport is stolen.
At the border, the student is told by French officials he cannot travel into France without a valid passport. The student does not have a photocopy of his passport to show, so he contacts the Australian embassy in Germany. The embassy advises it could take a minimum of one week to process a new passport for him.
The student must now cancel his trip to France and stay in Germany. He later finds out his flight and accommodation bookings were non-refundable.-refundable.
If he had purchased travel insurance for the three-day trip, this cover may have reimbursed him for the cost of cancellation, but without it he had to pay all expenses himself.
Source: University of Queensland, 2014 
Compare Travel Insurance For France
What does France travel insurance cost?
The old saying in the industry goes 'if you can't afford travel insurance, then you can't afford to travel'. Every year Australians pay through the nose for injuries and losses of property that have occurred while overseas, but travel insurance really isn't expensive when you consider the cost of flights, accommodation and tours.
In France, you might spend more on baguettes than you spend on travel insurance, depending on how long you stay in the country. So ask yourself: why wouldn't you get travel insurance?
To give you an idea of what you will be up for, we've crunched the numbers on policies from 79 providers to calculate the minimum, maximum and average travel insurance premiums you'll pay for a 10- or 21-day jaunt to France.
All premiums below are based on the premium data collected for Canstar's 2017 Travel Insurance Star Ratings. Premiums have been rounded to the nearest dollar.
What does France travel insurance cover?
Cheap travel insurance is not always the best, and in the case of travel insurance, it's very important to buy the cover that suits your needs. With a typical policy you'll want, at the minimum:
Medical or dental emergency – hospital admission, emergency care and medical evacuation.
Repatriation – if tragedy strikes while you are away, repatriation covers the cost of flying your body and belongings back home to Australia. Some travel funds also include a separate sum for funeral expenses.
Lost or stolen luggage, passport or other items – replacing luggage and travel documents is the most common claim for travel insurance.
Cancelling your trip unexpectedly – due to illness, accident, holiday leave being revoked, or a natural disaster at home or at your intended destination.
Legal liability – if you break a local law and need a lawyer/interpreter.
What does France travel insurance not cover?
There are a number of general exclusions you need to be aware of when travelling to France, or most countries for that matter. Some of the most common exclusions include:
Irresponsible behaviour under the influence of drugs or alcohol
Pre-existing conditions you were aware of before purchasing your policy
Unattended items
Claims that weren't lodged with your provider within 24 hours
Mental illness
Unfortunately, the last point here is a real stinger: Canstar's 2016 research showed that 271 of the 280 travel insurance providers did not cover depression in a standard policy. However, this has been improving lately, as two insurers – QBE and Cover-More – removed their mental health exclusions.
When selecting a travel insurance policy, Canstar's research shows that you get what you pay for; 3-5-Star policies tend to cover most things, whereas 1- and 2-Star policies have various exclusions, even sometimes excluding accidental death.
The bottom line is to compare travel insurance and check the fine print carefully to make sure you're covered for the activities you'll be doing and other things that could happen along the way. A policy that falls short will seriously disappoint you if you do have to make a claim.
Compare Travel Insurance with Canstar
Risks in France
France has traditionally been a very safe place to travel, but recently the terror threat level in the country has been raised to the second highest level possible – 'Enhanced security due to risk of attack'. There are heightened security measures in place in shopping areas, tourist sites and major events where westerners congregate. Since 2015, over 200 people have been killed in terrorist attacks there.
The Australian Government's Smart Traveller advice page advises travellers to exercise a high degree of caution and remain vigilant throughout. Thankfully, visitors to Canstar's site are heeding this advice, as terrorism cover is currently the most sought after inclusion on our comparison tables. The table below shows some of the providers we rate that include cover for terrorism.
Other than terrorism, it's business as usual in France with regards to safety – exercise your normal safety precautions regarding safety for you and your belongings.
Getting help in France
France is unique in having no less than 12 emergency telephone numbers you could call. Each number is specific to a different emergency need, such as police, terror alerts and kidnappings, missing children, etc. The following list is current at the time of writing:
Medical help: 15
Police: 17
Fire: 18
SOS (all services): 112
SOS (hearing assisted): 114
Emergency shelter: 115
Child in danger: 119
Missing child: 116 000
Out of hours doctors: 116 117
Emergency – sea and lake: 112 or 196
Emergency at sea: 112
Terror/kidnapping: 197
Australian embassy in Paris
For passport matters, contact the Australian embassy in Paris:
Address: 4 Rue Jean Rey 75724 Paris Cede
Phone: +33 (1) 40 59 33 00
Email: consular.paris@dfat.gov.au
Website: www.france.embassy.gov.au/pari/contact-us.html
In a consular emergency, if you are unable to contact the Embassy in France you can contact the 24-hour Consular Emergency Centre in Canberra on +61 (2) 6261 3305 or 1300 555 135 (from within Australia).
France is truly one of the world's premier destinations for travel. Just be sensible and take a few precautions, such as researching comprehensive travel insurance for France. Why not start now with Canstar?
Compare Travel Insurance with Canstar
Canstar also rates travel money cards, and you can check out our 2017 Research to help find one to take with you on your France holiday.