Suncorp Landlord Insurance
Suncorp is a provider of landlord insurance, home loans, credit cards, savings accounts, car loans and personal loans, as well as various other types of insurance, such as car, health, and travel insurance.
"A better tomorrow starts today"
Canstar has researched and rated 46 landlord insurance products from 41 different providers to determine who offers outstanding value for customers. After extensive analysis, we are pleased to announce that Suncorp has won the 2017 Outstanding Value Landlord Insurance Award. Congratulations, Suncorp!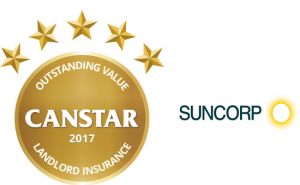 Read Canstar's 2017 Star Ratings Research For Landlord Insurance
Why Suncorp won
Suncorp has won the National Award for Outstanding Value Landlord Insurance. As well as the National Award, Suncorp also won in the following states:
One of the key drivers behind Suncorp's award-winning performance was its pricing. Based on Canstar's Landlord Insurance research, Suncorp maintains below market-level premiums in every state except Queensland, and its premiums cost well below the market average in Western Australia, where it is a price leader. Breaking down Suncorp's prices:
For building and contents insurance on houses, Suncorp Landlord Insurance premiums are 39% below the market average in Western Australia. Suncorp premiums are also 23% lower than the market average in Victoria.
For contents insurance on units, Suncorp offers even better value in Western Australia, as its premiums cost 44% less than average. South Australian and New South Wales units also have cheaper premiums with Suncorp, costing 26% and 23% less than average, respectively.
Source: Canstar Landlord Insurance Star Ratings and Awards 2017
In the market for Landlord insurance? The below comparison table features Suncorp Insurance products currently on the market for house properties sorted by our star rating (Highest-lowest) located in NSW.
Suncorp Landlord Insurance also has an excellent range of features on offer, particularly when it comes to burglary, damage, their claims process and storm cover as well as building and contents inclusions.
Standard inclusions of the policy include cover for:
Malicious damage caused by the tenant
Theft or burglary caused by the tenant, as well as the resulting rental losses
Up to $20 million in liability cover
Damage from storms, including damage to gates, fences, swimming pools, and spas
Changing of locks following a claim for rental loss (up to $800)
The option to rebuild at another location under a building claim
Rental loss due to a variety of reasons:
Rent default or tenants vacating the property unannounced
The death of the sole tenant (not if there are multiple) for up to 2 weeks
Tenants who have obtained a financial hardship order (up to 4 weeks)
Prevention of access (up to 14 weeks or $4,000)
Optional extras of Suncorp's landlord insurance policy also include an option to pay extra to insure an additional 25% of the sum already insured, if there is a difference between it and the actual cost of rebuilding. You also have the option to pay monthly rather than annually at no extra cost, and you can get optional cover for the burn out of electric motors that are no more than 10 years old.
Under building insurance, you can also make a building claim for the cost of demolition, removal of debris, and architectural costs
To make a claim, you can call Suncorp 24 hours a day using its 24/7 claim service, and you are eligible for a discount if you first apply for landlord insurance on Suncorp's website.
Source: Suncorp
The inclusions mentioned represent a selection of what is covered. Additional conditions may apply to different features. Canstar is not making any suggestion or recommendation to you about this product. Please ensure that you read the product disclosure statement to determine all the current policy options and inclusions for the product you are considering.
Suncorp is one of the largest insurance providers in Australia, currently holding $96 billion in assets. Founded all the way back in 1919 as the State Government Insurance Office, Suncorp Group now employs nearly 14,000 people across Australia and New Zealand, and it owns many trusted brands, such as AAMI, Shannons, APIA, and last year's National Landlord Insurance Winner Terri Scheer.
Suncorp has won a host of awards with Canstar, such as the 2016 Outstanding Value Home & Contents Insurance Award and innovation awards in both 2016 and 2017.
Suncorp places a high value on the communities it is involved in and supports plenty of programs and initiatives. Suncorp helps raise funds for 2 important community foundations:
Financial Basics Foundation, which is one of Australia's leading providers of financial literacy programs
Youngcare, which helps young Australians with high care needs
Source: Suncorp
Suncorp also highly encourages its employees to make a difference in their communities by volunteering and offers them 1 volunteer leave day per annum to support a cause of their choosing. The Suncorp Brighter Futures Community Giving Program provides employees with opportunities to get involved.
And of course, Suncorp is an avid supporter of sports and the arts, partnering with the Sydney Theatre and Netball Australia, as well as Suncorp Stadium.
Suncorp places a great deal of importance on the environment. Suncorp's sustainability commitment is to "minimise negative impacts and maximise positive ones for the long-term benefit of all stakeholders".
You can read Suncorp's sustainability commitment statement in the press release here.
Compare Home & Contents Insurance
Showing landlord insurance products in Canstar's database with links to lenders' websites. The display is sorted by star ratings (highest to lowest) for a house in NSW.