Lenders typically assess your earnings as part of the
personal loan
application process. Because of this, i
f you rely on Centrelink benefits for all or part of your income, you may think you're unable to apply for a loan if you need one. However, depending on your situation, that may not be the case.
Lenders generally assess loan applications based on a number of criteria, one of which is typically your income. But there are other factors at play meaning access to credit may not be out of the question.
This article explores some of the ways you might be able to borrow money with a Centrelink income.
Can you get a personal loan while receiving Centrelink benefits?
Credit providers are required by law to lend money responsibly. They may look at criteria like your income, credit history, and credit score to determine your suitability for a loan. Some lenders may still consider you for a personal loan if you meet their lending criteria and can prove you can make regular payments on time without entering financial hardship.
Although some traditional lenders may accept Centrelink payments as genuine income, you might find not all payment types are considered. For example, Youth Allowance, Newstart, and Austudy are payments that lenders may not necessarily accept as part of your income loan application because they are considered temporary income, and your eligibility to receive these payments is dependent on your circumstances not changing.
A good first step could be to identify what type of benefit you're receiving and how much of your income it makes up, then use this information to help find out if you qualify for a loan.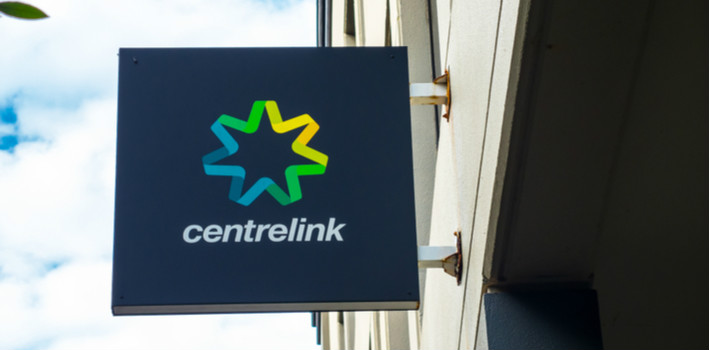 What to look for when comparing loan options
When researching and comparing personal loans, it can be a good idea to first make sure you meet basic eligibility criteria before submitting any formal loan application. For example, some lenders might specify a minimum annual income, or they might explicitly state that Centrelink income recipients are unable to apply.
It may be worth calling the lender or lenders you're considering and enquiring about your eligibility before you apply. If there's a chance you might be rejected because of your income source, then you may want to consider other options, because applying for a loan and getting denied could negatively affect your credit score and make it harder to get credit in future.
What if you already have a bad credit score?
Even if your credit score is low, some lenders might be prepared to loan you money provided you meet their overall lending criteria. However, you may want to be wary of any providers who are willing to lend you money without an income or credit check, as these types of loans often involve fairly high interest rates or other costs, meaning you could end up taking on more debt than you can afford.
How much could you realistically afford to pay?
If you think you might be eligible for a particular loan, you can use our Personal Loan Repayment Calculator to help you work out how much your loan repayments are likely to be. You can then weigh this up against your income and other expenses and decide whether you can realistically afford the loan.
What other types of personal loans might you qualify for while receiving Centrelink?
Banks and credit unions aren't necessarily your only options when trying to borrow money. It could be worth your while exploring other loan options to see if you qualify and, if so, whether they meet your needs.
Centrelink advance payment
The Department of Human Services (DHS) advises that depending on the amount you're looking to borrow and the payment type you receive, you might qualify for a Centrelink advance payment. The minimum and maximum advance amount will vary depending on your benefit. Repayment is usually required within around six months and may be subtracted from your Centrelink payments or other DHS benefits over that timeframe. There are other specific eligibility requirements you'll need to meet before applying. These are listed on the DHS website.
Some payday lenders may consider your Centrelink payment as eligible income. However, ASIC advises on its MoneySmart website that if you receive at least half of your income from Centrelink and your total repayments for all loans you have would exceed 20% of your income, you will not qualify for a loan.
Payday loans tend to be high-cost, short-term loans, so you may want to compare the total loan costs and criteria against regular personal loans and other available alternatives to help you determine the best value option for your needs.
The DHS states that you might be eligible to apply for a non-taxable loan under this scheme if you or your partner is of Age Pension age, and own property in Australia that you can use to secure your loan. Under the scheme, compound interest is charged at a rate set by the DHS on the outstanding loan balance until it's paid in full. Check out the full eligibility requirements and current interest rate on the DHS website to see if this is an option for you. Note that the DHS have advised eligibility requirements for the scheme are changing on 1 July 2019, so more people will be able to access it. You can read more about these changes on the website.
StepUp is a low-interest loan for people on low incomes who have difficulty accessing credit from a bank. You might be able to borrow from $800 to $3,000 with up to three years to pay it back, depending on your loan. StepUp does not charge fees on its loans. Loans are offered with a fixed interest rate and on an unsecured basis, but StepUp says you can expect a credit check as part of your application. StepUp advises that other eligibility criteria may also apply, so you may want to contact StepUp or visit its website for more details.
The No Interest Loan Scheme (NILS)
Similar to StepUp but without any interest charges, the NILS offers to provide credit to individuals and families with a Health Care Card or Pension Card, or those who earn less than $45,000. Applicants must also demonstrate a willingness and capacity to repay the loan amount. Loans are available for up to $1,500 for essential goods and services.
Whether your Centrelink payment is your full or partial income source, it may not automatically stop you from accessing credit. Whilst payday or other personal loans from private lenders can be a convenient option for some people, it could also be a good idea to shop around and consider alternative options, such as government and community schemes that could be cheaper or better suited to your situation and needs.
Image Source: TK Kurikawa (Shutterstock)