The No Interest Loans Scheme (NILS) was established to provide low-income individuals and families with the opportunity to apply for a credit loan.
The scheme offers loans with interest-free repayments over 12 to 18 months, with no fees charged. The loans can be up to $1,500 to be used for essential goods and services such as household items, whitegoods and medical procedures.
Am I eligible for a no interest loan?
To be eligible for a NILS no-interest loan you must be an Australian permanent resident who has lived in your home for over three months. You must demonstrate the willingness to repay the loan, have a Centrelink healthcare or pension card and earn less than $45,000 a year after tax.
More than 178 local community organisations offer NILS across Australia. Click here to find the one closest to you.
How do I apply for a no interest loan?
There are four steps involved in the application process.
Enquire: contact your nearest community organisation who offers NILS and ask about a loan. You can also call 13 NILS (13 64 57) for any questions you might have about the process or if you are eligible.
Interview: meet with a loan provider in your local region to discuss your eligibility. Remember to bring your healthcare card or proof of earnings to demonstrate your willingness to repay the loan as well as identification documentation.
Assessment: the provider will assess your loan application.
Outcome: if you are successful in your application you will be asked to agree to the repayment terms and conditions.
What can no interest loans be used for?
You can use the NILS to pay for:
Necessary domestic whitegoods or furniture
Healthcare essentials such as wheelchairs or asthma pumps
Equipment for education including computers and text books
Required medical procedures
Car repairs (specific to people in areas with limited access to public transport)
You can NOT use the NILS for:
Cash-in-hand (all NILS payments are electronic)
Bond or rent arrears
Debt consolidation
Household bills
Holidays
Case study: Indira's new washing machine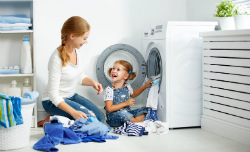 Indira couldn't afford to buy a new washing machine when her old one broke down. When a friend told her about NILS, she went to her community centre to ask about the scheme.
She showed the NILS loans adviser her Centrelink pension card and other documents to apply for the loan. The adviser helped her work out how much she could afford to repay. Indira chose one of the washing machines available through the program and it was delivered to her house. She is about to make her last repayment on the loan and is very happy with her new washing machine.
Source: ASIC MoneySmart
Having trouble paying bills?
The NILS scheme could help many Australians who need assistance to purchase essentials. However, it's worth remembering you will need to make regular payments following your repayment plan. If you're currently struggling to pay bills and basic necessities as it is, you will need to consider whether you will reasonably be able to cover the repayments of the loan. If you don't know where to start, check out our 70 ways to budget article. If you're struggling from debt, here's 5 ways to help organise your finances.