Whether you are looking to install a garage door or replace an old one, we have rounded up some of the options available and the potential costs.
A garage door can serve many purposes in your home, whether it be for securing your home and vehicle or to boost your street appeal. There are many options when it comes to selecting the right garage for you, so we've outlined a few considerations.
What are the types of garage door available?
According to the Australian Garage Door Association (AGDA), the three main kinds of garage doors available are roller doors, tilt doors and sectional doors. Here's a closer look:
Roller doors
A roller door moves upwards on tracks, rolling up and around itself at the top of the garage opening. They are generally the most common type of garage door as they are the least expensive option to buy and install. They are often made from steel or aluminum, making them generally more durable, however this may also make them heavier to install and power. According to online trades services website Hipages, a single roller door may cost between $600 and $1350 while a double roller door may cost in the $1350-$1850 price bracket.
Tilt doors
A tilt door is comprised of one solid panel that pivots into the ceiling of your garage. While less common and generally more expensive than a roller door, a tilt door may be suitable for garages that don't have enough room above the garage opening for a roller door. A single tilt door may cost between $1,700 and $2,250 according to Hipages, whereas a double tilt door will generally cost $2,200 to $2,750.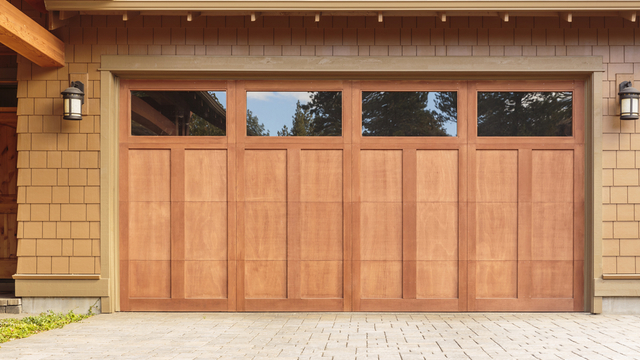 Sectional doors
A sectional garage door can fold up into the roof of your garage or to the side. The sections may travel on tracks or fold similarly to bi-fold doors. Sectional garage doors are generally more expensive than roller or tilt doors, however they can be custom built and designed to suit your needs. According to Hipages, a single sectional garage door may cost anywhere between $850 and $1900, while a double sectional door may cost $4,500 to $6,500.
How much does a garage door cost?
When installing a garage door, there are several factors to consider which may affect the cost:
Materials
Garage doors are generally made from aluminium, steel, timber or a combination of the three, according to hipages. Other materials may include wood composite or faux wood, fibreglass, glass or vinyl. The materials that you choose may depend on the size and style of your garage door. For example, steel is generally lighter and cheaper, however aluminium and wood are generally stronger and likely to last longer. On one end of the scale, Homeadvisor estimates that a steel garage door may cost between $600 and $2,000, while a high-end wood composite door may cost up to $10,000.
Size
Depending on your garage, you may require a standard single door, a double-width door or multiple doors. If you plan on altering the size of your garage opening, Homeadvisor also suggests keeping in mind that any structural changes to your garage or the installation of new electrical work may require permits.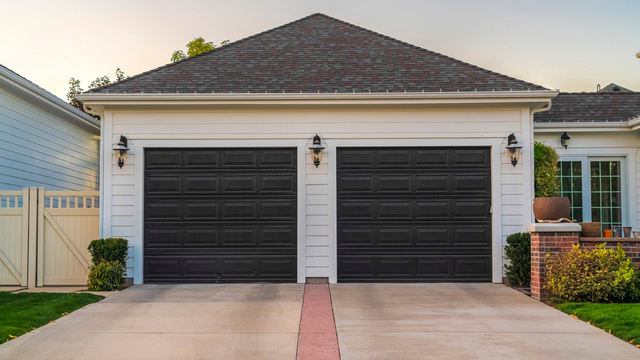 Purpose
The purpose and function of the garage door may determine not only the style you choose, but also the overall cost. For example, a standard steel roller door that is light and cheap to install may not tick the boxes for style and security. However, if you require added security for your garage or you want something custom designed to suit your home, you would probably be looking at something sturdier and more expensive. For example, Hipages estimates the cost of a custom built garage door as somewhere between $4,500 and $6,500.
Installation
According to home-improvement website HomeTips, while installing a garage door yourself will generally require moderate skills and tools, most companies that sell garage doors provide a full service which includes delivery, removal of your old door and installation. The AGDA advises that garage doors should always be installed by a professional as it is a highly technical job and be dangerous, due to the physical size of most roller door – Hipages says that a single roller door can weigh more than 50kg, and a large roller door can weigh more than 100kg, which may make them difficult to install by yourself – and the large number of small parts. Additionally, the AGDA notes that the quality and precision of the installation of your door is critical to its performance.
If you hire someone to install your garage door, Homeadvisor says that installation on its own generally costs around $300 per unit. Hipages suggest that you make sure that they carry valid insurance, including professional indemnity and public liability.
If you choose to go down the DIY road, the AGDA warns that installing your garage door incorrectly may mean that certain warranties are void. Also keep in mind that if the door is automatic you may need a qualified electrician to install it, and while there is no specific licence for installing garage doors, some states may require that you use a registered builder. It's also a good idea to keep in mind the potential danger that comes with any DIY renovation work.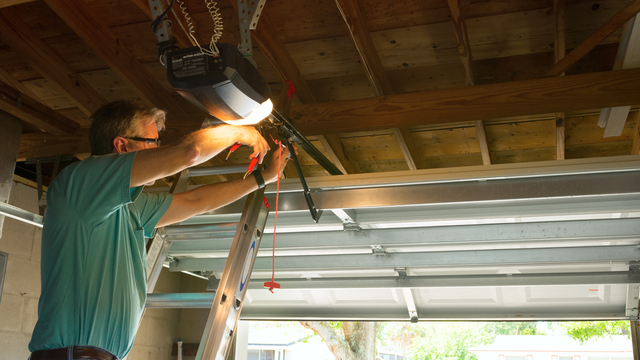 Garage doors: Manual or automatic?
One of the major differences between manual and automatic garage doors is convenience, as an automatic door allows you to open and close the garage from the comfort of your car. Any type of garage door can be motorised and, according to Fixr.com, the installation of a garage door motor may cost between $200 and $650.
Factors which may influence the cost of installing an automatic door or motorising a current one are the quality of the unit (which in turn determines how noisy the motor will be and how fast the door can open and close), and components such as the controls, lighting and sensors. For example, a louder garage door may range from $120 to $200, while a quieter one may be around $200 to $300. Your desired entry controls are another cost factor: a keypad for your door may cost an extra $25 to $70, whereas remote controls generally cost between $25 and $50.
In general, Hipages estimates the price of roller door openers as somewhere between $260 and $435, whereas openers for a sectional garage door may cost between $295 and $490. If you are installing a new door, the motor and remotes are likely to be included in the total price.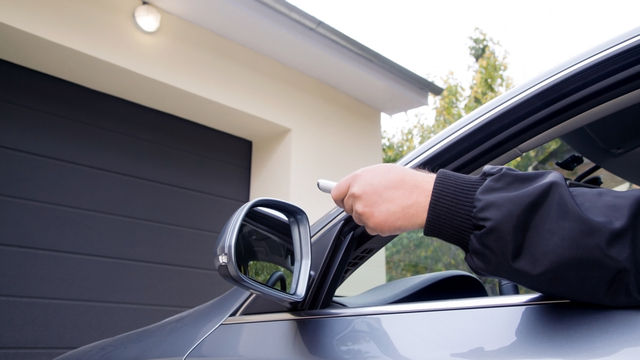 New door or replacement door?
According to Homeadvisor, a new garage door may cost around $700 to $2,500 in total, including installation, while the replacement of, or repairs to, an existing door may be between $600 and $2,750. When replacing your current door, Homeadvisor recommends adding 20% to your budget to accommodate the removal and the disposal of your old door, replacing hardware such as springs and bolts and any structural changes that you are making, such as resizing the garage opening.
Does your garage door affect your insurance?
If you are considering installing a garage door, you might want to think about how it could potentially affect your car and house insurance. For example, many car insurance providers may charge higher premiums if your vehicle is not parked securely. Similarly, if your garage provides direct access to your house, you might need to be more mindful of the level of security afforded by your garage door. Allianz insurance says that your insurance premiums may be reduced if your insurer considers your home to be less at risk of a break in, as you are less likely to need to make a claim.
How do you choose an installer?
When hiring someone to install your garage door for you, Oneflare recommends the following:
Compare quotes with a variety of installers, Oneflare suggests comparing at least three
Check whether the installation cost includes parts, labour and the disposal of your old garage door
Ensure the installer has the appropriate licence and insurance before the job begins

Check whether the installer has warranty on their work, Oneflare suggests looking at pictures of their previous jobs
What are the options to finance a garage door?
How the job is financed may depend on how much it costs. There are several options available for the home renovator to consider, including:
Personal loan: Depending on your personal circumstances and the cost of the job, you may be able to consider using a personal loan to fund the work. This could be a secured loan, or an unsecured loan. It's worth keeping in mind, though, that interest rates are generally higher for personal loans than for home loans, and it's a good idea to read the documentation associated with the loan to make sure you understand the conditions of the loan and repayment. If you're considering taking out a personal loan, you might also like to take a closer look at the fees associated. Compare personal loans with Canstar.
The table below displays some of our referral partners' unsecured personal loan products for a three-year loan amount of $20,000 in NSW. The products are sorted by Star Rating (highest to lowest) followed by comparison rate (lowest to highest). Use Canstar's personal loan comparison selector to view a wider range of products on Canstar's database. Canstar may earn a fee for referrals. Read the Comparison Rate Warning.
Credit card: It may also be possible, depending on your circumstances and the cost, to pay for the job on a credit card. There could be some fringe benefits for doing so, such as extra insurance cover in some cases (read the card's Product Disclosure Statement to find out the conditions of the insurance cover, there will likely be a Key Facts Sheet document for details of the card itself). The various fees associated with a credit card are also something to be aware of beforehand. Keep in mind that credit card interest rates can be much higher than home or personal loans, so it could be a good idea to weigh up your options before deciding what action to take. Compare credit cards with Canstar.
You might also be interested in:
Header Image Source: Studiovin (Shutterstock)