Are you thinking about adding a carport to your home? We look at how much you might expect to pay and some key factors to consider.
If you want to keep your car protected from the elements, but don't have the need or budget for a garage, a carport could be one solution. Not only will it typically keep your vehicle in better condition in the long run than if you parked it in a driveway or on the street, it could also help keep you and your belongings dry when you're leaving or arriving home in the rain. In addition, it could help protect your car from being damaged by events such as storms or falling tree branches.
But as with any major renovation decision, if you're considering adding a carport to your home, there are a number of other factors that could also be worth thinking about.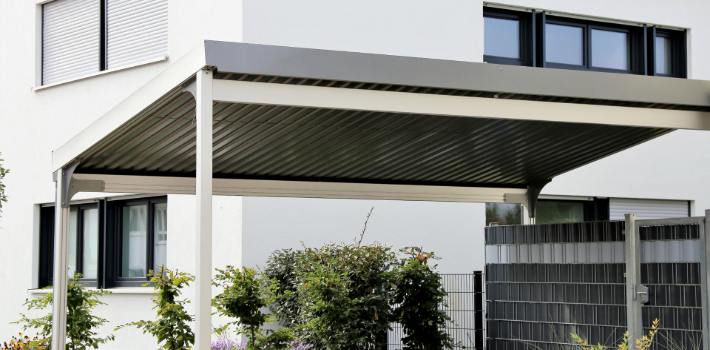 What are the benefits of carports?
You might be wondering if you really need a carport at all, particularly if you've been parking your car on the road, the driveway or your grass for a while now. Perhaps one of the key reasons to get a carport is that it can contribute to keeping your car in good condition, helping to retain its value.
A carport can also help keep your paintwork and interiors from fading in the sun and provide some cover from hailstones, debris from overhanging trees and bird droppings. In warmer climates, it can also help keep the internal temperature of your car cooler, so you don't feel like you're stepping into a sauna when it's time to hit the road. Getting your car off the street could make it less likely to be broken into, particularly if the carport is behind a locked gate, and your lawn may benefit from not having a car on it. Having a carport may also have an impact on the car insurance premiums you pay, as insurers typically ask car owners where their car will be parked at night before they offer an insurance quote.
How much does a carport cost?
The exact cost of building a carport will vary depending on a range of factors, such as its size, the materials and design elements used, how simple or complex it is to build and whether you want to add any additional features such as storage space. However, to give you a rough idea, the cost calculator on Archicentre Australia's website indicates that the average price for a single carport is around $10,000 and a double carport around $20,000.
A potentially cheaper alternative is to purchase a carport kit rather than having it custom-built. Again, prices will vary based on the carport's size, design and the material of its roof, but as a guide, at the time of writing Bunnings had a single carport listed for $2,235 and a double version for $2,555 on its online catalogue.
Regardless of whether you choose to go for a custom design or purchase a kit, it could be worth considering engaging the services of a licensed builder or carpenter to install your carport, which will add to the cost.
What are the options to finance a carport?
Depending on your situation, your options could include:
Paying out of your own pocket: You could consider using your savings if you have enough reserves;
Home loan: If this job is big enough, or you are doing a range of jobs at the same time, one choice you may consider is refinancing or restructuring your home loan, or adding a "line of credit". For example, depending on your lender, you may be able to add a redraw facility to your existing loan (although it's wise to keep in mind that some fees could apply to any loan changes and there could be redraw limits). Or, you could add an offset account, which could help reduce the interest paid on your loan while still allowing access to your money (although it's wise to keep in mind there could be some fees involved here, too, and higher interest rates could apply to these types of loans).
Personal loan: Depending on your personal circumstances and the cost of the job, you may consider using a personal loan to fund the work. This could be a secured loan, or an unsecured loan. It's worth keeping in mind, though, that interest rates are generally higher for personal loans than for home loans, and it's a good idea to read the lender's terms and conditions first.
Credit card: It may also be possible, depending on the cost and your ability to repay the debt quickly, to pay for the job on a credit card. There could be some fringe benefits for doing so, such as extra insurance cover in some cases (read the card's Product Disclosure Statement to find out the conditions of the cover). Keep in mind that credit card interest rates are typically much higher than home or personal loans, and interest can quickly accumulate on large balances, so it is a good idea to weigh up your options and consider them carefully. If you don't think you'll be able to pay off the card's balance in full each month, it may be worth re-considering whether a credit card is the right option for you.
Is a carport cheaper than a garage?
As long as you're not comparing the cost between a basic single car garage with an extravagant, architecturally designed, state-of-the-art carport, it will typically cost less to build a carport than a garage. The open sides and doorless entry mean, depending on the layout of your yard, you may only need a concrete or gravel ground cover, posts and a roof of your choosing. Archicentre's cost calculator estimates a single car garage would cost about $50,000 to $60,000, while it says that for a double garage you can expect to pay around double that, meaning you could potentially save a significant amount of money by opting for a carport over a garage. But you would need to factor in any additional benefits of a garage over a carport when weighing up your options.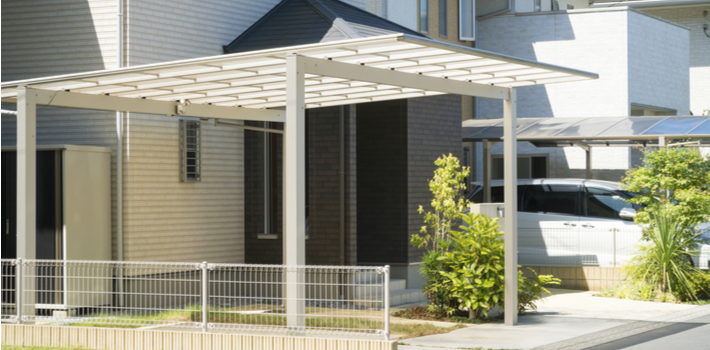 Is a building permit required for a carport?
The laws in Australia around permits for carports can vary from state to state and even council to council. Before planning your design, you may want to contact your local council to find out what guidelines are in place for carports in your district. This will help you budget for your carport and avoid any nasty setbacks mid-project.
What else should I know?
One of the other issues to consider when you are planning a carport is its size. Do you want one that will fit just one car or would you like something bigger? The space you have available will likely be a major factor in this decision.
You'll also need to think about whether it will be freestanding or whether you would prefer it to be attached to your home in some way.
Does a carport add value to your home?
Generally speaking, a well-designed carport could add value to a home by creating a protected space to park a vehicle and providing convenience. Carports can be especially important for families who need to get babies and young children buckled into their car seats when it's raining and for older people who may need to be conscious of getting in and out of the car safely.
Want more reno content? From bathrooms to butler's pantries, follow Canstar on Facebook for our latest updates.
Header image source: rudolfgeiger (Shutterstock)