There was a time when we'd tip small change into a piggy bank and watch the savings grow. These days, round up bank accounts put the savings on autopilot.
A growing number of everyday bank accounts are offering 'round up' as an optional feature. It works like this: each time you make a purchase using a linked debit card, the amount withdrawn is rounded up to a set figure, often the nearest dollar, with the difference being transferred to your savings account.
So, let's say your round up is set to the nearest $1. When you use a debit card to buy a $3.50 cappuccino, a total of $4 will come out of your everyday account, with $3.50 going towards the coffee, and the remaining 50 cents being transferred to a savings account. If you've set a round up to the nearest $5, a total of $5 will come out of your account, with $1.50 going to savings.
Some providers may let you transfer the money to your credit card or home loan. There are also round up products that let you invest in the sharemarket such as Raiz or into your superannuation, but we will focus specifically on savings here.
The beauty of round ups is that the sums transferred are small, so you're less likely to miss the extra cash coming out of your regular account. As we move towards a cashless society, round ups provide an effortless way to put our digital small change to work.
Which institutions offer round up accounts?
P&N Bank and ING were among the first to introduce round ups. P&N Bank introduced the 'Pay&Save' tool in 2006, while it's been a feature of the ING Orange Everyday account since 2017.
P&N Bank's round up feature can be activated through online banking or via the bank's app, and purchases can be rounded up to the nearest dollar. You can even direct your savings into another P&N member's account – for example, a parent can have the rounded amount transferred to a son or daughter's savings account, explains the website.
With ING, debit card purchases can be rounded up to the nearest $1 or $5, with the loose change deposited into either an ING Savings Maximiser account, Orange Advantage home loan or Mortgage Simplifier home loan. The round up tool can be activated through online banking, so it's not essential to download ING's banking app.
Round ups are also available through Bank Australia. You'll need an Everyday Access account and a linked Bank Australia savings account or eligible credit card. At this stage, round ups are not available with Bank Australia home loans. You will need to download the Bank Australia app to get started, and purchases can only be rounded up to the nearest dollar.
Other banks to jump onboard include Up Bank, which has the flexibility to set your own round up to a maximum of $10 per transaction. Digital bank Xinja allows round ups to the nearest $1 or $5, with the spare cash going to Xinja's Stash savings account. Beyond Bank's 'round2save' tool rounds purchases to the nearest dollar, with the cash transferred to a Beyond savings account.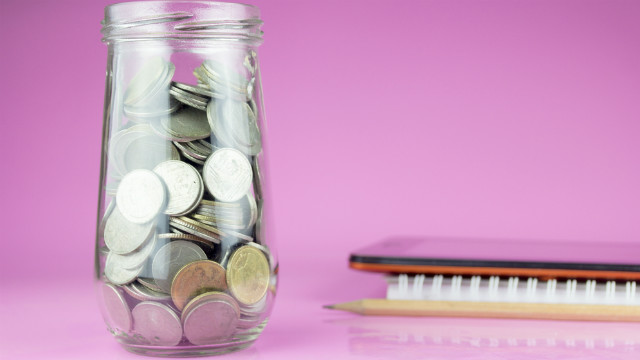 How much could you save by rounding up?
Exactly how much you can tuck away with a round up depends on how often you use the linked debit card and the size of your nominated round up. For an idea of what's possible, we'll work off average figures.
Reserve Bank data shows that Australians make an average of 17 debit card purchases each month. According to Up Bank, which looked at 250,000 round ups made by its own customers, the average round up was worth 44 cents.
Based on these numbers, making 17 purchases with a round up averaging 44 cents would see an extra $7.48 deposited into your savings account each month, or about $90 annually. While every bit extra helps, it's not a fast track to riches.
Opting for a bigger round up will give your savings more of a boost, and if it proves too much of a drain on your everyday money, there is always the option to switch to a lower round up or opt out altogether.
Key factors to consider
If you are thinking about using a round up account, make sure you weigh up the following.
Are you getting the best deal?
It's worth noting that any round ups on purchases can only be directed to an account held with the same bank as your everyday account. In this sense, round ups encourage us to hold multiple products with the same financial institution. That may be fine if you are confident your regular bank offers a great deal on savings, but the golden rule is always to shop around for the best deal.
Check the fees
It's also worth looking under the hood of your everyday account to know if any fees may apply based on your personal banking habits, which could wipe out the value of the additional savings.
None of the accounts mentioned here charge monthly fees – or apply an extra fee for round ups. One thing to watch out for though is ATM fees. ING's Orange Everyday account, for instance, rebates all ATM fees worldwide, but only if you deposit at least $1,000 into the account each month and make a minimum of five debit card purchases monthly. On the flipside, ING pays a 'cash out' bonus of 50 cents each time you withdraw $200 or more at an EFTPOS terminal.
Many banks don't charge ATM fees, as long as you stick to a machine belonging to one of the major banks.
Read the fine print
Take the time to look at the fine print to understand how it works. Round ups are generally available on purchases made via a debit card, Apple Pay or Google Pay, but not on ATM transactions and BPAY. Round ups are usually not available on accounts with more than one signatory.
The importance of security
As some institutions only make round ups available through their app, it's important that your device has strong security controls. Biometric authentication like fingerprint scanning is a good idea. If the device is lost or stolen, the app recovery process is usually straightforward and may involve redownloading your bank's app to a new phone.
The verdict
Round ups can help you save money or pay down debt sooner, and that's always a plus. Don't fall into the trap of spending more just because you're growing savings with each purchase though. There is already a wealth of research that shows we have a tendency to spend more when using a card rather than cash.
The small amounts involved with round ups can make it a slow process to get ahead financially. So it's not a tool that replaces a personal savings plan. Setting up a regular electronic transfer out of your everyday account and into a dedicated savings account is still a good way to save.
If you need some encouragement, the free Nudge app may be worth a look. It lets you set personal savings goals, then sends prompts to save small amounts regularly. The more prompts you accept, the faster you'll reach your goal. Nudge works with all Australian banks, but at this stage is only available for iOS devices.
Cover image source: Gajus (Shutterstock)
---
About Nicola Field
Nicola Field is a personal finance writer with nearly two decades of industry experience. A former chartered accountant with a Master of Education degree, Nicola has contributed to several popular magazines including the Australian Women's Weekly, Money and Real Living. She has authored several best-selling family-focused finance books including Baby or Bust (Wiley) and Investing in Your Child's Future (Wiley).