If you're reading this article, you're probably wondering: are my savings on track or am I falling behind the rest of the pack?
The coronavirus pandemic has had a big financial impact on many of us – including how much we earn, our spending and how much we can afford to put into savings. Canstar's latest Consumer Pulse Report, which surveyed over 2,000 adults across the country, found that 30% of Australians have dipped into their savings this year and 11% have taken on more debt. On the flipside, 46% of people said they managed to save the same or more than last year and 15% said they have reduced their debts.
So how much are Aussies saving on average? First, it might be helpful to put our savings in context.
How much do Australians earn?
The average weekly earnings for Australian adults who work full-time is $1,713.90, according to the latest figures from the Australian Bureau of Statistics (ABS). This adds up to $89,122.80 a year. It's worth noting that this is the mean income, so it takes into account very high earners and may skew the average higher. Recent figures from the ABS put the median income at $48,360 per year before tax (for the 2016-17 financial year), which may provide a more accurate estimate of what a 'typical' worker earns.
What are the average savings in Australia?
The average household who saves is able to put away about $854 per month, according to a report from ME Bank. This comes to about $10,248 per year. On an individual level, Canstar's report found that most savers save up to 10% of their after tax income each month.
Let's break down the numbers a bit further. But first, a word of warning: whether or not you're "on track" with your savings may well depend on your circumstances. For example, a young person starting their career in an entry-level job is likely to have wildly different saving abilities (and goals) compared to someone well into their career with a family and a mortgage to think about.
How many Australians save?
More than three quarters (79%) of Australians save a portion of their after tax income each month, according to Canstar's Consumer Pulse Report. This also means that 21% of people are not saving money. However, on a positive note, Canstar's research does indicate that the number of people who are not saving has been trending down over the last four years from 29% in 2017.
How much does the average Australian save?
Most Australians who are saving are able to put aside up to 10% of their after tax income each month. Canstar's report found that the largest portion (26%) of respondents who are saving are stashing up to 10% of their after tax income each month, while 16% said they are saving up to 20% and 7% are saving more than 40% of their after tax income each month.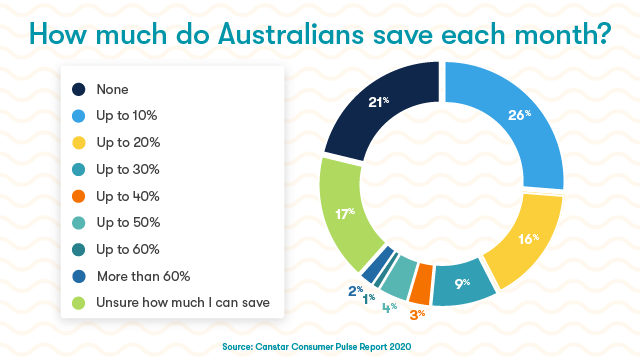 Looking at household savings, ME Bank's 2020 Household Financial Comfort Report found that the average household who saved tucked away about $854 per month in the six months to June 2020. On the other hand, non-savers overspent by around $617 per month on average, the report found.
This comes as the household saving ratio remains at a high level. The ratio, which considers the portion of disposable income being put into savings, is currently sitting at 18.9%.
How much do Australians have in savings?
In terms of overall savings, ME Bank found that about a fifth of households (21%) have less than $1,000 in savings (including savings accounts, term deposits and offset accounts). A further 14% of households have savings between $1,001 to $5,000 and 13% have savings between $5,001 and $10,000. Meanwhile, over 30% of households have over $50,000 in savings.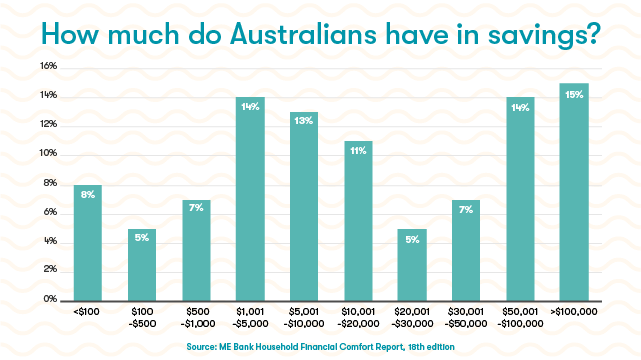 On an individual level, Canstar's report found that Australians have a median of $15,000 in savings and investments. According to the report, the average male has more in savings and investments than the average female, with males having a median of $22,000 and females a median of $10,000. Baby Boomers have the highest median savings of $30,000, according to the Canstar research, while Gen Z and Millennials have $10,000 saved and invested per person. These figures exclude any assets and superannuation.
How much should you save?
How much you should save really depends on your circumstances. Things like your employment history, your current debt levels, where you live and your short- and long-term goals and timeframes are some of the factors that could influence this.
There are a number of budgeting models you might like to consider. One well-known model is the '50/30/20 rule', which was popularised by US Senator Elizabeth Warren. According to the rule, you should divide your after tax income into three parts: 50% for needs (like rent, food, utilities and transport), 30% for wants (such as new clothes or dining out) and 20% for your savings or to pay down debt.
For emergency savings, one benchmark to aim for is three months worth of living expenses. This can give you space to pay bills, buy groceries and keep up with rent or mortgage repayments.
At the end of the day, there are no hard and fast requirements for how much you should save. As always, it's important to consider your own income, living expenses and financial goals, and budget accordingly.
Cover image source: Billion Photos (Shutterstock).