Consumer Pulse Report 2020
30 November, 2020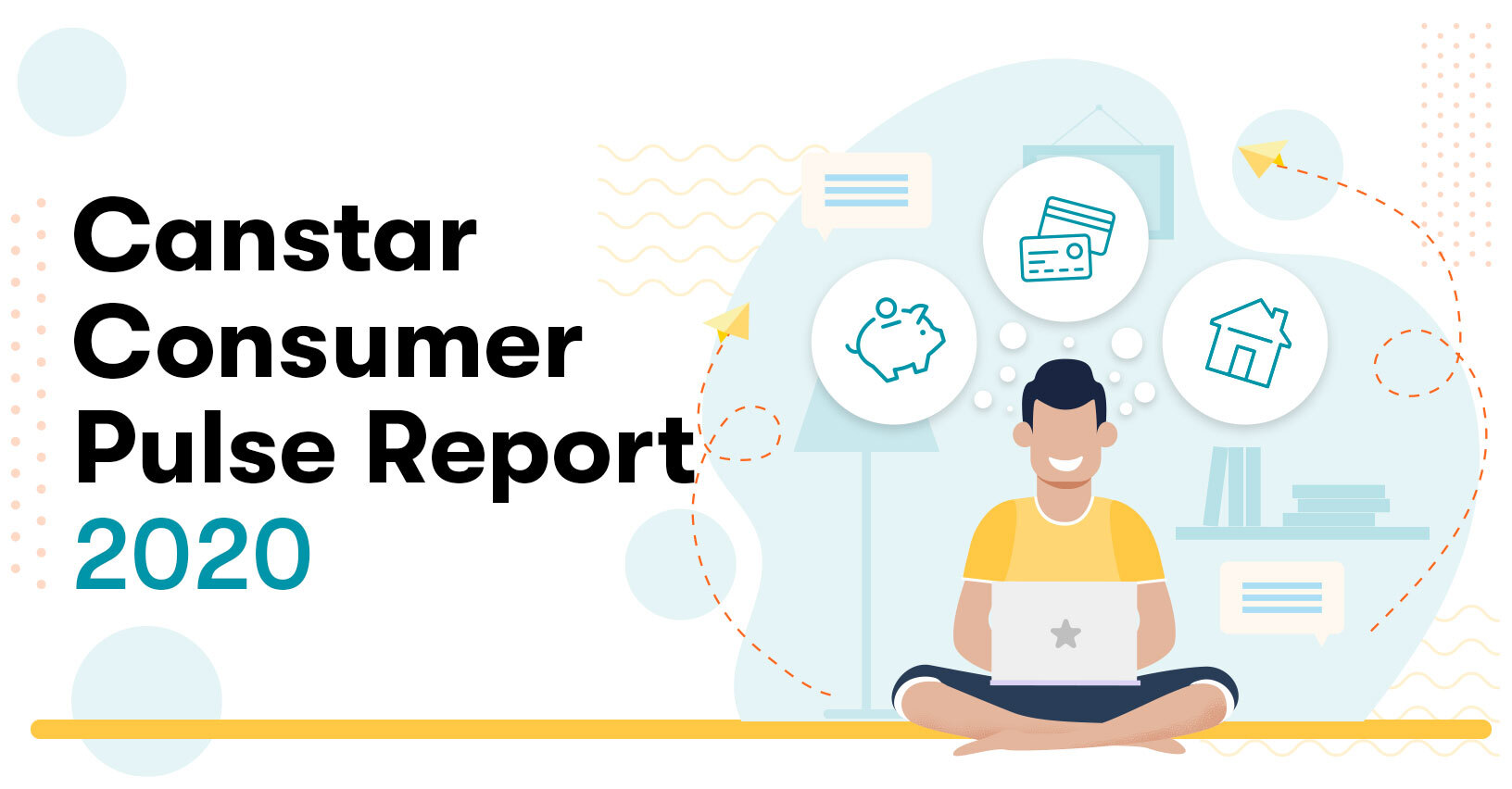 2021 will be the year for 'sticking to basics'
Canstar's fourth annual Consumer Pulse Report identifies Australians' top financial concerns, debt worries, savings goals and property market outlook

Concern over the cost of groceries, job security and electricity and gas bills will make 2021 a year for sticking to the basics, according to the fourth annual Consumer Pulse Report from Canstar.
The online survey conducted by Australia's biggest financial comparison site* uncovers the financial pain points, savings goals and property market outlook from the opinions of more than 2,000 Australian adults.
The national survey findings released today show that the biggest financial concerns for Australians heading into 2021 are the cost of groceries (12% vs. 10% in 2019) and the fear of job security (12% vs. 10% in 2019). Rounding out the top five includes the cost of electricity and gas (9% vs. 14% in 2019), the state of international political affairs (7% vs. 4% in 2019) and the cost of rent (7% vs. 1% in 2019).
Canstar's Group Executive, Financial Services, Steve Mickenbecker said, "This is the first time in four years that the cost of electricity and gas has moved from the number one financial concern for Australian households. Concerns around paying for groceries and job security have risen in the ranks this year in response to the devastating effects of the pandemic."
"Australians are in survival mode. Current financial concerns highlight peoples' focus on sticking to the basics of putting food on the table and keeping a steady job in the year ahead."
The financial concerns are likely to be greater for just over one quarter (28%) of the nation who say they are not living within their means financially or are not sure if they are doing so. This climbs to 35% of women compared to just 20% of men.
Battling debt and financial pain points
Fewer Australians are carrying debt this year with just over half (51%) of the nation debt-free (excluding a home or investment property loan) compared to 37% in 2019.
This means that 28% of Australian adults are battling debt that isn't a property loan, such as a car loan, personal loan, credit card debt, HECS/FEE HELP or buy now pay later, and concerningly a further 21% are unsure if they have debt.
The average debt people say they are paying off is $30,188 per person. Two fifths (40%) of the average debt was accumulated during 2020, which equates to approximately $12,075 per person racked up in this year alone.
"The majority of people who are battling debt have it tied up in credit cards, which is down to 56% from 67% in 2019. At the same time the portion of people with credit card debt is down we've also seen the number of people with a buy now, pay later debt increase to 18%, up from 10% in 2019. This may continue to increase in years to come with 47% of Australian adults indicating they would consider using a buy now, pay later service" said Mickenbecker.
For those with debt, 46% say it is a worry for them or their family. Women worry about debt more frequently than men, with 53% of females worrying about it daily or weekly compared to only 38% of males.
The reason for worry may be tied to the 46% of Australians with debt excluding a property loan who admit to missing repayments, up from 23% in 2019.
Stashing what money we can in the piggy bank
While 30% of Australians have dipped into their savings and 11% have taken on more debt in what has been a challenging year, it is encouraging to see 46% of people say they saved the same or more than last year and 15% have reduced their debts.
More than three quarters (79%) of Australians say they save a portion of their after tax income each month, with the nation's median savings amounting to $15,000.
"Worryingly, this means 21% of people do not save money with the main reason being they are living pay to pay. Thankfully the portion of people who don't save has been trending down over the last four years from 29% in 2017," said Mickenbecker.
The impact of the pandemic and resulting travel restrictions this year has seen saving for a holiday bumped from the main expense people are saving for the first time since the Consumer Pulse Report began in 2017.
"The number one expense Australian savers are working towards currently is living costs, which was third in the priority list last year and shows many Australians are saving to get by right now. This is a trend that will shape 2021," commented Mickenbecker.
"More than ever before we are seeing a clear divide between those who are doing well by adding to their savings and those struggling who are stacking on the debt. But even those who can save look to be motivated by concern about what might happen next."
Property market confidence in 2021
The bank of mum and dad will continue to help first home buyers in the year ahead, but perhaps less than what their children may expect. The Consumer Pulse Report shows only one quarter (25%) of the nation feel parents have an obligation to help their children buy their first home.
"One third of Millennials believe parents have an obligation to help them buy their first home. This compares to only 14% of Baby Boomers and shows that first time buyers may be disappointed by the lack of support they receive from their parents when buying into the great Aussie dream of home ownership," added Mickenbecker.
The added help from parents to get into the property market may be needed if Australians' property price predictions come true with 36% expecting prices to grow at a steady pace in the next two years and a further 8% predicting prices to skyrocket. Meanwhile 20% expect prices to remain steady and 17% predict prices will ease or crash at some point by 2023 and 19% are unsure what is going to happen to property prices in future.
"With so many people predicting property prices will continue to rise and one of the biggest financial concerns being the cost of rent, it's little surprise that Australia agrees the appropriate age for adult children to remain living at home is age 33. The only group to suggest the stay should be longer is those currently living at home who said the age limit should be 43, hopefully this is to give themselves more years to save," said Mickenbecker.
When it comes to current homeowners, the Consumer Pulse Report found owner occupiers say they are paying an average home loan interest rate of 3.65%, down from 3.88% in 2019. The findings point out that borrowers need to chase a better deal, particularly as Canstar currently lists 85 owner occupied home loans with interest rates below 2%.
Other key statistics:
Managing debt: Australians are relatively confident in their ability to manage debt with 82% of respondents saying their debt is manageable.
Most indebted: Gen Zs with debt have an average personal debt of $38,024, which is 26% higher than the national average.
Buy now, pay later or credit cards: When asked if buy now, pay later services or credit cards were a more financially responsible spending method, 60% chose credit cards as the more responsible option.
Savers stick to what they know: 47% of savers keep the bulk of their money in a savings account despite interest rates falling this year on average by 0.58%.
House or HECS: Only 24% of the nation feel first home buyers should pay off university fees before they save for a house deposit.
Better deal: 14% of Australian mortgage holders have switched home loan lenders in 2020 in order to get a lower home loan interest rate, with a further 17% intending to switch.
Houses rule: The most common property size in Australia according to homeowners is a 3-bedroom house.

For further information:
Belinda Williamson
Group Manager, Corporate Affairs
Ph: 0418 641 637
Notes to Editors
* Please refer to: www.canstar.com.au/biggest-original

About Canstar
Canstar (Canstar.com.au) is a leading research agency and Australia's biggest financial comparison site*, comparing more brands than any other. Founded in 1992, Canstar aims to simplify the world of finance by comparing over 770 brands across more than 30 finance categories including banking, insurance and superannuation. Our team of expert researchers analyse thousands of finance products to develop our Star Ratings and Awards, aimed at helping consumers find products offering outstanding value, not just the lowest price. We've also recently launched Customer Satisfaction Awards to add a consumer perspective to the comparison equation. In 2010, we expanded our services and launched Canstar Blue (Canstarblue.com.au) to provide customer satisfaction research and ratings for consumer products and services. Today this spans over 900 brands across more than 200 different consumer products and services, and plan comparisons in energy and telecommunications. Canstar is not owned by a financial institution, holds Australian Financial Services and Credit licenses, and takes its compliance obligations very seriously.
CANSTAR COMPLIANCE DISCLOSURE and LIABILITY DISCLAIMER
To the extent that the information in this report constitutes general advice, this advice has been prepared by Canstar Research Pty Ltd A.C.N. 114 422 909 AFSL and ACL 437917 ("Canstar"). The information has been prepared without taking into account your individual investment objectives, financial circumstances or needs. Before you decide whether or not to acquire a particular financial product you should assess whether it is appropriate for you in the light of your own personal circumstances, having regard to your own objectives, financial situation and needs. You may wish to obtain financial advice from a suitably qualified adviser before making any decision to acquire a financial product. Canstar provides information about credit products. It is not a credit provider and in giving you information it is not making any suggestion or recommendation to you about a particular credit product. Please refer to Canstar's FSCG for more information. All information obtained by Canstar from external sources is believed to be accurate and reliable. Under no circumstances shall Canstar have any liability to any person or entity due to error (negligence or otherwise) or other circumstances or contingency within or outside the control of Canstar or any of its directors, officers, employees or agents in connection with the procurement, collection, compilation, analysis, interpretation, communication, publication, or delivery of any such information. Copyright 2020 Canstar Research Pty Ltd A.C.N. 114 422 909. The word "Canstar", the gold star in a circle logo (with or without surmounting stars), are trademarks or registered trademarks of Canstar Pty Ltd. Canstar's permits reproduction of its gold logo in the form provided by Canstar, subject to a limited, revocable licence for the purpose only of use by bona fide journalists in press articles or as otherwise authorised in writing by Canstar. Reference to third party products, services or other information by trade name, trademark or otherwise does not constitute or imply endorsement, sponsorship or recommendation of Canstar by the respective trademark owner.