Heading to Bali for a well-earned break? If you're considering a travel money card for your spending while you're in Indonesia, keep reading to find out about some of the factors to keep in mind.
With over 1 million of us heading to Indonesia during 2018-2019, according to the Australian Bureau of Statistics, it's the second-most popular destination for Aussie travellers. Only New Zealand attracts more Australian visitors.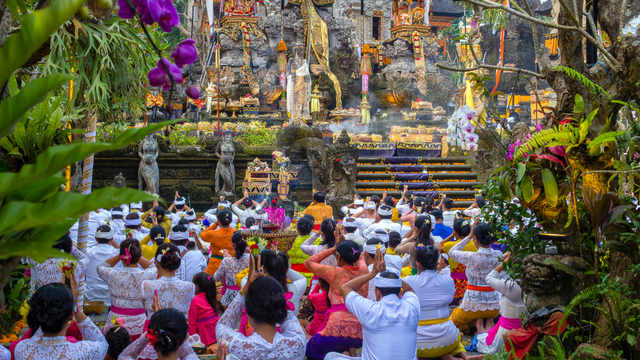 At the time of writing, bear in mind that none of the products on Canstar's database offer the Indonesian rupiah as an available currency. Canstar Research notes that this could mean you end up being charged a currency conversion fee each time you make a purchase or withdraw money in Bali using one of these cards. Therefore, other alternatives you may wish to consider could be to take out your money in cash before you leave or once you arrive in Bali, or to choose a credit or debit card that suits your needs as a traveller.
How do travel money cards work?
Typically travel money cards work like this: you exchange your Aussie dollars for whatever eligible currency you need and load the money onto your card before your trip. Then, when you arrive, you can expect to use the card to withdraw cash and make card payments in-store or online at selected outlets. You may also be able to reload your card with extra funds if you need them. Bear in mind, though, that some cards may only offer some of these features.
Is a travel money card the right option?
Depending on the type of traveller you are, travel money cards can be useful for a number of reasons. For example:
They allow you to lock in the exchange rate in advance of your trip
They are designed to be easy to use – similar in function to a debit card
They can be used with multiple currencies
They aren't connected to your transaction account, so you can only lose the amount that's on the card if it's stolen
There can also be disadvantages to using a travel money card:
Typically, travel money cards only offer a limited range of currencies that can be 'loaded onto' the card. If the currency you need isn't part of this range for your travel money card, you will likely be charged a conversion fee each time you use the card to withdraw money from an ATM or make a purchase in that currency.
You may lose out if the exchange rate improves after you've locked in your rate
Travel money cards can come with various fees, such as currency conversion fees, ATM fees and inactivity fees
They may not be accepted everywhere
Some travel cards have a reload delay – that is, it may take several days for you to be able to access extra money you load onto the card.
Travel money cards aren't perfect for every situation or every traveller, and so it could be smart to consider a combination of different travel money options for your trip to Indonesia, such as loose cash, as well as a travel credit or debit card.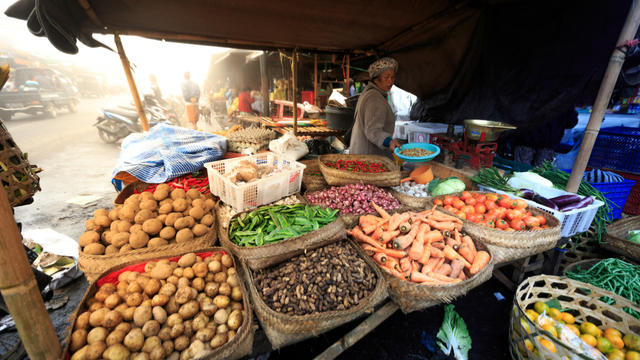 What exchange rate will I get?
The exchange rate you might get when converting your Aussie dollars into Indonesian rupiah is likely to vary depending on when you load your card, as exchange rates generally fluctuate regularly due to a number of factors. Check with your currency exchange service provider as to what the current rate is when you are loading money onto a card.
It's important to note, however, that the exchange rate quoted by your card provider may be different to the official exchange rate quoted by the RBA.
This is because travel money card providers typically charge an 'exchange fee' on top of the quoted exchange rate. This fee can vary from card to card, so it's worth comparing what each one offers for each currency – as well as considering the other features and terms offered by the provider – to see which card best suits your needs. It may also be worth considering that some travel money cards providers may not list an 'exchange fee' as such – instead the cost of the exchange to the cardholder would be factored into the exchange rate they offer.
What to be aware of when travelling to Bali
Having cash on hand can be convenient in Bali, as credit and debit cards are in some cases only accepted in mid-range or more expensive retail outlets or accommodations.
The practice of bargaining or 'haggling' can be common when shopping in Indonesia. Tips from the Lonely Planet when it comes to bargaining include:
Have some idea of the item's worth
Establish a starting price – ask the seller for their price
Your first offer should aim to be from one-third to two-thirds of that price.
If you don't like the price try walking away – the vendor may go lower in order to secure your business
When you name a price, you should generally be committed to the purchase – you are usually expected to buy if your offer is accepted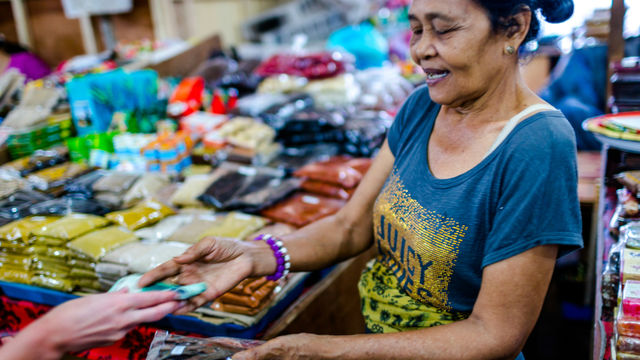 Don't forget to consider travel insurance
When travelling to Indonesia, you may also want to think about an insurance policy to cover you for things like:
Cancellation costs for flights, accommodation and tours
Overseas emergency medical expenses
Travel delay/changed travel plans
Cover for theft or lost luggage and personal items
Compare travel money cards for other destinations