What are travel credit cards and debit cards?
Travel credit and debit cards are two popular ways to spend money overseas, as cash and traveller's cheques are fast becoming a thing of the past for overseas spenders.
The costs and features associated with travel credit and debit cards can wildly differ, so it's important to compare each option carefully.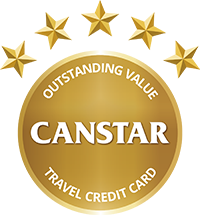 As with the other travel money options, there are pros and cons to using travel credit cards or debit cards – and it's often worth bringing one of each along on your journey, just in case.
Travel credit cards offer numerous benefits, such as good exchange rates, funds available up to your credit limit, and pre-authorisation for hotel bookings. Many cards also offer concierge services to make bookings easier. You just have to remember to pay off your travel debt quickly to avoid paying too much in interest. Avoid paying too much with our guide to using travel credit cards.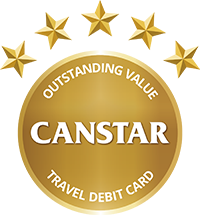 Travel debit cards typically offer cheaper ATM access and more control over your spending, since you're using your own money. This can be a lower cost option as long as you don't overspend and blow your budget. It's handy to have a credit card just in case, since this can be used for pre-authorisations or if your debit card is stolen. Use your savings wisely with our guide to using travel debit cards.
How Canstar compares travel credit and debit cards
Canstar compares travel credit and debit cards with our unique, sophisticated methodology, considering both pricing and features.
Canstar compares hundreds of credit and debit cards for travel purposes, awarding our 5-star rating to products offering outstanding value for Australian travellers overseas.
Some of the features Canstar compares for travel credit and debit cards include:
Complimentary travel insurance included on travel credit cards, including coverage, exclusions, and activation policies
Security features like the ability to change your PIN or block purchases while overseas
Access to international ATM networks
Fees and charges for using the card
Access to airline lounges
Card terms and conditions such as interest rates, interest-free days, and interest charging polices
Check what else you should look for in a travel credit card or travel debit card with this article.
You can read the full star ratings report for more information, or compare travel credit and debit cards yourself, based on your own financial requirements, using the comparison selector tool at the top of the page.
---

As Canstar's Editor-in-Chief, Nina heads up a team of talented journalists committed to helping empower consumers to take greater control of their finances. Previously Nina founded her own agency where she provided content and communications support to clients around Australia for eight years. She also spent four years as the PR Manager for American Express Australia, and has worked at a Brisbane communications agency where she supported dozens of clients, including Sunsuper and Suncorp.
Nina has ghostwritten dozens of opinion pieces for publications including The Australian and has been interviewed on finance topics by the Herald Sun and the Sydney Morning Herald. When she's not dreaming up ways to put a fresh spin on finance, she's taking her own advice by trying to pay her house off as quickly as possible and raising two money-savvy kids.
Nina has a Bachelor of Journalism and a Bachelor of Arts with a double major in English Literature from the University of Queensland. She's also an experienced presenter, and has hosted numerous events and YouTube series.
You can follow her on Instagram or Twitter, or Canstar on Facebook.
You can also read more about Canstar's editorial team and our robust fact-checking process.
---
Travel credit and debit cards glossary of terms
Please note that these are a general explanation of the meaning of terms used in relation to travel credit and debit cards. Your provider may use different wording and you should read the terms and conditions of your product carefully to understand what you are and are not covered for. Refer to the product disclosure statement (PDS) from your provider.
Accommodation: Any type of dwelling or lodging where you pay a fee to stay overnight.
Cash advance fee: A fee charged to your travel money card to make a cash withdrawal from an ATM or at the check-out.
Credit limit: The maximum amount you can spend with your credit card before having to pay off some of the balance. Learn about how credit limits are determined here.
Currency conversion fee: Any fee charged to convert one currency into another. Usually refers to a fee charged to your card to pay for something in the local currency rather than your card's default currency (e.g. AUD).
Currency conversion rate: Also known as the exchange rate.
Currency order: The order in which the next available currency will be selected if you run out of the currency that you are using in the current transaction.
Exchange rate: The ratio at which one currency buys another, which determines the value of one country's currency by comparison to another. For example, $0.72 USD to the AUD dollar means that the Australian dollar buys $0.72 in US dollars.
Interest rate: The rate at which your outstanding balance increases per month if your bill is not paid or not paid in full.
Interest-free days: The number of days you have to pay your bill in full before interest is charged on the balance. It is the period of time between the date of a purchase and when the payment is due. This period usually does not apply to cash advances. Learn more about interest-free days here.
Minimum payment: The number listed on your bill as the minimum your bank requires you to pay off your credit card for that month.
Penalty fees: Fees charged if you violate the terms of your cardholder agreement or other requirements related to your account. For example, your credit card company may charge a penalty fee if you make a late payment or if you exceed your credit limit.
Travel insurance: A form of insurance policy that covers you for various events happening to you while you are away from home. Depending on the policy, it may include medical emergencies, unexpected changes in travel plans outside your control, and lost luggage or other items. For more information, see our travel insurance comparison page.
Traveller's cheques: A cheque or bill of exchange, available in fixed denominations of various currencies. Can be accepted as cash in many places.
Travel credit and debit card providers we research and rate
At the time of writing, Canstar researches and rates the following travel credit and debit cards:
American Express
AMP Bank
ANZ
Arab Bank Australia
Asgard St George
Australian Military Bank
Auswide Bank
B&E Personal Banking
Bank Australia
Bank of Melbourne
Bank of Sydney
BankSA
BankVic
Bankwest
bcu
Bendigo Bank
Beyond Bank
Big Sky Building Society
BOQ
Catalyst Money
Citi
Coastline Credit Union
Coles
Commonwealth Bank
Community First CU
Community Mutual Group
Company Name
CUA
Defence Bank
Delphi Bank
Diners Club Australia
ECU Australia
First Option Credit Union
G&C Mutual Bank
Gateway Credit Union
Heritage Bank
Holiday Coast CU
Horizon Credit Union
HSBC
Hume Bank
Hunter United
Illawarra CU NSW
IMB
ING DIRECT
Intech Credit Union
Jetstar
Latitude Financial Services
Macquarie Bank
Macquarie Credit Union
ME Bank
Myer
MyState
NAB
Newcastle Permanent
Northern Beaches CU
Northern Inland CU
P&N Bank
People's Choice Credit Union
Police Bank
QBANK
QT Mutual Bank
Quay Credit Union
Qudos Bank
Queenslanders CU
Rural Bank Limited
SCU
Select Encompass Credit Union
SERVICE ONE Alliance Bank
George Bank
Summerland CU
Suncorp Bank
Teachers Mutual Bank
The Capricornian
The Mac
The Mutual
The Rock
Transport Mutual Credit Union
Travel Debit:
UniBank
Victoria Teachers Mutual Bank
Virgin Money
Westpac
Woolworths
Woolworths Employees CU
You can compare travel credit cards and travel debit cards using the comparison selector tool at the top of this page.